From stolen kisses to secret rendezvous, scenarios are endless when it comes to matters of the heart, yet all seem to share one common denominator – the power of music to express the inexpressible, to enfold the heart and move the soul. Victor Hugo opined "Music expresses that which cannot be put into words and that which cannot remain silent." Music can transport us to either the apex of joy or nadir of despair like nothing else can. It moves both body and soul, compelling us to literally dance with joy when we're in love.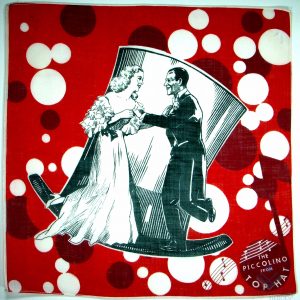 | | |
| --- | --- |
| The 1935 musical "Top Hat" encourages one to "do the Piccolino with your bambino" and features an entertaining over-the-top dance extravaganza. The true seduction begins, however, when Fred Astaire swirls Ginger Rogers round and round to Irving Berlin's utterly romantic "Cheek to Cheek".  Perfection. |   |
httpv://www.youtube.com/watch?v=3sesRrJWFWY

What easier way to get a girl in your arms than dancing?  It's been a standard move for centuries, and ladies certainly aren't objecting. Whether a slow romantic waltz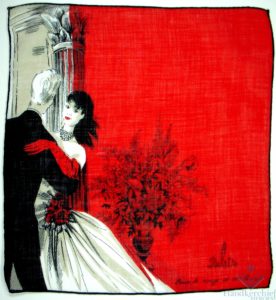 Or stately, subdued minuet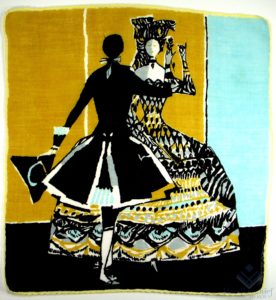 "Music is the divine way to tell beautiful, poetic things to the heart."

Pablo Casals
This adorable pair rendered in Pennsylvania Dutch style gaily dance around the Maypole. Perhaps a June wedding is nigh?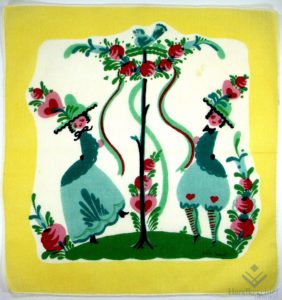 What an enchanting way to invite a lady dancing – by sending this sophisticated, fetching mouchoir.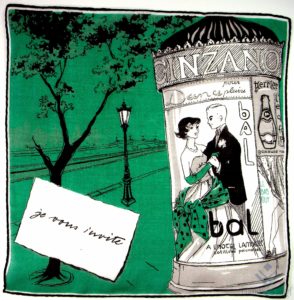 Fanciful and flirty, there is no doubt as to this troubadour's intent.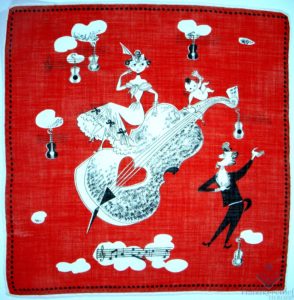 "Music acts like a magic key, to which the most tightly closed heart opens.'

Maria Augusta von Trapp
Let's hope this dreamy eyed organist hits all the right notes, as he can't take his eyes off his beloved. He needs to swap out those swiveling stools for a single bench so he can scoot in closer to steal a kiss.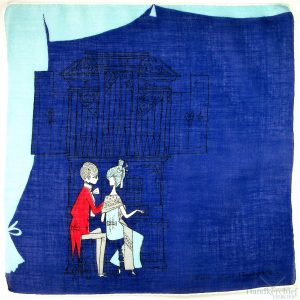 No detail is overlooked in this terrific rendition of an overzealous suitor and reluctant recipient to Franz Liszt "Liebestraum" (Love Dream). Cherubs provide heavenly accompaniment, but it's anyone's guess how this will end.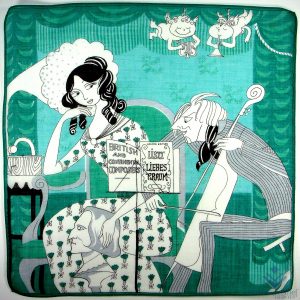 Perhaps we should pair our concupiscent cellist with this playful pianist, who prefers playing by candlelight and starlight.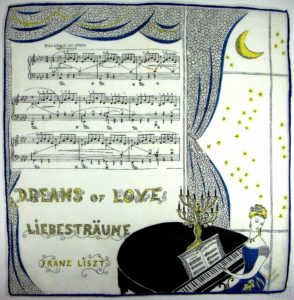 We all know love songs that would break your heart. This hankie features "Seven Lonely Days". I'd translate it for you, but each day just gets worse. A perfect handkerchief to catch your tears.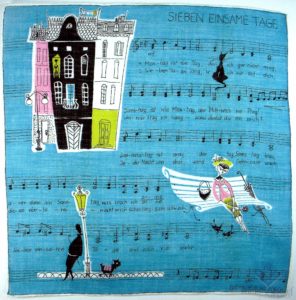 "Music was my refuge. I could crawl into the space between the notes

and curl my back to loneliness."

Maya Angelou
We also know that eventually the sun will shine again, and boys and girls will venture forth to risk heartache in hopes of finding happiness. Below, a humble but happy suitor wishes his lady fair good night, hoping to see her again soon. What terrific graphics and colors.  What adorable stories people used to tuck in their pockets. When we abandoned hankies for tissues, we lost a bit of romance, color, fun and frivolity as well. Sigh….Luckily, love abides, frozen in time on these cherished keepsakes.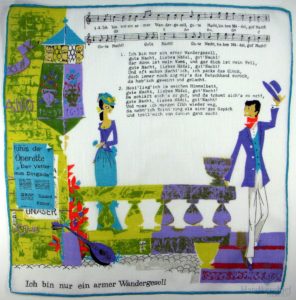 Just for Fun
For you classicists, we'll leave you with Franz Lizst's Liebesträume
httpa://www.youtube.com/watch?v=eW_MAQj0aIA
Seeli Toivio, cello and Kalle Toivio, Piano, Burthday Concert, Basiliek Halle 2007
I had hoped to include a list of the top 100 classic love songs, but it proved impossible. Every genre, it seems – country, hip hop, R&B, rock & roll, contemporary, and classical depicts the range of passion from jubilance to misery, rapture to rejection. Some suggestions by friends:
Someone to Watch Over Me  (George Gershwin)
When A Man Loves a Woman  (Calvin Lewis & Andrew Wright, sung by Percy Sledge)
Unchained Melody  (Alex North and Hy Zart, sung by the Righteous Brothers)
I Will Always Love You  (Dolly Parton, sung by both Dolly and Whitney Houston)
And no one sings them better than Sinatra. Just a few include:
My Funny Valentine  (Richard Rodgers, Lorenz Hart)
I've Got a Crush on You  (George and Ira Gershwin)
Let's Fall in Love  (Harold Arlen, Ted Koehler)
You'd Be So Easy to Love  (Cole Porter)
Night and Day  (Cole Porter)
All the Way  (Sammy Cahn)
The Way You Look Tonight  (Dorothy Fields, Jerome Kern)
The Very Thought of You  (Ray Noble) both Billie Holiday & Nat King Cole sang this beautifully
This blog is one in a series on romantic handkerchiefs which includes