"Fall has always been my favorite season.  The time when everything bursts with its last beauty, as if nature had been saving up all year for the grand finale."

Lauren DeStefano, Wither
 Unlike the languorous sun drenched days of summer which seem to roll on forever, the brief daylight hours of autumn remind us to pay attention, as time indeed, is all too short.  We shuffle in swirls of crimson leaves, while showers of their counterparts slowly descend to their inevitable finale.  Glowing shades of burnished copper and sharp citrus sing "snap to" "step lively" "time is fleeting."   It's a season simultaneously sweet and sad, of colorful symphonies and quiet endings.   We quicken our pace in an urgent attempt to grasp life in all its splendor, before winter's shroud stills nature's hum.
Artist's interpretations of autumn are as endless as nature's palette, in all hues and shades, from fire to ice.  I tried as best I could to allow the foliage to sweep from green to gold to wintry blue to fading gray and brown.  Enjoy the ride, sprinkled with musings from others who cherish the season.
"I was drinking in the surroundings: air so crisp you could snap it with your fingers and greens in every lush shade imaginable offset by autumnal flashes of red and yellow."

Wendy Delsol, Stork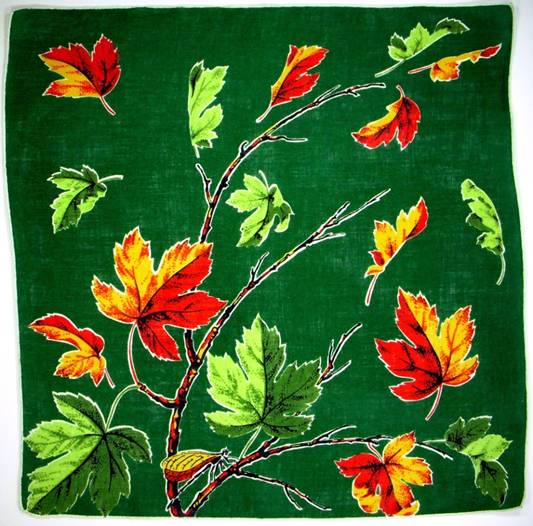 "And the leaves were telling secrets to the wind."

Peter Mulvey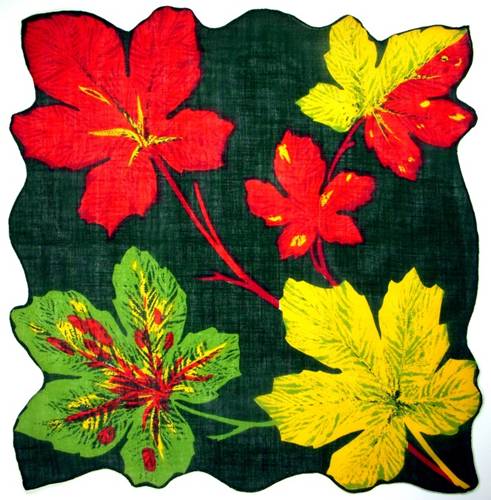 "October, baptize me with leaves! Swaddle me in corduroy and nurse me with split pea soup. October, tuck tiny candy bars in my pockets and carve my smile into a thousand pumpkins. O autumn!  O teakettle!  O grace!

Rainbow Rowell, Attachments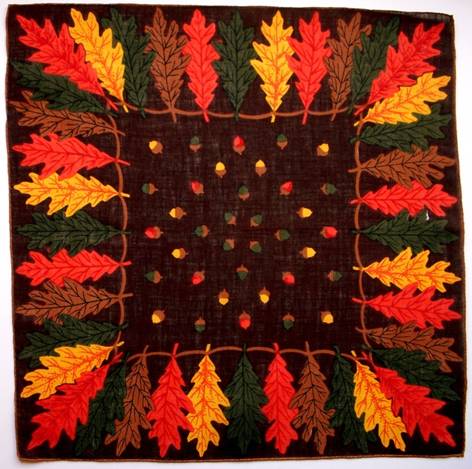 "Don't you love New York in the fall?  It makes me want to buy school supplies.  I would send you a bouquet of newly sharpened pencils if I knew your name and address."

Nora Ephron
This russet beauty sports a wild and frivolous border, perfect for flaunting and flirting,draped over a belt, or perched provocatively from a breast pocket.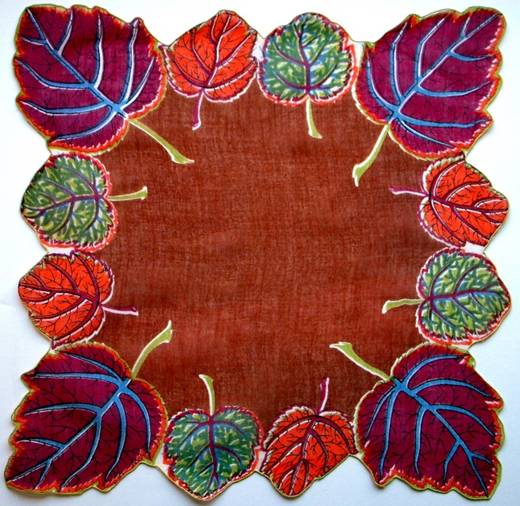 "I'm so glad I live in a world where there are Octobers."

L. M. Montgomery, Anne of Green Gables
Note the delicate overlay of skeletal leaves on these next beauties.  Can you remember as a child the first time you picked up a leaf where the skin was gone, but the skeleton remained?  Remember how astonishing it was to see the intricate underlying structure contained in a simple leaf?  One colleague told me "When I first experienced that leaf blueprint, it  awakened in me a curiosity about the underlying structure of things.  I began to look at everything differently.  Thinking back on it now, that leaf is probably what started me down the path to studying architecture."  Another friend said "Oh, when I saw that spiderweb of a fall leaf, I knew for certain there must be a God.  No man could have come up with something so intricate and beautiful, then multiplied it by the millions and given it away for free."
I love how these skeletal leaves float and dance against the backdrop of a strong, sturdy forest.
"I would rather sit on a pumpkin, and have it all to myself,
than to be crowded on a velvet cushion."

Henry David Thoreau
"Autumn carries more gold in its pocket than all the other seasons."

Jim Bishop
This hankie stirs memories of  having to rake leaves into endless orderly piles….sigh……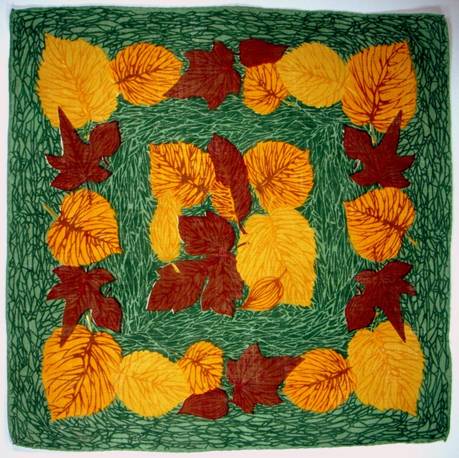 These fanciful beauties swirl, twist and curve in all their ordered, geometric beauty.  Perhaps these floated from trees at the home of Frank Lloyd Wright. 🙂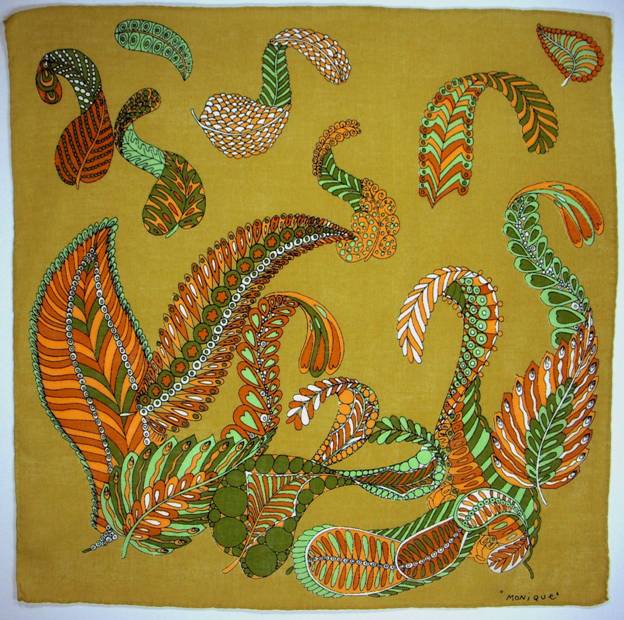 "There is something incredibly nostalgic and significant
about the annual cascade of autumn leaves."

Joe L. Wheeler
For me, gray adds a tone of sophistication to everything.  Here, warm gray is the perfect choice to border this Mad Men hip 1950's rendition of a forest enflamed in fall.  Bold brush strokes of color enhanced with a pen and ink overlay of individual trees could have just been swooped from the art director's drawing board.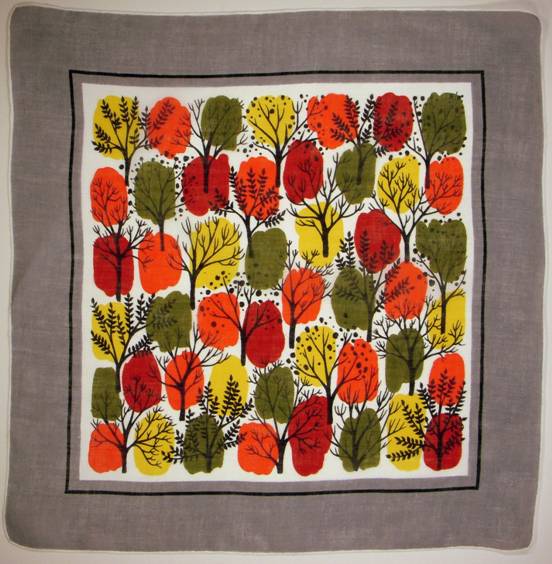 Remember, as a child, lying on your back on the ground watching clouds roll by? Or drinking in the cathedral ceiling of fall?   This hankie recaptures that feeling.  It combines summer's adieu with pops of gold, rust and wild magenta.  It's a bird's eye view looking down on the green lawn, while brilliant blue sky pokes and peeps betwixt the leaves and bare branches as summer surrenders to fall.  What a magical hankie.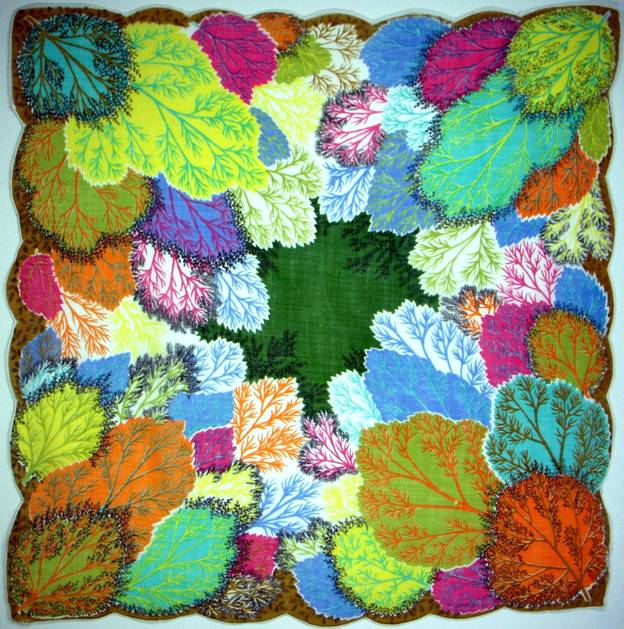 "It was one of those sumptuous days when the world is full of autumn muskiness and tangy, crisp perfection: vivid blue sky, deep green fields, leaves in a thousand luminous hues. It is a truly astounding sight when every tree in a landscape becomes individual, when each winding back highway and plump hillside is suddenly and infinitely splashed with every sharp shade that nature can bestow – flaming scarlet, lustrous gold, throbbing vermilion, fiery orange."

Bill Bryson, I'm a Stranger Here Myself: Notes on Returning to America After 20 Years Away
"The leaves fall, the wind blows, and the farm country slowly changes
from summer cottons into its winter wools."

Henry Beston
B-r-r-r-r.   I love that these artists chose an arctic palette to convey the approach of winter, when dawns are gray blue and a pearly hoar frost blankets a landscape of indigo, sapphire and silver before the sun has risen to smile warmly on the land.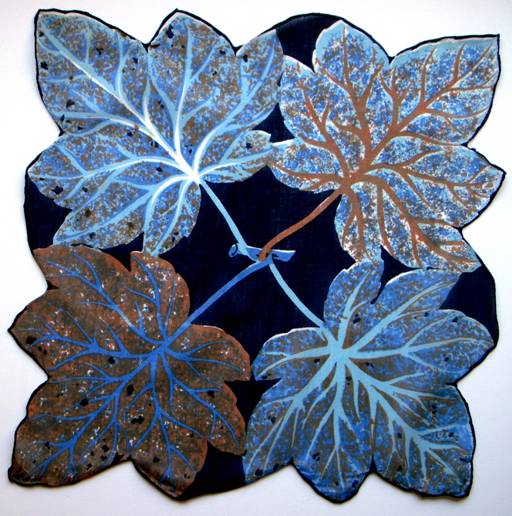 "The magic of autumn has seized the countryside; now that the sun isn't ripening anything, it shines for the sake of the golden age, for the sake of Eden, to please the moon for all I know."

Elizabeth Coatsworth, Personal Geography, Almost an Autobiography
"Autumn, the year's last, loveliest smile."

William Cullen Bryant
More sophisticated gray frames a tumble and jumble of acorns to contrast brilliantly with the last  colorful kisses of fall.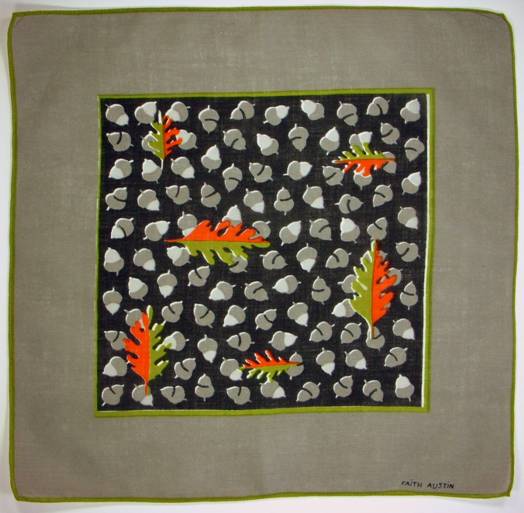 "How beautifully leaves grow old.  How full of light and color are their last days."

John Burroughs
This lovely handkerchief is an absolute favorite of mine.  You won't find an Old Master's still life infused with more luster and luminosity than this quiet yet shimmering still life of autumn's final farewell.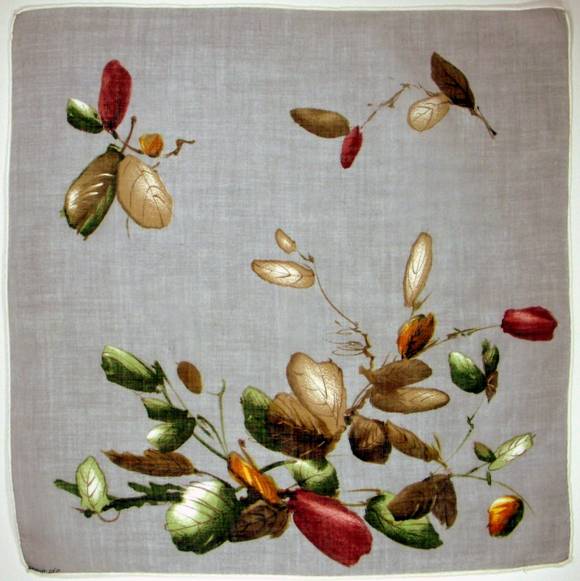 "One of the great lessons the fall of the leaf teaches is this: do your work well and then be ready to depart when God shall call."
Tryon Edwards
Just for Fun
Autumn Leaves  (originally a 1945 French song "Les feuilles mortes")   was written by  Hungarian-French composer Joseph Kosma, with  lyrics by poet Jacques Prévert.  The song was introduced by Yves Montand  in the 1946 film Les Portes de la Nuit .  American songwriter Johnny Mercer wrote the English lyrics in 1947.
The 1956 film Autumn Leaves  starred Joan Crawford, featuring  Nat King Cole on the soundtrack.  You can watch the b&w movie in its entirety on YouTube with Joan sporting her trademark shoulder pads out to there…..
Sung by Nat King Cole