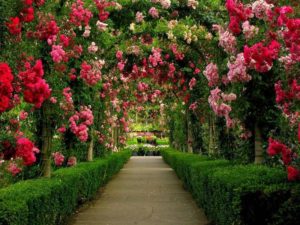 The season of growth and reawakening has arrived. A time when the sun warms both the earth and our spirits, and drops us at the doorstep of restoration. Gardens have for centuries nourished and sustained, inspired and enriched our spirit. They provide both playground and classroom for endless learning. From Buitchart to Boboli to Shalimar Bagan, from Versailles to Villa D'Este, from Giverny to Exbury and beyond. We'll focus less on the manicured masterpieces of world renown, and instead spotlight the simple pleasures we can all enjoy.
As far back as 450 B.C. the book of Ecclesiastes 3:1 instructs "To everything there is a season…a time to plant, a time to reap" and indeed artist Tammis Keefe underscores that dictum with simple grace in the hankie below.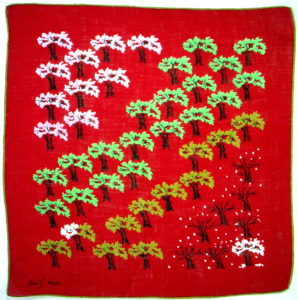 Whether we surrender to the whispers of a cool wooded glade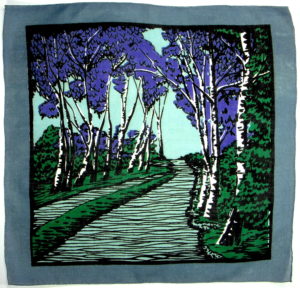 Or rejoice in the bounty of a plentiful orchard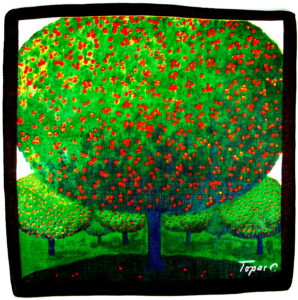 To enhance your viewing Claude Debussy's Prelude to the Afternoon of a Faun,  Boston Symphony Orchestra conducted by Leonard Bernstein
httpa://www.youtube.com/watch?v=EvnRC7tSX50
Nature offers surprises at every turn, from tangy Meyer lemons to pre-dawn frosty apples.
The plethora of handkerchief flora are as plentiful as those found in nature itself.
The artist imbued this 1960's trio of forest frivolity with enough pizzazz to rival any graphics Madison Avenue could conjure. These trees have personality plus, and tucking one into your pocket could certainly bring a smile.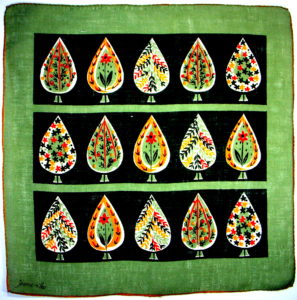 Check out these jazzy timbers. A friend remarked the tiny circles reminded him of ancient Roman coins. Hmmmm. Perhaps money does grow on trees after all…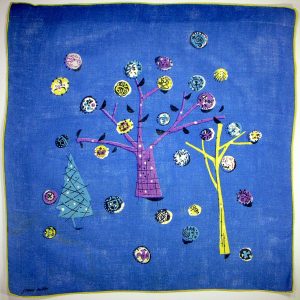 In contrast, these classic sentinels stand guard over quiet farmlands and rolling hillsides, providing the perfect shady respite for lazy days with a good book and tall lemonade.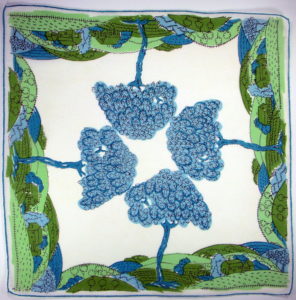 Below, spring has definitely sprung, setting the stage for flower petals to blanket the ground when rustled by the next brisk breeze. Could anything be lovelier? If you've ever been to D.C. when the cherry trees are in bloom or California's central valley when the almond trees blossom, you'll understand. It literally appears to be snowing – soft, feathery, and fabulous.
"The earth laughs in flowers."

Ralph Waldo Emerson
I once visited a master gardener in Connecticut who limited his color palette to white and green. Though you might equate lack of color with lack of dazzle, the opposite was true. The textures and subtle nuances in shades and hues were mesmerizing and held our attention and complete concentration. Everything was so beautifully orchestrated we left with a new appreciation for the gardener as both artist and technician.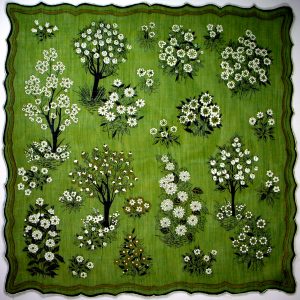 The tools of the trade deserve their own place of honor, working hand in hand (pun intended) with the skillful caretaker. In the first hankie, gloves anchor the corners while loppers work their magic on wayward tree branches.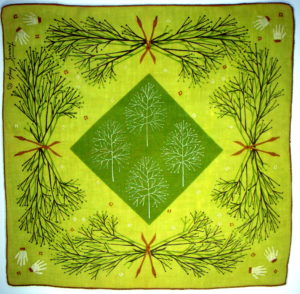 Sickle and shears command center stage while crossed rakes quietly wait in the wings betwixt a border of branches. The elegant image almost beckons you to pick up a tool and get to work…..almost….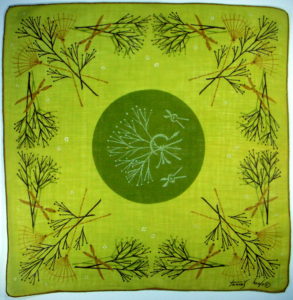 "If you have a garden and a library, you have everything you need."

Cicero
Spring and summer prompt one to wander through the local nursery or hardware store selecting seed packets and daydreaming about the garden you hope to create.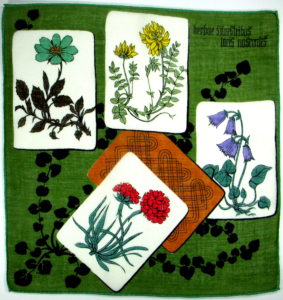 "I must have flowers, always, and always."

Claude Monet
Handkerchiefs provide helpful instructions on what to plant when, while border images subtly remind one of the effort required to maintain a garden.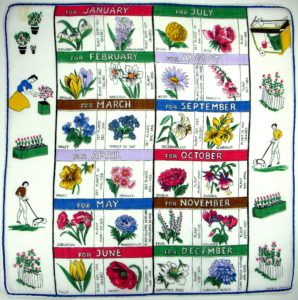 "Why try to explain miracles to your kids when you can just have them plant a garden."

Robert Brault
Many a gardener speaks words of encouragement to his flowers, while the true Romantic reads The Language of Flowers to learn what his flowers are saying to him. We know from past blogs that the rose represents ardent love, while the lily of the valley signifies a return to happiness, thus the Romantic Gardener often creates a garden to answer the dictates of his heart.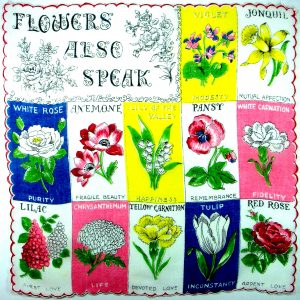 "In the garden I tend to drop my thoughts here and there. To the flowers I whisper the secrets

I keep and the hopes I breathe. I know they are there to eavesdrop for the angels."

Dodinsky
Shakespeare wove flowers and their significance throughout his works.
"One touch of nature makes the whole world kin."

William Shakespeare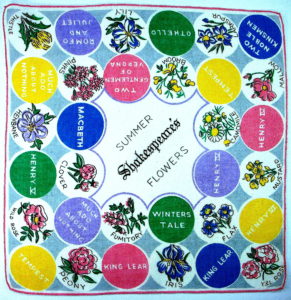 This hankie is worn threadbare, but I had to include it as surely it was loved by some avid horticulturist.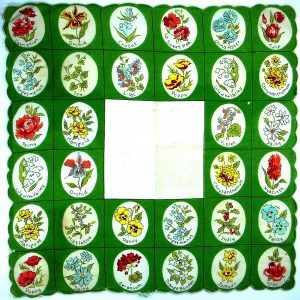 It reminds me of the hundreds of seedling cups brimming with promise in nurseries across the nation. This artist created a stylized version so masterfully executed it reminds one of embroidery on a Chinese robe.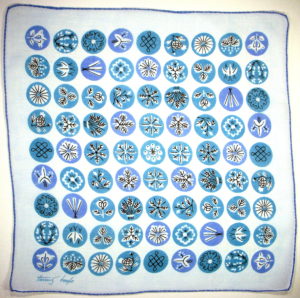 The opposite of landscaped and bordered beds? Letting nature run wild, which is equally as tantalizing (depending on the eye of the beholder.)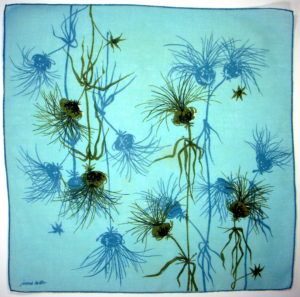 "A weed is but an unloved flower."

Ella Wheeler Wilcox
I once knew a man who lived on a hilltop of fifty windswept acres overlooking the ocean in Big Sur, CA.  He graded a road, gathered stones, and designed and built his house by hand. When age and health issues required a move into town, he had many offers for his property. Folks were surprised when he sold to a woman from the midwest who actually offered less than other buyers. When questioned about his decision, he replied "Well, we watched the red tail hawks, and we tossed carrots to the deer, and she exclaimed that even my weeds were beautiful. She didn't want to change a thing, so I know she'll be a good caretaker of the land. (Other buyers had discussed how they would "develop" the property.)
The perfect blend of sophistication and informality, this tender pink  hankie hosts a wild summer garden adorned with raspberries of metallic gold.  Definitely created for fashion, not function, it's both simple and sublime.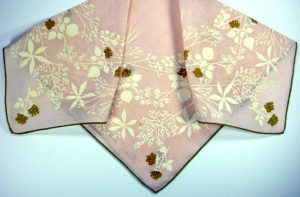 Wild flowers and country gardens adorn the following hankies, grouped randomly for your enjoyment.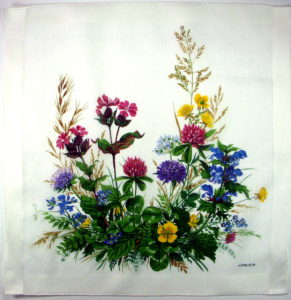 "I think this is what hooks one to gardening: it is the closest one can come

to being present at creation."

Phyllis Theroux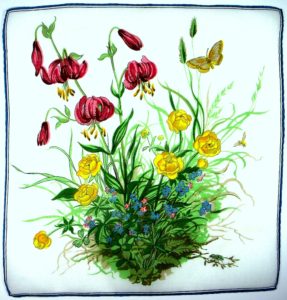 "Wildflowers are the stuff of my heart!"

Lady Bird Johnson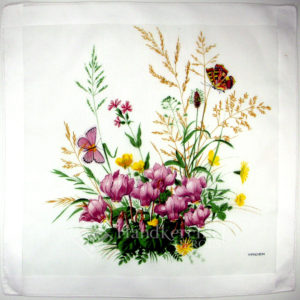 "In joy or sadness, flowers are our constant friends."

Okakura Kakuzo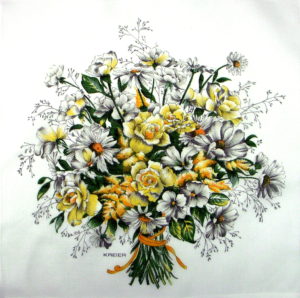 According to Oberon in Shakespeare's "A Midsummer Night's Dream", the secret to a highly potent love potion lies in the purple, yellow and white wild flower "love-in-idleness." The juice of it on sleeping eyelids laid/will make man or woman madly dote/upon the next creature that it sees." So much for the "meek" pansy! (also known by the names johnny-jump-up and heartsease)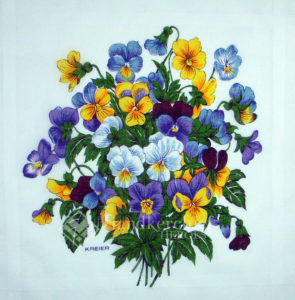 "Like wildflowers you must allow yourself to grow

in all the places people thought you never would."

Lorde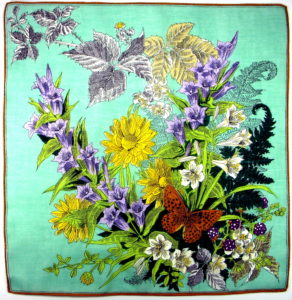 "Flowers make people better, happier, and more helpful;

they are sunshine, food and medicine to the mind."

Luther Burbank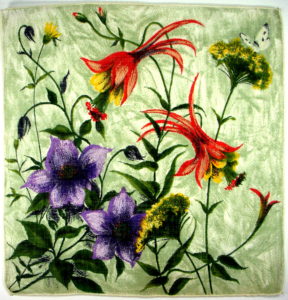 "I have never had so many good ideas day after day as when I worked in the garden."

John Erskine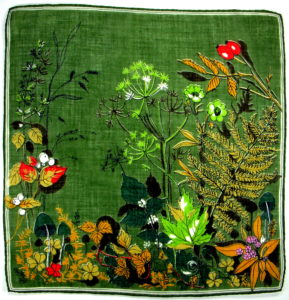 "I think that if ever a mortal heard the voice of God it would be in a garden

at the cool of the day."

Frankford Moore, A Garden of Peace
A fashion statement from the 1940's throws as much frou-frou on the canvas as possible.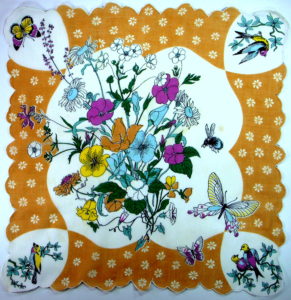 While the following brilliant bouquets the 60's and 70's adopt a bold primary color palette.
Whether a professional, creating elegant, refined topiaries
Or an amateur just having fun…it all works.
With only a windowsill to adorn, you can still get your "flower fix". It's the season to celebrate all things green and growing, for gathering armloads of flowers in wild abandon, for coaxing smiles from the crustiest curmudgeon. So gift yourself and others with bountiful bouquets during the coming sunny months.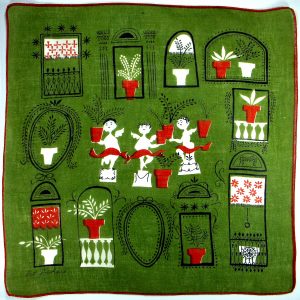 "A garden to walk in and immensity to dream in – what more could he ask?

A few flowers at his feet and above him the stars."

Victor Hugo, Les Misérables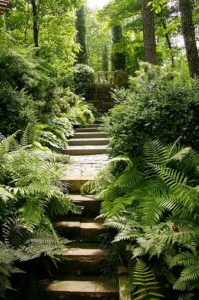 =========================================================================
We hope you enjoy our new You Tube channel and you'll visit periodically to see what's new. Do enjoy, and please share with your friends…