"…the whole of Paris is a vast university of Art, Literature and Music…it is worth anyone's while to dally here for years. Paris is a seminar, a post-graduate course in Everything."

James Thurber, humorist & editor of The New Yorker
Splendid, sublime… majestic, monumental…inconceivable, irreplaceable…trying to describe Paris is akin to trying to consume an elephant in one bite. Impossible. The best I can do is provide tasty nibbles around the edges of this most sumptuous feast in all the world.  Last month we donned our tourista berets and skimmed the menu. This month, we'll try to serve a satisfying meal in small courses, starting with an appetizing stroll through the neighborhoods, pausing at well-known monuments. In future blogs we'll sample the main courses – art, fashion, food, and end with a classic Parisian dessert – Romance.
"If you are lucky enough to have lived in Paris as a young man, then wherever you go for the rest of your life, it stays with you, for Paris is a moveable feast."

Ernest Hemingway, A Movable Feast
You'll need a map, of course, and you're sure to find one to suit your needs, be it strolling the Champs Elyssees or planning a brief weekend getaway to the country.
For the efficient and impatient, the Metro provides a welcome refuge from rush hour traffic and will quickly zip you to your desired destination.
| | |
| --- | --- |
| | For those who eschew "burrowing" as one friend calls underground travel, prepare to be converted. Hector Guimard's glorious art deco metro entrances entice and beckon you to slide down the rabbit hole (à la Alice in Wonderland) where you'll discover all manner of subterranean delights – from giant crossword puzzles in the subway tiles, to shimmering mosaic murals overhead, to Rodin sculptures and petit boutiques. Grab your Navigo and do your best Punxsutawney Phil imitation, as you pop up here and there around town for a fortifying macaroon. |
To enhance your viewing, Robert Doisneau on accordion
.
As with any grand city, each neighborhood exudes its own personality. This delightful rosy hankie beckons us to linger in the 18th arrondissement to sample the entire spectrum – from applauding the can-can dancers who kick and prance at the Moulin Rouge, to later seeking clemency for our sins at Sacré Coeur. Thank heavens they're strategically close; methinks we'll be requesting forgiveness frequently.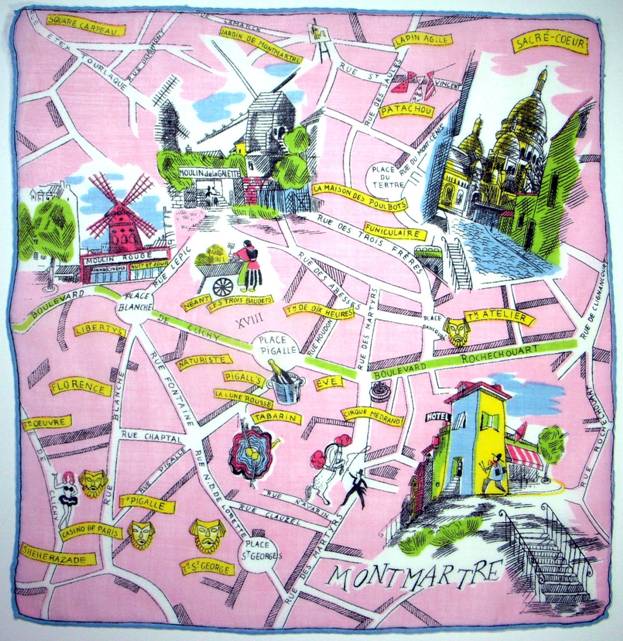 A blue beauty bisected by the Seine contains every imaginable landmark for your peripatetic pleasure. Certainly a conversation starter when asking for directions. (if you roam around Paris with your nose in your iphone, you'll soon find more on your shoes than wear and tear…) You can't help but admire the care and detail bestowed on these simple fashion accessories. The artists' efforts serve to remind us that small pleasures are important; you deserve to feel special right down to your fingertips.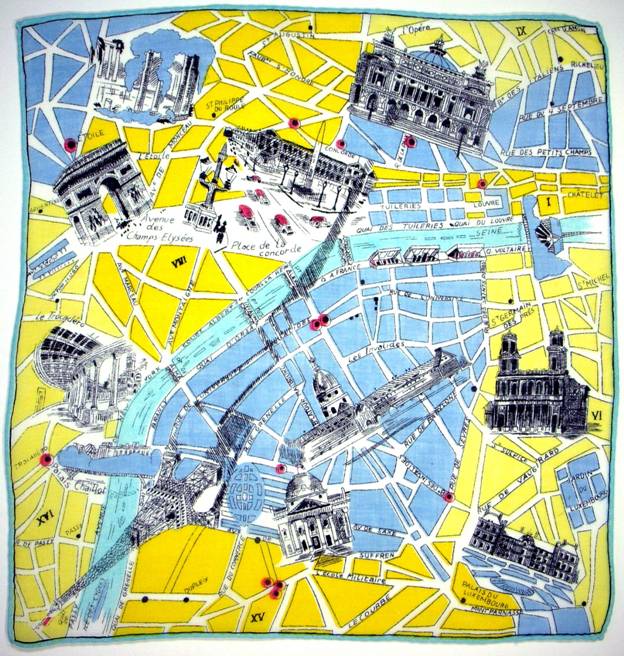 "Paris is the only city where you can step out of a railway station and see the Seine with its bridges and bookstalls, the Louvre, Notre Dame, the Tuileries Gardens, the Place de la Concorde, the beginning of the Champs Elysees – what other city offers you as much as you leave a train?"

Margaret Anderson, publisher
Souvenir hankies run the gamut from elegant white on white embroidery: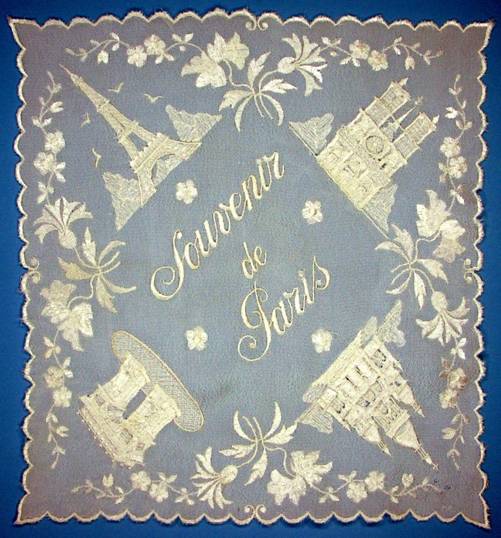 To bold and brilliant color. This Sacré Coeur hankie even denotes the proper Metro stop, while the magnificent Hôtel de Ville is painstakingly rendered in batik using hot wax.
"A walk about Paris will provide lessons in history, beauty, and in the point of life."

Thomas Jefferson
Renderings of the Arc de Triomphe range from classically formal to minimalist modern.
Notice anything unusual about this Arc and Church of the Madeleine? The clouds are uber hip. Perhaps it was the artist's way to chide "Wake up! Pay attention." Or perhaps, when contracted to render the expected historic images, he slyly add his own special twist. Whatever the reason, they're great fun.
.
Standing graceful and strong since its introduction in 1889 as the entrance to the Universal Exposition, it's hard to imagine anything created today to surpass the iconic beauty of the Eiffel Tower.
"I like The Eiffel Tower because it looks like steel and lace."
Natalie Lloyd
If you walk slowly and let the city speak to you, eventually the cacophony, the crackling energy, will imperceptibly fade like translucent smoke, and you'll find yourself standing in a neighborhood that feels quietly welcoming. Then you know you'll have found your corner of Paris.
"America is my country, but Paris is my hometown."
Gertrude Stein
You'll peep out your window at the sidewalk cafes (LOVE this hankie) then spend the afternoon meandering cobblestone streets.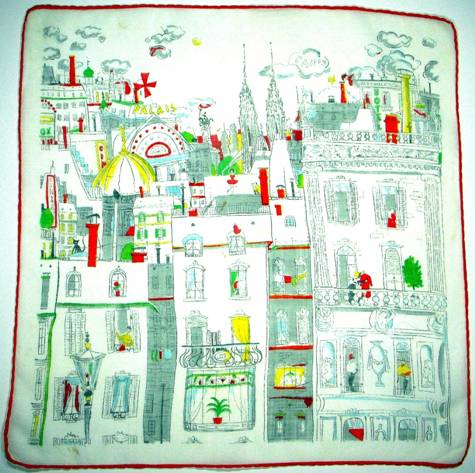 The above hankie is worn but holds some little gems. Like Jimmy Stewart in Hitchcock's thriller Rear Window, you have a ringside seat to the neighbor's habits and quirks – the housekeeper who faithfully maintains her master's wardrobe, the student who films a ballerina dancing on the rooftop.
"Mine was a world of rooftops and love songs."
Roman Payne, Rooftop Soliloquy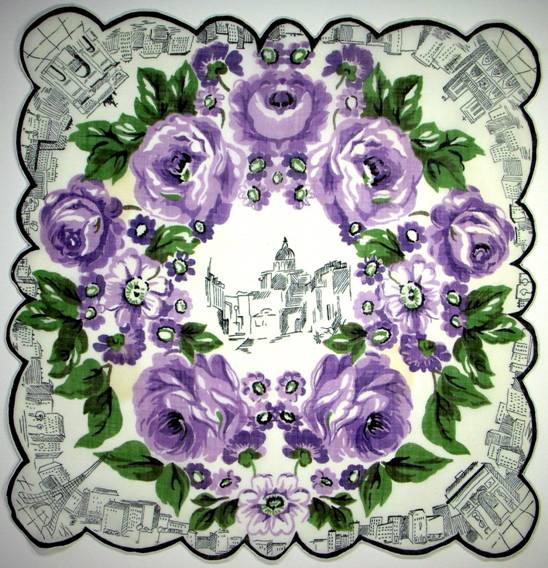 "I guess it goes to show that you just never know where life will take you. You search for answers. You wonder what it all means. You stumble, and you soar. And, if you're lucky, you make it to Paris for a while."

Amy Thomas, Paris, My Sweet: A Year in the City of Light
My wish for you is that you make it to the City of Light to enjoy, indulge, dream and experience it at least once, and hopefully many times in your lifetime.