"The purest and most thoughtful minds are those which love color the most."

John Ruskin, The Stones of Venice
Textile artist Barbara Beckmann is the epitome of a consummate artist.  A world traveler, she collects ideas from anywhere and everywhere, as her gimlet eye absorbs line, color, and form from all corners of the globe, then translates them into one-of-a-kind sublime creations.  She's been putting a brush to fabric for decades now, and never tires of the adventure, the romance, and the thrill of inventing fresh and original designs.
After earning a degree in Fine Arts from the University of Illinois, Beckmann headed for New York to attend classes at the Art Students League, studying under Theodore Stamos, among others.  At the age of 22, her work was featured in a prominent gallery on 56th St. in Manhattan, and she was soon invited to showcase at the Brooklyn Museum alongside Richard Avedon and Elaine de Kooning. (The exhibit was a fundraiser to finance a legal team representing those marching in Selma, AL in 1965 to secure equal voting rights, and Beckmann was instantly on board.)
Surprisingly, Beckmann discloses that she didn't savor being a painter. "I didn't relish the starving artist lifestyle" she admits.  Looking for a creative outlet that could provide steady employment, she contacted Ronald Rubin, designer for White Stag sportswear, and soon began working for the Brewster Finishing & Design Corporation in textile design. "I started at the bottom," says Beckmann, "Cleaning Leyla Dunham's paintbrushes.  But it was a fabulous time.  I got to visit the mills in Cornwall, New York, and observe the printing process."
Over the years she designed everything from displays for Omega watches to freelancing for a plethora of well-known companies.  When a lull at work presented an opportunity for a sabbatical, the ever adventurous Beckmann headed straight for Paris to envelope her senses in the sights, sounds, colors and tastes of the City of Light.
When her husband's job took them to California in 1974, Beckmann immersed herself in textile design, and soon decorators were lining up on her doorstep.  Hollywood stars not only furnished their homes with her brilliant designs, they requested the same identical fabrics two and three decades later to replace their original décor. Astounding. It seems once you fall in love with a Beckmann textile, the affair can last a lifetime. Many client names (which she shared with me) you would recognize, but Beckmann prefers to keep them confidential, as several are ongoing customers today.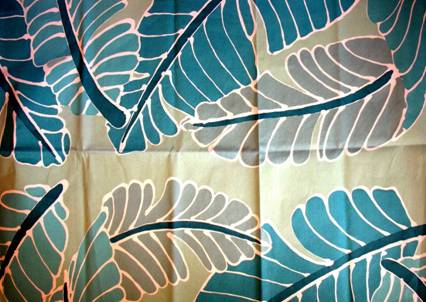 In the 1980's her textiles were de rigueur for the backdrop of dozens of episodes of Miami Vice and other television shows. Today, you'll find her gorgeous prints and silks adorning lobbies of high end hotels around the globe. Look closely in scenes from Ocean's 11, and you'll find George Clooney standing against a backdrop of her fabric, both stars in their own right. Even a recent Volkswagen commercial with Sesame Street characters is set against a backdrop of Beckmann fabric. In the movie The Butler, White House windows are draped ceiling to floor in Beckman prints. The Helmsley Palace, the Four Seasons, the Wynn Hotels, Silicon Valley's Rosewood Hotel – you name it – if it's sumptuous, stunning, and sublime, luxurious, opulent and dazzling, it's likely to have been adorned with a Beckman textile.
Her taste is impeccable, her colors superb, her eye extraordinary, and her design flawless. Inspiration comes from everywhere, and this is how she qualifies as an Accidental Collector. Through the years, design showrooms have carried over 500 different Beckmann designs.*
.
The soft and subtle pattern on curtains in this tiny bedroom was inspired by a Turkish rug.  Although subdued and understated, there are actually five colors that comprise this delicate, muted pattern, which contains elements of gold, green and gray, in addition to multiple shades of blue, melding as immaculately as a soft sea and sky on a delicate summer's da

y.
This fanciful and energetic pattern was inspired when watching mellifluous kites in flight on the Marina Green of San Francisco Bay.  Among her most recent designs, it now adorns the private home of a well-known CEO, and serves as a backdrop for his breathtaking art collection.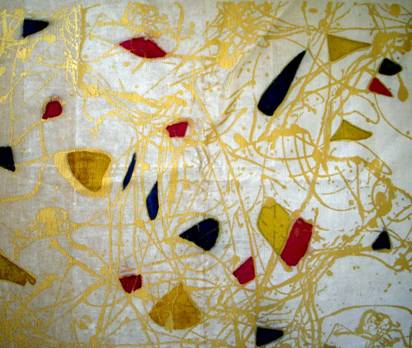 This swirl of carp is such a fun and glorious image, with its sensuous shades of cranberry, plum, claret, sienna and pine, outlined in gold metallic. Is it any wonder it's a perennial favorite?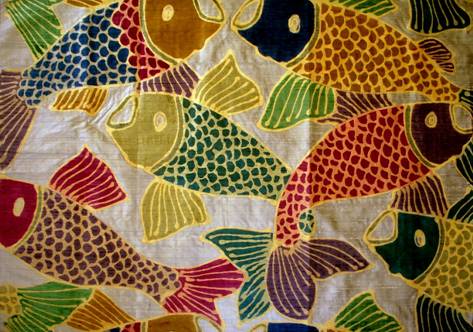 The subtle hues of gold and yellow, and the fresh greens

and the pepper red seemed to spiral into a kaleidoscope

of shapes and forms that made the tops of a

person's toes tingle, so that some were inclined

to remove their shoes in its presence."

Jeffry R. Halverson, The Mural: A Novel
Watching Beckmann in her studio is to witness infinite patience. Like a master chef who adds just a pinch of cardamom or dash of anise, a spritz of lemon or splash of brandy, she knows instinctively the hue she's seeking, the layered effect she plans to achieve, and she'll wait until the precise moment to lift the fabric from the worktable. Oh that I had her restraint and fortitude. Beckmann's ardor is all consuming, and as second nature as breathing. Luckily for us, she has no plans to ever retire, for how can you rescind creativity? Revoke passion? Hopefully, we'll be enjoying her zest, joy, and devotion to beautiful creations for years to come.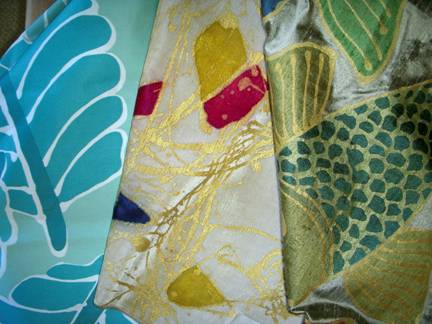 "Let me, O let me bathe my soul in colours; let me swallow the sunset and drink the rainbow."

Kahlil Gibran
*Beckmann currently has 150+ different images available to showrooms or designers, but does mostly custom these days.  A new collection will launch September 2015, available to the trade only – i.e. interior designers, architects, etc.