Ownership is the most intimate relationship one can have to objects. Not that they come alive in him; it is he who comes alive in them."

Walter Benjamin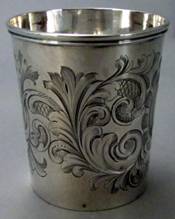 Some friends of mine were lamenting the fact that none of their children were interested in inheriting the family silver or other treasured antiques. A few ladies were heartbroken, while others pragmatically observed "It's a different world, and tastes change."  True enough.  I'm reminded of the Wall Street Journal article which appeared in the fall of 2014 titled "She Can't Give It Away" which featured a woman with a home filled with gorgeous antiques. The article claimed the items had dramatically decreased in value due to changing tastes.
You don't want to gift a recipient with something they don't want, yet, is there a way to foster an appreciation for treasures from the past? One friend responded "I think it's worth the effort to at least try. She spoke of her godmother who started her on an "add-a-pearl" necklace, as well as her first silver teaspoons.
"From the day my nieces and nephews were born," she explained, "I knew whatever they received from me – the latest toy or cute sweater, would quickly be outgrown or discarded. I chose instead to gift them with a sliver mint julep cup, engraved with their initials and the year. Would they appreciate them? I doubt it. What child wants a silver cup instead of a toy?  But I was thinking long term. I wanted to gift them something that could last a lifetime. My budget was limited, so the cups seemed a perfect fit."
Methinks she was a prescient auntie, as mint julep cups seem to have made a comeback, if not for their original intended use, than as a classic accessory. When not muddling Makers Mark and mint, collectors appropriate their cups to gild the boudoir:
Adorn a summer buffet or grace a bridal table:
To serve spicy cheese sticks or the requisite mint julep:
The Stirrup Cup
Note the silver horse in the center sitting atop an overturned julep cup. That little dandy is known as a stirrup cup or "parting cup" which is offered to guests, often visiting a country estate, before embarking on a hunt. For fans of the PBS mini-series Downton Abbey, you may recall in season one, there was a hunting party scene. Mounted riders, their feet already in the stirrups, were offered a bracing libation – often sherry, port, or spiced wine, in silver cups. The cups often bore the image of either the hunter – a horse or dog, or the hunted – stag, fox, rabbit, boar,etc. at the cup's base. (Interestingly, the first episode of the final season also opens with a hunt, with stirrup cups once again prominently featured, this time in fond farewell to the aristocratic lifestyle…)
The auntie continued "After my eldest nephew had acquired a dozen or so julep cups, I decided to shake things up, and began gifting stirrup cups. I doubt the younger children are interested yet, but the older ones may begin to understand they are amassing a collection of something special, dating back to the year they were born. It may or may not mean something to them; only time will tell, but I hope to instill the art of collecting in at least one of them.
She allowed me to photograph the cups she plans to distribute in the coming years. As we learned in the handkerchief blog Tally Ho fox/stag hunting has been outlawed for over a decade, thus these cups are becoming more scarce as the years pass.
A stag, a dog, a rabbit, a horse*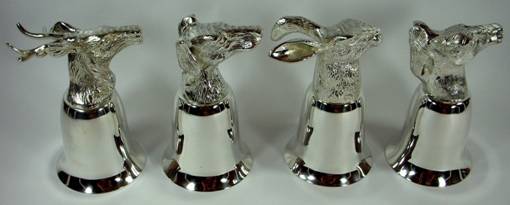 Oft hunted prey in years past, the stag, bear, wolf, wild boar, and fox

An ibex, an alligator, a bull, a ram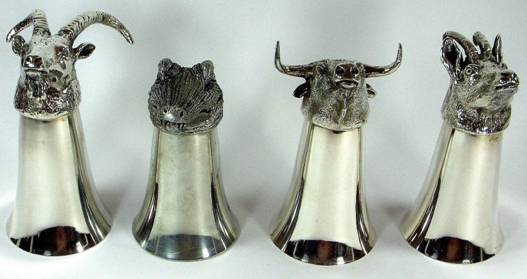 A pack of sterling hounds close in on an unsuspecting stag.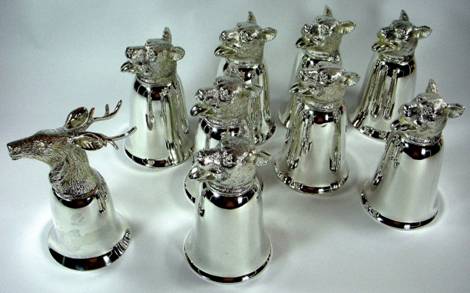 Cups come in all permutations. Stags can be long antlered or short, silver or pewter.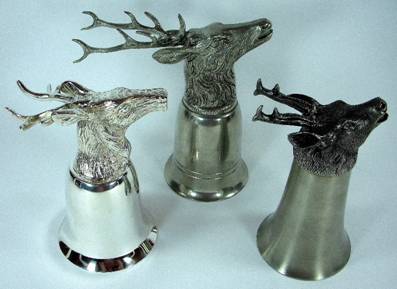 The herd multiplies…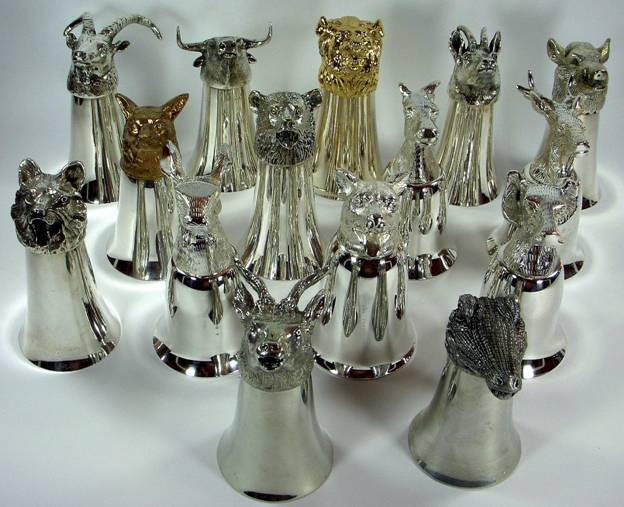 Bottoms up!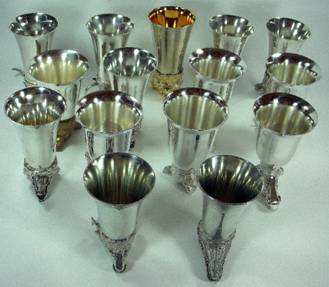 The collection also includes cups of horn and silver, as well as jiggers (shot glasses) in the image of the wily fox.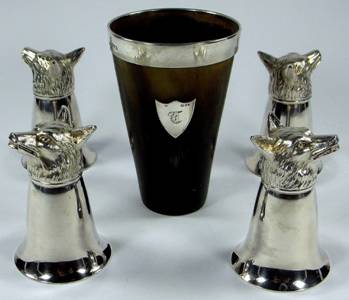 The animal cups seen above can be turned on their heads to stand upright, but many stirrup cups were fashioned to be held in the hand, then returned to the butler, thus do not have a standing base opposite the drinking rim, for example these porcelain dogs, fish and foxes.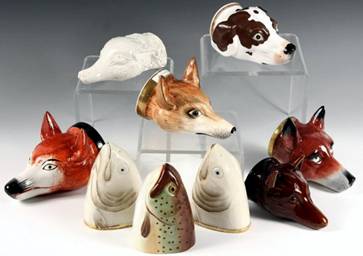 Photo: Thomaston Place Auction Galleries, Maine
According to Jeni Sandberg, dealer, appraiser, and consultant in 20th century design, and appraiser on Antiques Road Show, "this drinking vessel had ancient Roman precedents and was most popular throughout the late 18th and 19th centuries. Elaborate cups were made from silver.  Less expensive versions were made in ceramic, often made in Staffordshire, England."
Museum worthy stirrup cups
Adiós, Au revoir, Auf widersehen
More than just a hunting cup, the custom of offering a departing guest a libation was considered a farewell gesture of good will. In Scotland a farewell drink before departing is called a "dochan dorius" from the Scottish Gaelic deoch an dorais, literally "drink of the door."
According to Wikipedia: "In Anya Seton's Katherine, the custom occurs frequently before English royalty and nobility leave on travels abroad. [Sure beats a swig of Airborne…] In G.G. Coulton's Chaucer and his England, it [the stirrup cup] is referred to in relation to the Canterbury pilgrims setting out.  It is also used in a number of Rosemary Sutcliff's historical novels set in England after the Norman Invasion."
Starting A Collection
The holidays are an ideal time to start a child on a collection, as several companies produce a holiday series. Wallace offers a silver sleigh bell, which remains consistent in design from year to year, creating a beautiful tree adorned with giant jingle bells!  Gorham, Towle, Reed & Barton, and Waterford are just a few of the manufacturers who create a new silver ornament annually. Waterford, Baccarat, Lalique and others also offer ornaments in crystal.  Royal Copenhagen, Bing & Grondahl, Lenox, Spode, Royal Delft and others produce annual holiday plates with charming scenes. The Royal Copenhagen plates are particularly charming.  I remember a friend from grade school whose plate collection adorned a wall in her bedroom. I loved studying the wintry scenes.  But I digress…
The point is to start somewhere, and along the way, the child may develop an interest in something you can help them collect.  I know at least one family, who, if they pooled the sibling's silver cups, could probably outfit a Kentucky Derby party or wedding reception.  And I'm sure each of those cups, engraved with its own special year, holds stories and memories to share…
"Sometimes a small gift can change the geography of your face."
Rishad Sakhi

 
*Silver plating courtesy of Biro & Sons, San Francisco