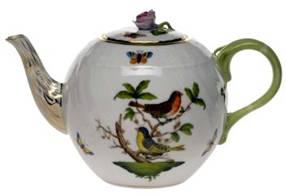 "I wasn't a man with a plan" claims Jose, "it was all a happy accident."  I knew it!  Another Accidental Collector.  When I first met Jose over a decade ago, he was an international attorney for a high tech firm.  Fluent in Spanish, French, English, Italian and more, he was adventuresome, engaging, energetic and fun.  He was interested in everything, so it's no surprise that he now spends his time in global business development and branding for companies worldwide.
But back to his collection – you may be surprised to discover it's teapots!  In his own words: "I never planned to make a collection.  My love of the teapot developed during my years at the London School of Economics.  Coming from Spain, the ritual of tea was alien to my culture.  All I could remember was a porcelain flower teapot from one of my grannies, surely part of a wedding coffee and tea set from early in the century. Not much to develop any passion, let alone a curious interest."
"In England, I learn to savor tea, and one day at Bermondsey market I stumbled upon a beautiful Meissen porcelain teapot covered in handpainted insects and butterflies. I fell in love with it. Then came all those geometrical shapes  – Chinese stoneware, scalloped teapots, Japanese cast iron teapots.  My passion was related to the sampling of different teas, the art of brewing and the delicacy and elegance of the containers. I acquired them mostly to use them, never to have them on display.  I have no more than 10 or 12 teapots that I cherished and continue to enjoy. One of two are out of circulation. They are too delicate to put them to work. Sadly one of them is the Meissen one, my first love."
Note how he describes the teapot that started him on this journey – "My First Love." And that's how it happens.  Jose has an eye for design and an appreciation for the beautiful.  His blog www.fabulorum.com covers all manner of interesting stories about people, food, history, etc.  Jose calls himself a 'street anthropologist' so it's not unforeseeable that he would become intrigued with a cultural custom that dates back centuries.  Although he resides in San Francisco, the teapots are housed in his Paris apartment, and I hope to one day have a chance to see them.  Since I collect English silver biscuit boxes, which often accompanied tea time, I feel we are somewhat simpatico in appreciating this most civilized of rituals.
To my way of thinking, Jose typifies a flâneur at his finest, and I alluded to such in my handkerchief blog on Parisian Art:   https://handkerchiefheroes.com/parisian-art/
A Flâneur is an urban explorer, a connoisseur of the street, a passionate spectator. Honoré Balzac described flânerie as "gastronomy of the eye." Baudelaire defined a flâneur as a "botanist of the sidewalk" who had a "key role in understanding and portraying the city."  He is a spectator who "enters into the world as though it were an immense reservoir of electric energy…gifted with consciousness, responding to each movement."  The flâneur remains incognito, apart from the crowd, much like an artist or writer who quietly observes the customs and behaviors of others.  Observing and immersing himself in the custom of afternoon tea eventually transformed Jose into an Accidental Collector.
"There are few hours in life more agreeable than the hour dedicated to the ceremony known as afternoon tea."

Henry James The Portrait of A Lady