As New Yorker Susan Vitti watched the devastating attacks on the World Trade Center twin towers on September 11, she knew she had to do something, but what? She was only one person.  Then inspiration struck.  She contacted Entemann's, the famous and favorite bakery of New Yorkers, and requested donations.  Over the next nine months, Susan was personally responsible for the distribution of 14,000 boxes of donuts, bagels, cakes cookie and pies.  In gratitude, the fireman began pinning their "collar brass" to her clothing as a small gesture of appreciation and thanks.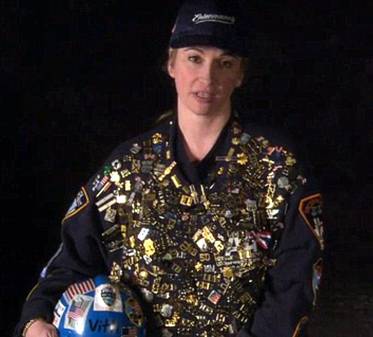 Susan claims watching these men work 12 hour shifts 6 days a week, month after month, was so inspiring, it gave her the motivation to become a private duty nurse.  She claims today she is able to easily work 16 hour shifts when she envisions the firemen working at ground zero.
Were any of us to see this remarkable collection, without knowing the story behind it, we might consider the pins an interesting curiosity.  In reality, for at least one individual, they personify the hundreds of men and women she fed and supported. These tiny emblems represent long months of connection, sharing, hugs, tears, gratitude and support.
I read a bit on the ranking structure to see if I could identify any of the pins. The gold oak leaves (3 o'clock, 7 o'clock) belonging to Battalion Chiefs, and the winged eagle represents a District or Platoon Chief. These are some of the highest ranks a fireman can achieve, yet all worked shoulder to shoulder with the Lieutenants, Captains and general firefighters, heroes one and all.  Regardless of rank, they're all top brass in my book, including Susan Vitti.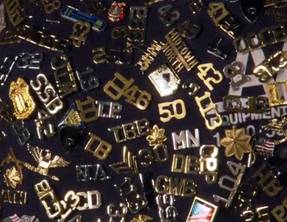 I discovered Susan's story when I viewed the PBS Special "Objects and Memory" which aired on PBS June 3, 2014. (These photos were captured from the movie.) https://video.pbs.org/program/objects-and-memory/  The show, which also addresses the Oklahoma City bombing and the Vietnam War Memorial, examines how otherwise ordinary things assume a heightened importance to us because of their associations with significant experiences.  In the film, museum curators and archivists explain this phenomenon.
 "Objects are eyewitnesses of the past; they are emissaries to history.  People don't endure but objects do.  Museums enable the past to speak to the present in the most visceral way and remind us that the past is real.  The object is a bridge to…something that has otherwise disappeared.  When you hold your grandmother's handkerchief…you have a little bit of her essence that endures."

Sarah Henry, Deputy Director and Chief Curator, Museum of the City of New York
"Objects are eyewitnesses to history.  If they are bruised or discolored, it shows the ordeal they have been through.  The Romans called it neuman – the powerful spirits that animate the object with stories."

Jan Seidler Ramirez, Chief Curator & Director of Collections, World Trade Center Memorial Foundation
Since its dedication in 1982, over 100,000 objects have been left at the Vietnam War Memorial, including over 100 purple hearts.  One park ranger explains "Purple hearts are bestowed upon soldiers wounded or killed in the line of duty.  There are at least 100 different stories associated with those medals." National Park Service employee
Note: On of my all-time favorite New Yorker covers appeared on October 29, 2001. I included it in an Epilogue to my blog Lady Liberty, https://handkerchiefheroes.com/lady-liberty/  and it seemed appropriate to include it here.
Epilogue
Reading about those who contributed whatever they could to help rescue Lady Liberty rekindled images of 9/11 for me.  It was a time when you could tangibly feel a city, a country, united in a common cause.  Photos from that day captured images of heartache and heroism, pathos and patriotism.  As powerful and evocative as those images were, for me, the picture I found particularly poignant surfaced a few weeks later.   It was a simple illustration that graced the October, 29, 2001 cover of The New Yorker magazine.  It depicted children immersed in the door to door ritual of trick or treating.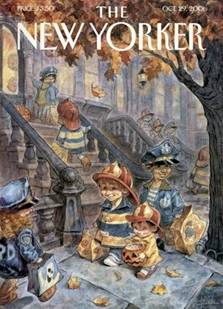 Every child was dressed as a superhero that year – each wore the uniform of either a fireman or policeman. The image, as it turned out, was a true reflection of what Halloween looked like across our nation.  How inspiring. Cartoon heroes -Batman, Superman and Spiderman, were replaced with flesh and blood heroes.  Heroes whom we could touch and hug and say thank you to, but who, on some level, remained larger than life in our collective psyche.  I can still see that image in my mind.  It brought a bittersweet feeling of both loss, and renewal, of triumph over tragedy.
"The cost of freedom is always high, but Americans have always paid it.  And one path we shall never choose, and that is the path of surrender or submission."
John F. Kennedy