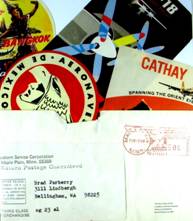 In 1968, a nine year old boy responded to an offer on a cereal box, and received an envelope containing luggage labels from around the world.  Forty six years later, he still has that envelope and its contents.  No one could have predicted, least of all that little boy, his interest in ephemera would one day mushroom into a business with clients around the globe.
The young lad, Brad Parberry, grew up, and like his peers, pursued the traditional route to success, earning a degree in accounting, and an MBA in International Business, eventually working in finance for a major pharmaceutical company.  But he wasn't happy.  Something was missing.  He applied for a fellowship to study in Italy for a year, and serendipity stepped in.  While roaming the market stalls one day he happened upon some beautiful calendars with botanical prints. He returned again and again, captivated.  "I think I could sell these in the states" he told a friend, and the germ of an idea was born.  In 1989, he started a small company out of his apartment, Cavallini & Co. (his mother's maiden name) and began importing calendars, convincing the printer, after much haggling, to use a much higher grade of paper.  Soon he began choosing his own images, scouring the archives of antique and rare bookstores, flea markets and more.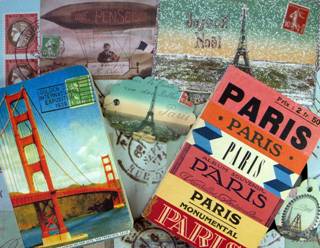 From day one he committed to producing only the finest product, limiting sales to museum gift shops and high end specialty stores.  His hand-tipped bookplates and calendars flew off the shelves.  Eschewing sales reps, he tirelessly worked the gift shows, developing personal relationships with each and every account.  Following his instincts to create what he loved, Cavallini expanded from book plates and calendars to wrapping paper, gift tags, note cards, journals, Florentine frames and more.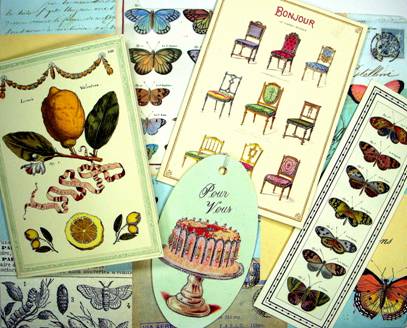 Celebrating their 25th anniversary this year, Cavallini was profiled by Sarah Schwartz, editor of Stationery Trends, who explains "Employees have no formal titles, including Brad, and the group resembles a family more than a business team.  When it's crunch time, everyone works in the warehouse to get the orders out.  When asked what quality he looks for in an employee, Parberry replied 'Kindness,' adding 'We don't hire bodies; it has to be someone who will contribute.  We want people with opinions.'" Indeed, all are encouraged to offer ideas, suggestions and input about new product ideas.
To this day, Brad is energized by the hunt for the unusual, the unique, the amazing. His multi-room archives are museum quality, and he continues to produce outstanding designs season after season. In this digital age, one might assume that calendars are passé, but Cavallini clients are extremely loyal, buying year after year.  When I asked one patron why, she gushed "They're not calendars; they're art."  Indeed, once a new year is underway, and people have purchased all the calendars they need, Flax Art Supply store sells any remaining Cavallini calendars by the single page, as people frame the gorgeous images. I personally know an interior designer who framed eight botanicals for a client's dining room.
Integrity, Quality, Loyalty
I've known Brad since he opened his first office down the hall from me in the Ferry Building in San Francisco.  He was there every weekend and most nights, as was I.  We were the only two working on the entire floor.  Naturally I was curious to meet this man who labored so intently. He was a perfectionist then and still is, once refusing 11 pallets from a new printer (while pending orders waited) because the quality wasn't up to snuff. He treats his employees with the same care and concern.
It's a joy to know someone who can take what they've loved since childhood and create a successful business.  Warning – although he is extremely successful -never ask Brad about sales figures. He'll turn and walk away. For him, it's never been about the numbers. It's about doing what you love, and creating beautiful products for people to enjoy. And he means it.
Cavallini's silver anniversary culminates with a book from Gibbs, Smith entitled "Vintage Ephemera" brimming with images Brad has collected over the last quarter century from all parts of the globe. Gibbs pursued him for years before he finally agreed, wondering where he would find the time for such an endeavor.  Once the book was underway, he pre-ordered enough to gift each account with a book for their stores, to enable them to educate customers about historic artifacts.  As for a book signing? Not a chance.  Instead, Parberry chose to host a party where every employee and a few close friends received a book as a gift.  "I don't care if I ever sell a single book," he explains. "I only agreed to publish in order to have a compendium of these images to be appreciated and enjoyed." This is a man who walks his talk; who regularly works ten hour days in support of his passion.  A passion spawned when that first envelope arrived with eight enticing luggage labels over four decades ago.