"What an immense impression Paris made upon me. It is the most extraordinary place in the world."

Charles Dickens
Where to start in the City of Light? You could spend a lifetime meandering this magical metropolis and never begin to discover the treasures it holds. With 20 arrondissements arranged like a spiraled nautilus, you find yourself wandering down alleyways, across avenues and along boulevards, sampling a bounty of bistros and boutiques, monuments and musées, parcs and panoramas.  It's all too sumptuous and sensational.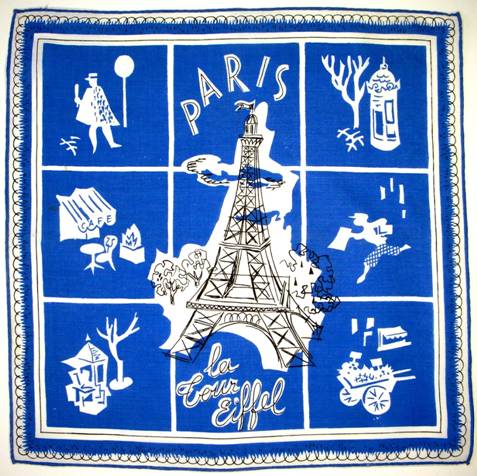 From postered kiosks to cozy cafes, from gallant gendarmes to colorful flower carts, and always anchored by the Eiffel Tower (the entrance to the 1889 World's Fair), this bright blue hankie has it all. It's fun and fabulous.  In future blogs, we'll view Paris through the eyes of artists, couturiers, gourmands, historians, and of course, lovers and romantics. For now, let's do a quick 'fly over' to get a feel for what has been called the most romantic city in the world.
To set the mood, "The Last Time I Saw Paris" composed by Jerome Kern, lyrics by Oscar Hammerstein II, published in 1940
Performed by jazz pianist Beegie Adair
httpa://www.youtube.com/watch?v=nX8dy6SG74k
.
The teensy tricolor atop le Tour Eiffel compliments the tricolor in the embroidered word Paris. Charming. Alongside, crisp colorful Fleur de lis float in a sky blue background. The hand rolled citrus hem adds the perfect sophisticated snap. One interpretation claims the three petals of the fleur de lis represent medieval social classes – those who worked, those who fought and those who prayed. Although it is widely used in the coat of arms by dozens of cities, it has never been officially adopted by any of the French republics. It's a beautiful, classic symbol and a delight to encounter everywhere in France.
This terrific souvenir hankie has it all – from fishing in the Seine to artists on the cobblestone streets of Monmartre, the Moulin Rouge windmill, l'Arc deTtriomphe, les Jardins du Luxembourg, and more. The spicy cinnamon border surrounds and enhances the lively scene.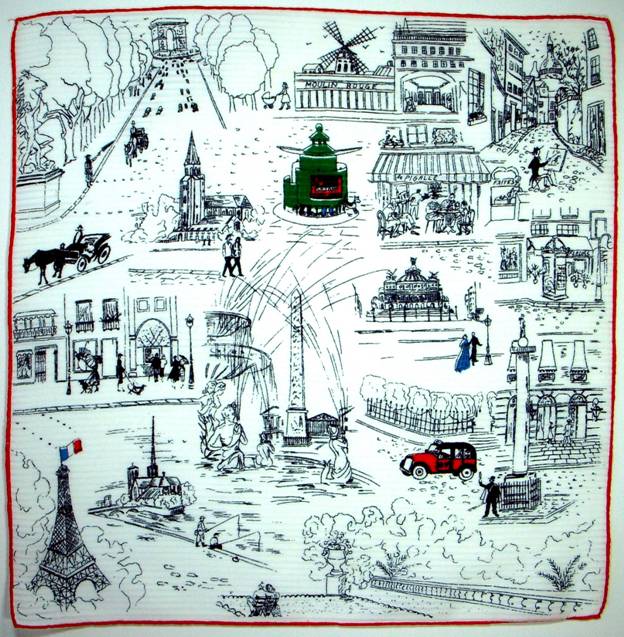 Over coffee at the café you may peruse a paper or magazine. It's interesting to see which publications are now defunct, and which have held their audience through the decades.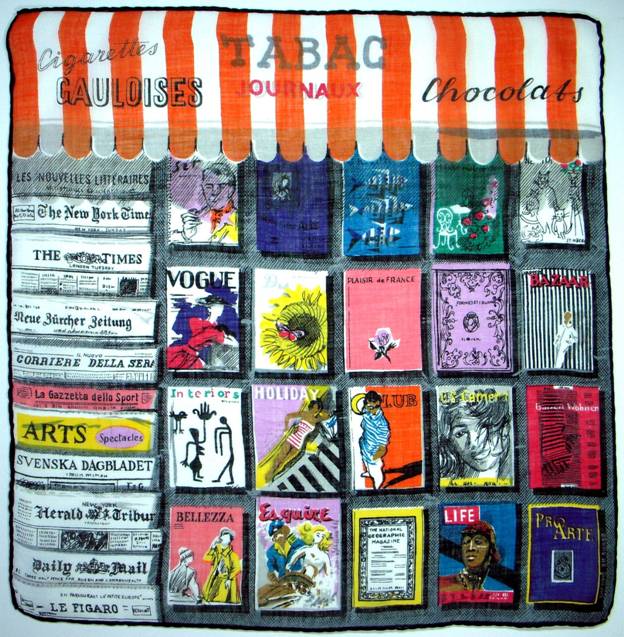 "Oh, London is a man's town, there's power in the air;
And Paris is a woman's town, with flowers in her hair."
Henry van Dyke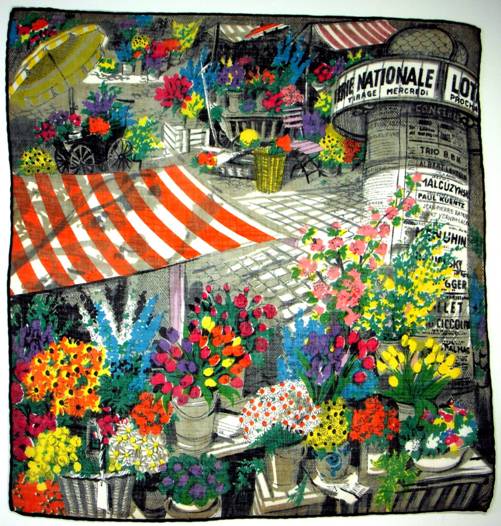 The multitudinous flower stalls which adorn Parisian avenues underscore the unspoken understanding that even the smallest sensual indulgence can enrich our experience, like a pinch of an exotic spice enlivens an otherwise ordinary meal. They remind us to embrace every opportunity to add color to our lives.
| | |
| --- | --- |
|   | Every plaza and boulevard contain harbingers of history, legends of antiquity.  We want to laze beneath the awning, sipping an aperitif.I'm sure the artist merely exercised artistic license when making the fountain red, but it's interesting to note that here is the very spot where Louis XVI and Marie Antoinette lost their heads. Yikes…. |
| | |
| --- | --- |
| | Time to send a postcard home, and isn't this one a beauty?  The detailed illustrations set against kelly green is both handsome and beautiful. Now, of course, we Instagram or post to facebook.  Yet in doing so, we've lost a chance to send a personalized card which conveys the message – this is addressed to you alone.  You're special to me. |
Tiny linen souvenirs tucked in a pocket or purse can instantly transport us to a spring day on the Champs Elysees, a bird's eye perch from the steps of Sacré Coeur, or indulging in salted caramel ice cream at Berthillon on the Île Saint-Louis. So many memories held in one little hankie. 🙂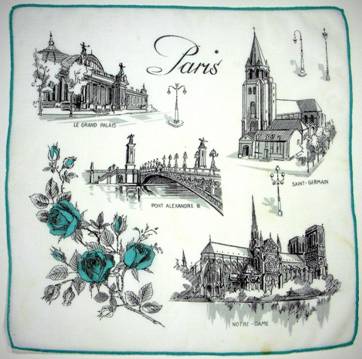 Truth be told these next two hankies more accurately convey how I feel when attempting to navigate the byways of an unfamiliar city. I literally find myself turning in circles attempting to get my bearings. On those occasions, I admit I'm most grateful for a cell phone GPS, and willingly wave a white hankie in surrender to technology.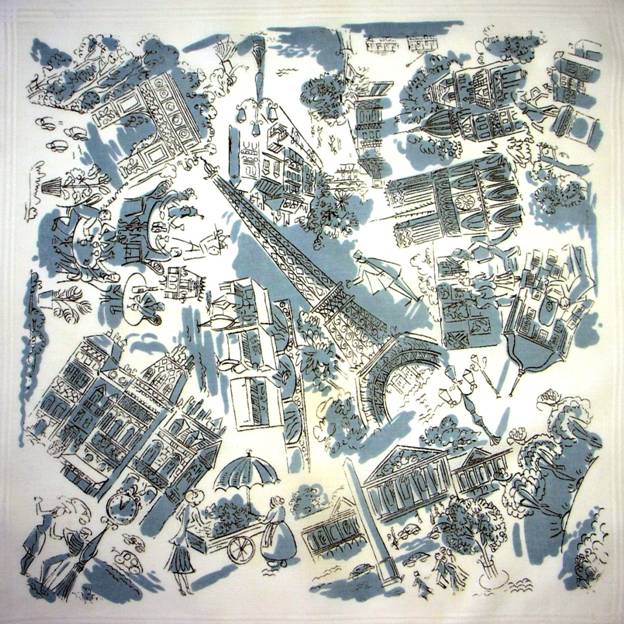 Both the handkerchief above and the one below epitomize for me the hustle and bustle, energy and excitement, magic and miracle that is Paris. Certainly this feeling was rendered to perfection by George Gershwin in his symphonic poem "An American in Paris." *
What I find most interesting in this sophisticated dove gray and rich chocolate handkerchief is that major landmarks and monuments merely whisper in the background, while the lifeblood of the city – its people – assume center stage…to perfection. Truly an enjoyable hankie.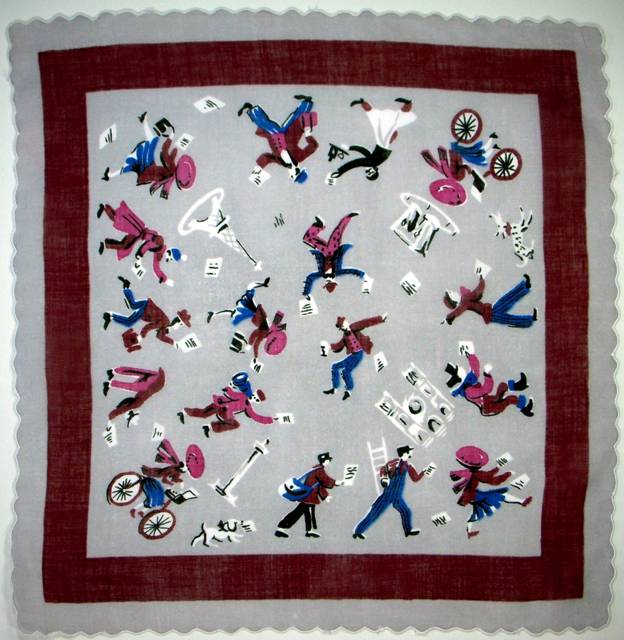 Here's a nifty little cheat sheet with a smattering of the basics to get you through your first few days. I can understand why you might want to recognize turtle or snail on the menu, but penguin? Elephant?  I'm not sure when you'd need to slip those into your conversation, but who knows?  It's certainly clever. Love the coin of the realm layout.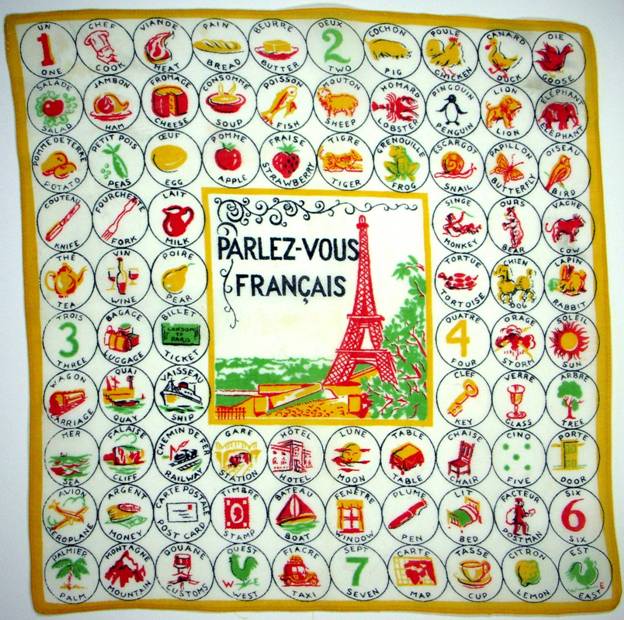 Ah yes, a bit of Berlitz at your fingertips. Great Fun.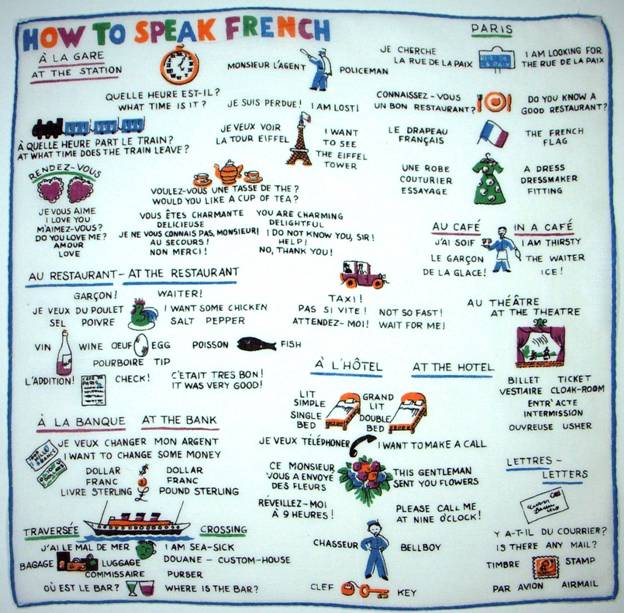 Naturellement, among those phrases considered essential in this City of Love, we find – "You are charming." " Do you love me?" as well as "Help!" and "I do not know you sir."  What a hoot!
A truly lovely hankie that's elegant and charming, as well as fanciful and fun. It's how you feel when experiencing Paris – layer upon layer of adventure and memories.  And I do mean experience. Paris is not a place you visit, but rather a place where you immerse yourself, and surrender to the magic that envelopes you.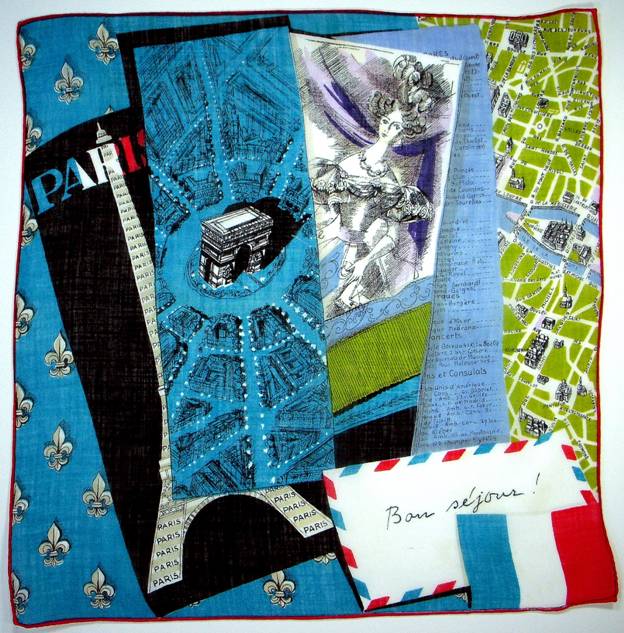 "I felt that Paris was illuminated by a splendor possessed by no other place."
Isak Dinesen, Letters from Africa 1914-1921
If you have a special memory, highlight or Parisian experience, we hope you'll take a moment to review it today, and possibly share it with us.
Just for Fun
*There isn't time in this brief blog to indulge in the entire score of "An American in Paris" but I couldn't leave you without at least a link to enjoy at your leisure. 

httpa://www.youtube.com/watch?v=KU1X3Wut-k0
It's hard to fathom that George Gershwin, composer of this, and another favorite, "Rhapsody in Blue" died at the age of 39.  Imagine the additional wonders he might have produced given the gift of years.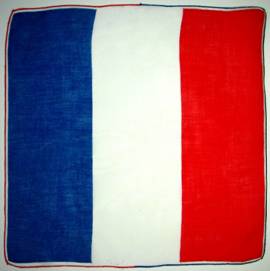 Let's also give you the lyrics to:
The Last Time I Saw Paris  (sung by Dean Martin)
[esplayer url="https://handkerchiefheroes.com/wp-content/uploads/2014/07/lasttimeparis.mp3″ width="200″ height="25″]
The last time I saw Paris
Her heart was warm and gay
I heard the laughter of her heart
In every street café
The last time I saw Paris
Her trees were dressed for spring
And lovers walked beneath those trees
and birds found songs to sing
I dodged the same old taxicabs


That I had dodged for years
The chorus of the squeaky horns
Was music to my ears
The last time I saw Paris
Her heart was warm and gay
No matter how they change her
I'll remember her that way.