"Do you know what it's like to love someone so much that you can't see yourself without picturing her? Or what it's like to touch someone, and feel like you've come home?"

Jodi Picoult, The Pact
Raymond Peynet knew, and expressed it exquisitely in his enchanting and often humorous drawings.
You've seen his work here before in our romantic musings and New Year's greetings.
Delightfully innocent, and utterly charming, Peynet's images captured the hearts of Parisians and romantics worldwide. (Note: this month we have a very special gift for you, so be sure to read to the end to discover how to claim your romantic prize.)
Born in Paris in 1908, Peynet entered the famous École des Arts Appliqués at the age of fifteen. There he met fellow design student Denise Damour, who would one day become not only his wife, but the locus of his famous images. He began his career working as a draftsman for Tolmer, a Paris advertising agency, where he designed everything from labels for perfume  bottles to biscuit tins.
He also began publishing his drawings in Le Rire, Rire à deux, Paris Magazine and The Boulevardier. When war broke out, Peynet moved his family to Auvergne where he worked as a war correspondent. there, in 1942, fate intervened, and Peynet's life took a serendipitous turn.
| | |
| --- | --- |
| Asked to deliver a confidential document to a fellow correspondent located in Valence, in the department of the Drôme, Peynet was waiting on a bench opposite the music kiosk. There, he witnessed a long hair violinist sweetly playing, while a female admirer looked on, enraptured. (Note she is knitting his musical score!)  Today the Kiosque Peynet is an historic landmark. | |
In later years, Peynet replaced the image of the violinist with a poet, and the girl became his lover. Les Amoureux de Peynet was born.  Soon images of the popular lovers began appearing in magazines like Elle and Paris Match, on posters advertising Air France, Galeries Lafayette, as well as various film studios, album covers, wine and champagne labels, scarves, handkerchiefs and in a series of porcelains by Rosenthal.
Below, the ardent suitor rescuing the damsel in the tower, perfectly resonates with the contours of the vase. Note he gifts her not with flowers, but golden hearts of love. Perfection.
Peynet produced a series of over 200 dolls of the lovers.  When Queen Elizabeth made her first official sojurn to Paris in 1957, she was presented with 12 Peynet dolls as a gift for Princess Anne. So popular was Peynet, the French chose his figures to represent the spirit of Paris on this occasion. Although mademoiselle's wardrobe contains décolleté and shoulder bearing styles, along with flirty feminine shoes, the figures are still charmingly wholesome.  Note the poet comes with love in hand.
"Les Amoreux" were so well known they inspired not only songs by George Brassens and Marcel Amont but an animated film in 1975 Le Tour Du Monde Des Amoreux (Around the World with Peynet's Lovers).
To accompany your viewing: Clair de Lune by Claude Debussy
Ardent cupids zing arrows of passion to the smitten couple in "Love, Hearts and Poetry." Note the music kiosk in the background.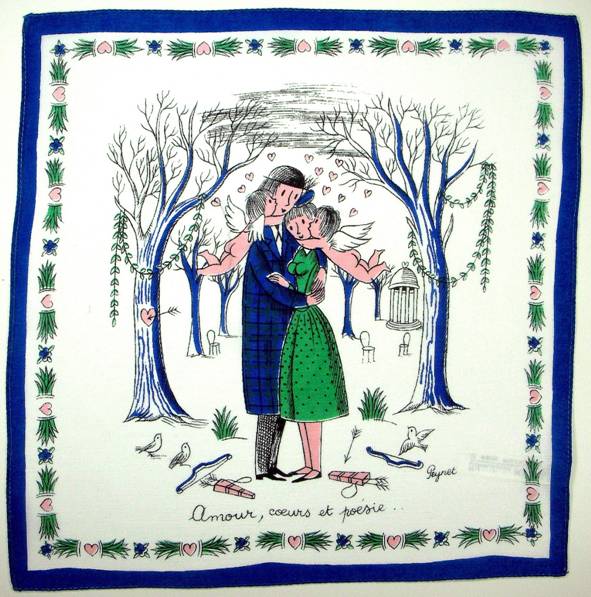 "Our eyelashes brushed like they would weave together by themselves, turning us into one wild thing.  I say "I think I missed you before I met you even."

Francesca Lia Block
This shy couple rendez vous neath a large clock, whose hours on its face progress from a little affection to beaucoup, to all out passion to – ooh-la-la, madness! My friend Claire who translated for me explained this corresponds to our American version of "Loves me, Loves me not." There is no equivalent translation.  In French, they say, (much like the clock face) "il m'aime, un peu, beaucoup, passionnément, à la folie"  – He loves me a little, a lot, passionately, madly. This hankie might translate: "Your time will be mine. Do you want passionately on the quarter hour or madly on the half hour."  Hmm. Can I have both?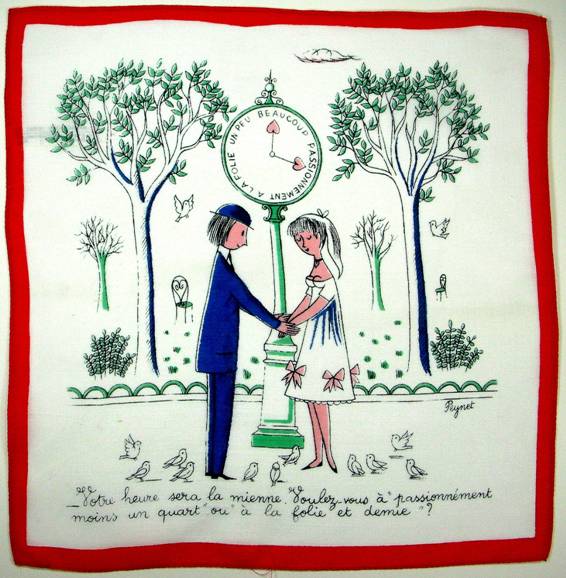 "When you know you know.  And you don't fight it. You don't deny the inevitable. You free fall because you know there's someone there to catch you on the other side."

S. L. Jennings, Fear of Falling
This hankie translates "Look! Your poet accompanies you" as he adorns her frock with flowers.
How adorable is this?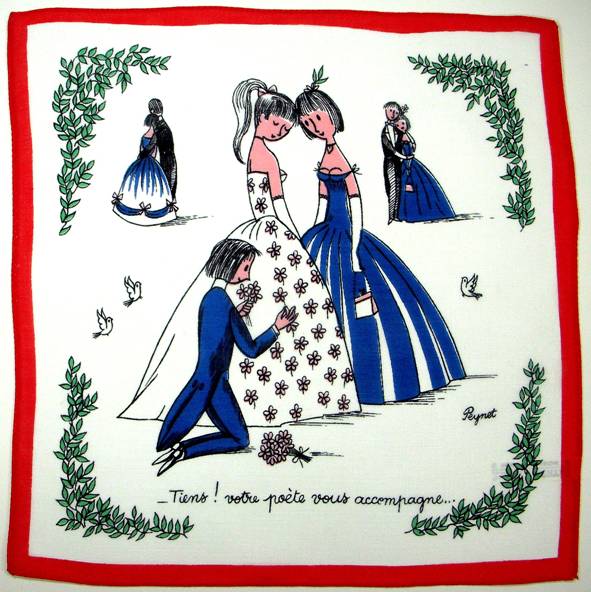 "Every woman deserves to be handled like a princess; she just needs to find her prince."

Mitchell Edward Page
Now that they are a couple, he furnishes their home with love.  As cupids paper the walls with hearts, he chides  "And you claimed that I didn't have a heart" (or that I was cold hearted)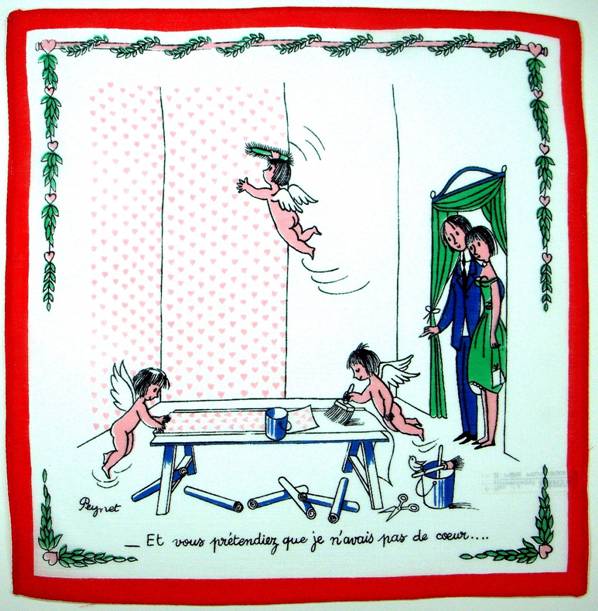 "Mon coeur soupire le jour et la nuit" – "My heart sighs day and night."  This poor chap will probably burn the place down as he eagerly fans the flames while focused on a portrait of his beloved.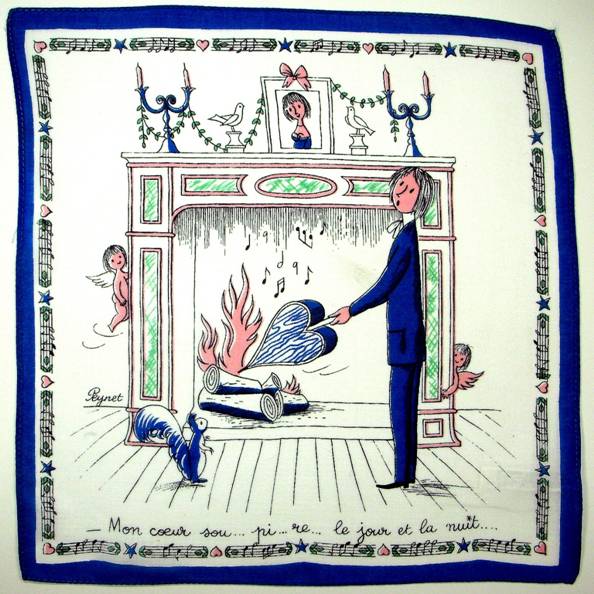 Typical Peynet badinage commands center stage in The Curtain of Rain.  We've all witnessed couples so enraptured they could be in the eye of a hurricane and not notice.  Another interpretation? – storms may rage around them, but their love is safely protected. Wonderful. (We saw these lovers once before joining their hearts in the rain in Parisian Romance)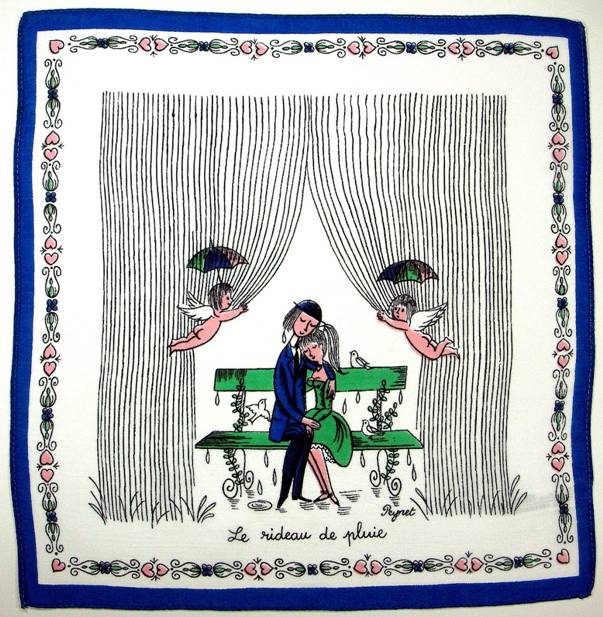 "What does it matter if they wed in the snow or in the rain?  They have each other to support and love, and that's all that should matter."

Kim Dong Hwa
According to  the internet, four museums are dedicated to Paynet: In Antibes, in Auvergne, in Karuizawa (Nagano, Japan) and Mimasaka (Okayama, Japan).
Peynet books include The Lover's Pocket Book (1954) The Lover's Bedside Book (1956), The Lover's Keepsake (1958), and The Lover's Weekend Book (1964).

"A couple in love is like a pair of scissors.  Two useless pieces of metal,

until they are inextricably connected at the core so that they can move

together as one and accomplish great things."

Jack Canfield, Chicken Soup for the Soul: Married Life!

 
Our Gift to You – The Love Test