"Perfume is magic. It's mystery. We recreate the smell of a flower. Of wood. Of grass. We capture the essence of life. Liquefy it. We store memories. We make dreams. What we do is a wonder, an art, and we have a responsibility to do it well."

M.J. Rose, Seduction
Ah yes, fabulous fragrance. In this season of romance, "le parfum" is the ultimate femme fatale accoutrement for flirting. Our olfactory sense is so finely tuned that a mere whiff of jasmine, rose, or lily can evoke memories of a lost love, a magical summer, or pivotal moment in our lives. Perfumers and retailers know this all too well, which is why small handkerchiefs, made of silk or silk crepe, are often spritzed with a special fragrance and gifted to VIP clients. Savvy merchants want the hypnotic aroma to linger in your memory, so you'll return (and purchase) again.
From Cartier to Paloma Picasso (who literally spells out her recipe in this fiery red hankie)
From Givenchy to Cacharel
Dior's "Poison" employs graphics as bold and powerful as the name itself.
"You're dressing up and using expensive perfume? Ole Jack senses a trap. Consider me snared."
Kresley Cole, Poison Princess
Balmain's Madame flirts winsomely behind her muff and opera gloves, while Guerlain's ingénue dreams in innocent wonder.
Perfume is not only serious business, but true artistry. Sample a recipe of Guerlain's Jicky, for example, a unisex fragrance worn by Sean Connery, among others. One description reads: "The top notes contain lavender and citrus (bergamot, lemon and mandarin), which perfectly match the cold, metallic orris and rose shaded by vetiver. The cold top and middle notes are an elegant counterbalance to the warm base consisting of patchouli, vanilla, amber and musk." Yum…and Wow.
Something like Estee Lauder's White Linen, which is more summery and sporty: "The main notes are grapefruit, mandarin, raspberry, pear, green Granny Smith apple, white ginger, cardamom, red tulips, rose absolute, honeysuckle, gardenia, tuberose, jasmine, iris, osmanthus, cedar wood and heliotrope. Aldehydes give an impression of white cleanliness."
Compared to the classic Chanel No 5 "The top notes are composed of aldehydes, bergamot, lemon neroli and ylang-ylang, the heart of jasmine, rose, lily of the valley and iris, while the base is created of vetiver, sandalwood, vanilla, amber and patchouli."
Perfume ads often featured handkerchiefs – as the ultimate tool to seduce and entice your target with a signature fragrance. The ad on the right explains the antique handkerchief is owned by the perfumer and is now on exhibit in retail stores.
Perfume samples in magazines are today's version of what women formerly received at the apothecary. Extracts, specifically "For the Handkerchief" were enormously popular.
"It's always important to own a delectable perfume.

Yes, wearing a beautiful fragrance is in style at any age."

C. JoyBell C.
"A woman who doesn't wear perfume has no future."

Coco Chanel
"It was that blasted perfume of yours – as soon as he caught one whiff of it, he went berserk."

Lisa Kleypas, It Happened One Autumn
"Perfume is the key to our memories."

Kate Lord Brown
These cards instruct to use lotus flower during the full moon and Daphne Odora during the quarter moon.
There were even handkerchief extracts to ward off mosquitos and typhoid fever.
Perfume flacons and handkerchiefs were part and parcel of every lady's toilette, along with mirrors, fancy combs, ribbons, fans, hat pins, pearls, powders, and all manner of make-up and hair accessories.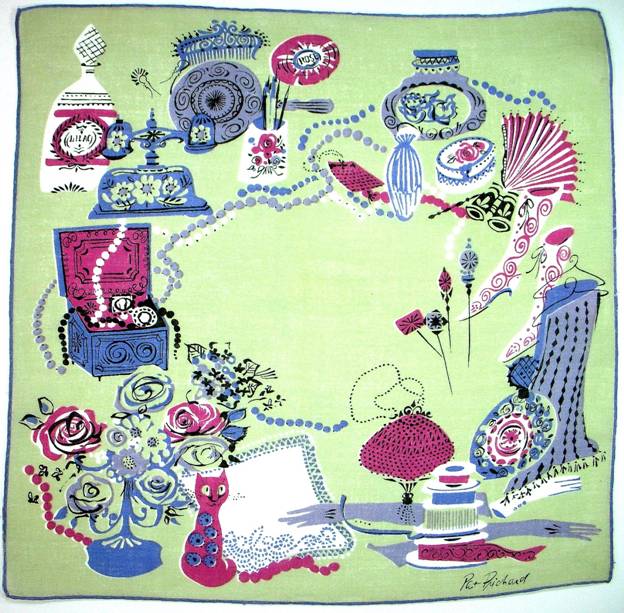 Hankies provided step-by-step instructions to Madame in the rituals of beauty. I had to include this hankie because although on first glance, the image in the lower right corner appears to be a lady spraying perfume, the instructions actually read "spray your face with ice water and drink a dry martini!" Alrighty then…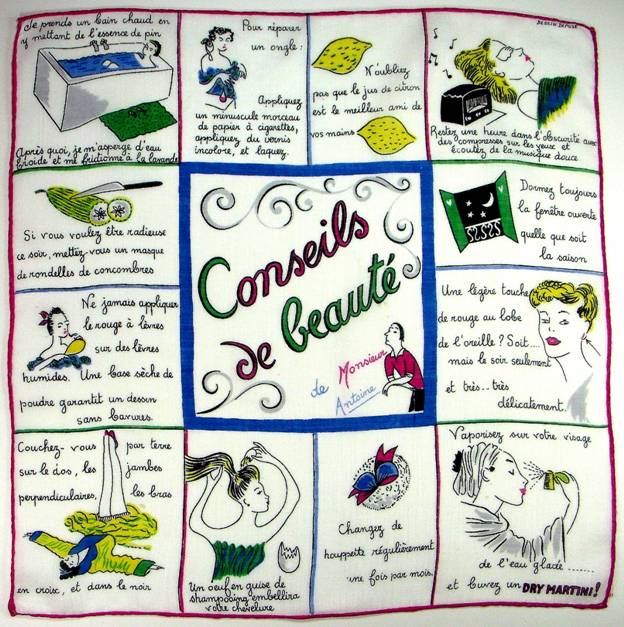 Ah, but there are numerous hankies dedicated to perfume, with suggestions for whatever image you wish to impart – youthful, delicate and light, sophisticated, luxurious, exotic, exciting, seductive, mysterious, etc. There are even suggestions for blondes, brunettes, or redheads, with one corner reserved for your favorite perfume. How terrific is this hankie?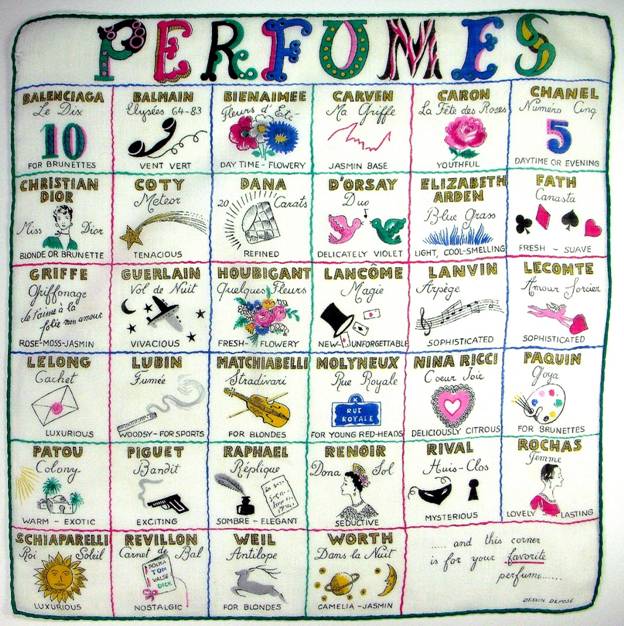 When women forsook hankies, they lost the ultimate flirting device and vehicle for keeping themselves on a gentleman's mind, albeit subconsciously. A scented hankie "forgotten" in a gentleman's coat pocket, car seat, or ahem…on his pillow, provided a rich and delicious (you read the recipes!) remembrance of an unforgettable lady. He may not understand why he can't get you off his mind, but you have literally captured his senses. 🙂
"A good fragrance is really a powerful cocktail of memories and emotion."

Jeffrey Stepakoff, The Orchard
This hankie reminds a lady to carry the essentials – lipstick, powder, but first and foremost – PERFUME.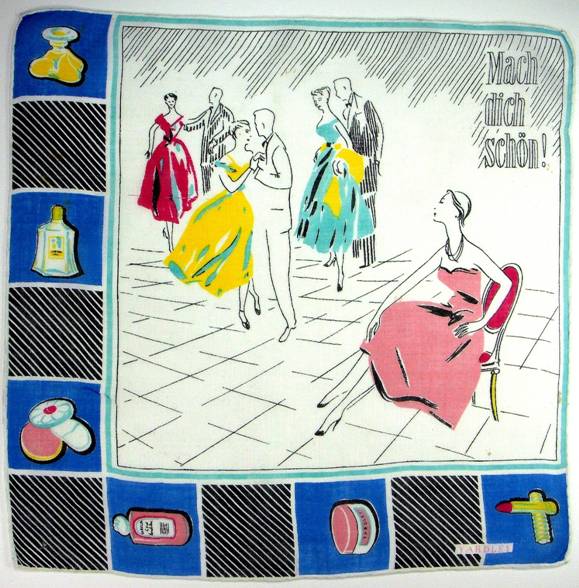 Merchandisers cleverly packaged perfumes in beautiful flacons for the dressing table. When not transferring favorite fragrances to crystal atomizers, classics were collected for their iconic signature shapes, from Shalimar to Chanel.
Remember the red silk Givenchy hankie we saw earlier? The press release read "Amirage expresses the emotion of love at first sight. A romantic scent of grace, warmth and fantasy for a spirited, confident, spontaneous woman. The Amirage bottle was inspired by a blouse once created by Hubert de Givenchy for his muse and style model, Bettina Graziella. A wide collar of gold, part-frosted, part-clear, part- opaline, part-flame – unveils the enchantment of the fragrance." So, if a woman is looking to inspire love at first sight…..
Millions were spent on advertising to underscore a woman's unique style. (Remember Revlon's Fire and Ice quiz in Stolen Kisses?)
Whether classic, rich, and luxurious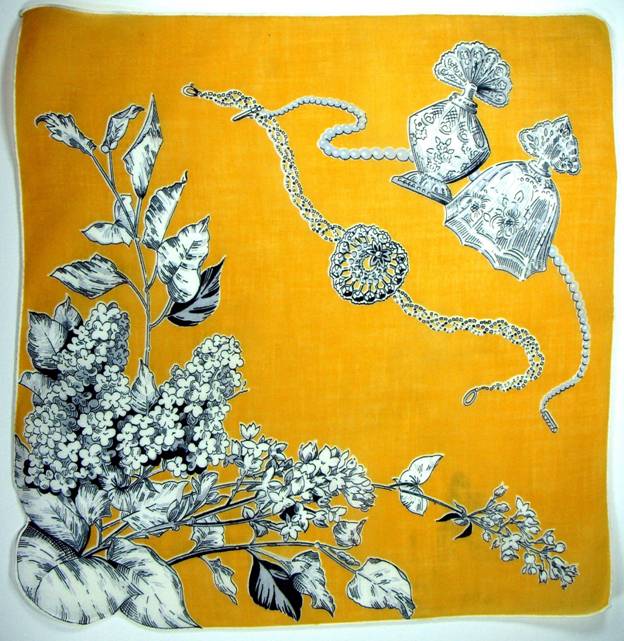 Or fearless, audacious, and avant-garde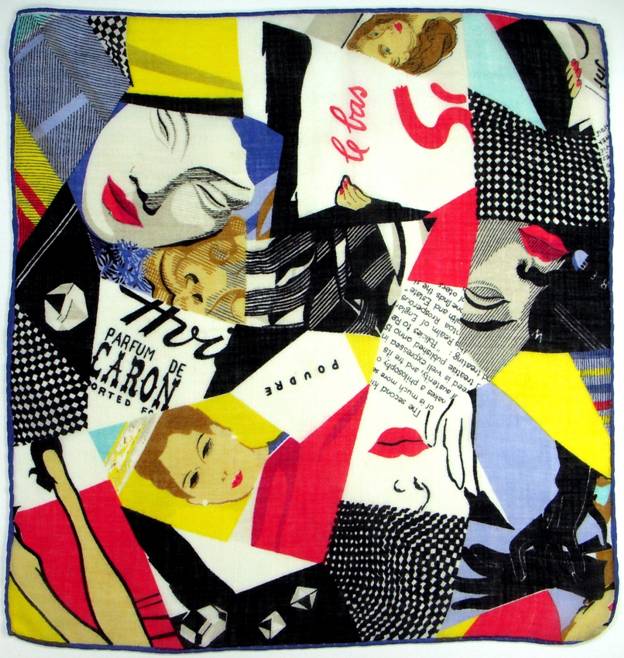 Perfume allowed a woman to remain a kitten on the exterior, while stirring the jungle cat deep within the man on the prowl…
Speaking of which, perfume is the ultimate bait for felines as well. According to "365 Amazing Trivia Facts", a scientist at the World Conservation Society discovered that tigers, snow leopards and cheetahs at the Bronx Zoo were more attracted to Calvin Klein's Obsession for Men than any other scent, so researchers began using it to lure felines of all kinds to cameras set up in the field. And there's your trivia tweet for the day.
Even hankies for little girls carried the promise of what she hoped to be one day – a red lipped princess who smelled like heaven.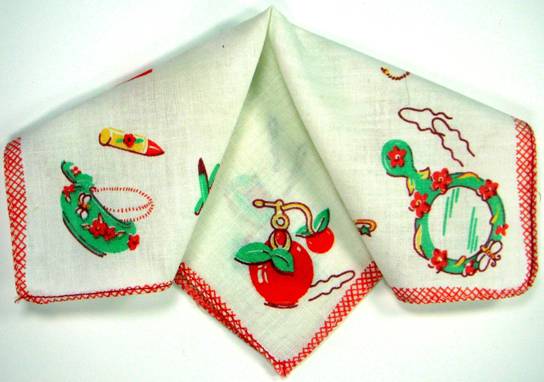 "Perfume is like cocktails without the hangover, like chocolate without the calories,

like an affair without tears, like a vacation from which you never have to come back."

Marian Bendeth
Just for Fun
Remember the scene from Legally Blonde when law student Elle Woods handed her potential employer a scented job resume, hoping to score an internship? He sniffed and she quipped "It gives it a little extra something, don't you think?" He handed it to an associate, and soon two befuddled males were watching with incredulity as she sauntered away.
More Fun
When asked to name a classic perfume, women of all ages replied "Chanel No 5." Interestingly enough, one book club selection this month happens to be Mademoiselle: Coco Chanel and the Pulse of History by Rhonda Garelick, and what a read it is. I was unaware (but it makes sense) that Chanel's true fortune was based on parfum sales, rather than couture. By the mid-1940's the worldwide sale of Chanel No. 5 was nine million dollars annually, or two hundred and forty million in today's dollars. By the late 1940's sales were around twenty five million annually. Everyone from Andy Warhol to Marilyn Monroe adored the signature fragrance.
By now, most people are familiar with the classic response Marilyn Monroe gave in her interview with Marie Claire's Georges Belmont in 1960 on the set of the movie "Let's Make Love." When asked what she wore to bed – pajama tops? a nightgown? Her response, of course – "Chanel No. 5!"
You can catch the live interview here: https://www.marieclaire.com/beauty/makeup/a8509/marie-claire-marilyn-monroe-chanel-obsession/
"If you had a clone, and you weren't wearing perfume and your clone was, I'd automatically think your clone was more attractive."

Jarod Kintz, This Book Has No Title
Perfume + Handkerchief = The Double Whammy!