It's mistletoe season once again, and we find this bashful beau blushing – either from shyness or smug satisfaction at his overwhelming success in the smooching department.  My, he has been busy.   I've been told this is an example of a 'magic' disappearing handkerchief.  Once laundered, the image purportedly washes away, making the hankie utilitarian for everyday use, but why would you want to wash out all the fun?   Now that we've entered the season of red & green as well as mistletoe, it appears essential for a girl to always have a lipstick at the ready, as well as a lipstick handkerchief. If you're new to the world of hankies, visit

Pucker Up

, to learn the history of the lipstick

handkerchief.  Suffice it to say, they're the apogee in the art of flirtation.  So fasten your seatbelts, and let's be off. 🙂
"I have found men who didn't know how to kiss.  I've always found time to teach them."

Mae West
Since blotting lipstick with a paper tissue left snow flurries on a lady's lips, women needed a solution for blotting lipstick, without ruining their pristine white handkerchiefs.  Enter the lipstick hankie.  Colorful, functional and fun, it filled a fashion need perfectly, keeping lips lovely and kissable. Soon enough, women discovered that waving a little red square about drew a bit of attention.  So why not put these red flags to good use? Ah, the double whammy.  After applying her lipstick, a lady could blot her lips, while simultaneously sending her suitor a sly signal for romance. Here, directives quickly escalate from demure "hankie for your lips" to steamy "Love, Always Love."
It doesn't get more straightforward than this – cupid prepares a lady's lips for the big event.  Alongside, a checkerboard of choices should inspire even the most unimaginative suitor.
"God daubs stars into galaxies with fiery paint – the same lacquer he uses upon your lips…"

John Geddes, A Familiar Rain
There's everything from a demure rose to a sly fox to the devil himself.  Whatever gets the engines revving…..
Lovely ladies, and by association, lipstick, perfume, and all things feminine, bring to mind dining, dancing, and romance, as well as sojourns to the opera, ballet, and symphony, as we see in the following handkerchiefs.
"Your kisses make me feel like I'm dancing."

Melissa C. Walker, Unbreak My Heart
"I didn't know what velvety was until I knew it with my lips. Oh, kissing. Oh, violin boy."

Laini Taylor, Night of Cake & Puppets
"Not enough," he said, letting her hair skip through his fingers. "If I kiss you all day, every day, for the rest of my life, it won't be enough."

Cassandra Clare, City of Lost Souls
I reservedly share this next handkerchief, and wish to state I mean no disrespect  to any of my readers.  It features a blackamoor (Spanish Moor), an image found in jewelry, candlesticks, and other object d'art at the time.  Pictured here is Coco Chanel in her Paris apartment with her blackamoor statues.  Certainly politically incorrect, I think it's historically interesting to see the depth of influence held by the doyennes of fashion – right down to a lady's handkerchief.
Speaking of Paris and Fashion, both were de rigueur images for a fashionista's hankie. Here we find both ends of the spectrum – from ingénue to seasoned pro.  The hankie on the left clearly spells it out – this is for the rouge on your lips.  The hankie on the right includes a blank note card for the woman to add her phone number before she "accidentally" drops her handkerchief.  Well done.  A pro leaves nothing to chance.
Oh those clever French.  Many a hankie read "Pour Le Rouge" as seen on this Parisian street kiosk below.   A lady could flaunt, flirt  and flash her mini matador's cape to her heart's content, attracting every bull in the café.  When her intended target would then approach, she could demurely sidestep his advance with a shy, "Waving at you? Goodness me, I was just blotting my lipstick."  Meanwhile the hapless spider was now in her web. (And you thought hankies were silly and old fashioned…tsk, tsk….)
"You intend to kiss me and yet you are going to all this damn trouble about it."

William Faulkner
| | |
| --- | --- |
| If dining at the Moulin Rouge, one might need a more direct approach to flirting.  Let's give a hankie salute to the can-can dancers, and Toulouse Lautrec, a ringside regular. | |
Perhaps this is supposed to be a Gibson Girl, but from her sports bar arm-slung-over-the-back-of-the-chair posture, she appears more like a Moulin Rouge hostess on break.  Perchance she's dreaming of a romantic Venetian interlude.
"To this day, she could make tap water boil just by kissing him."

Sarah Addison Allen, The Sugar Queen
Regardless of the handkerchief image or the lady who carries it, one thing is for certain – it's not about the lipstick; it's about the lips. 🙂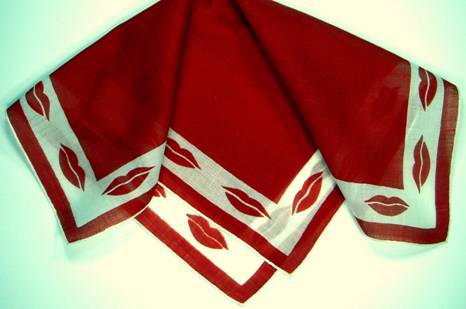 "The kiss. Oh, the kiss. What a perfect, unnerving, luscious kiss. He made me feel unhinged…like he could take me apart and put me back together again and again."

Chelsie Shakespeare, The Pull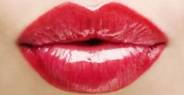 Just for Fun
httpa://www.youtube.com/watch?v=fHjZQb-kGek
A Kiss to Build a Dream On  – composed by Bert Kalmar, Harry Ruby and Oscar Hammerstein in 1935. Here's a 1951 rendition by the great Louis Armstrong.
Fun facts:
Myths abound about mistletoe or the Golden Bough of Aeneas.  Many attribute the kissing ritual to an old Scandinavian custom. Washington Irving in The Sketch Book of Geoffrey Cray (1802) claimed mistletoe was hung in farmhouses and kitchens at Christmas time, and young men were allowed to kiss a girl beneath the mistletoe, plucking a white berry from the plant for each kiss he stole. When the berries were all gone, so was his chance for another kiss.
Since 1893 mistletoe has been the state flower of Oklahoma, but in 2004, it was supplanted by the Oklahoma rose.  Ho-hum.  Roses  are lovely, but methinks the mistletoe more fun!