Mother's Day
Two little words – Mother's Day, evoke the deepest of emotions and strongest of memories in every child, of every age, in every part of the world. Whether your mother is still with you or has passed, whether she abides close by or across the seas, your mother is the one and only relationship you've had since before you were born, that will remain with you until your final day.
"Motherhood – all love begins and ends there."

Robert Browning
So many books, poems, and tributes have been dedicated to Mothers, it would be impossible to capture the range, breadth and depth of our love for them. Instead, I can simply share a few tokens of affection – one hankie found in a keepsake box, alongside a baby rattle and lock of hair; one found enveloped by a child's homemade Valentine, thick with glue and glitter. One handkerchief, a father informed his son, his mother slept with under her pillow every night, and carried against her bosom every day, while her son was off to war. When she misplaced it once, she didn't sleep for two days until it was found.
"All that I am or ever hope to be, I owe to my angel mother."

Abraham Lincoln
Handkerchiefs gifted to mothers from "fly boys" during WWII.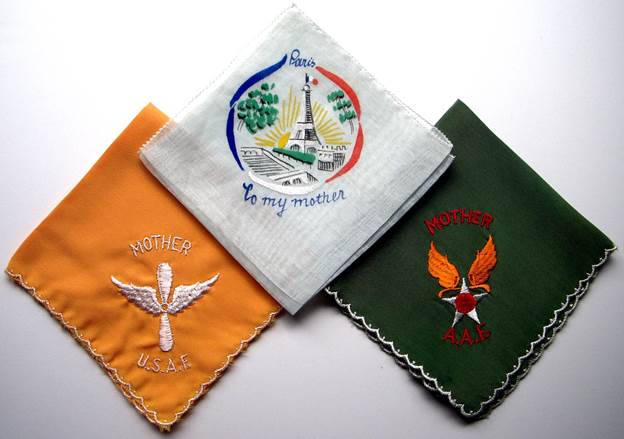 More gifts to mom from across the sea…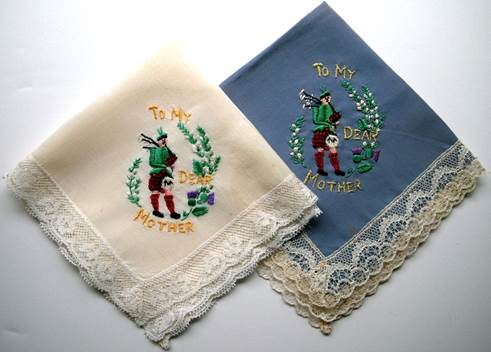 For many of us, our earliest memories of motherhood include snuggling in a warm lap and being read to, by a mother or grandmother, often until we fell asleep. Here, a kindly Old Mother Goose nurtures a brood on her lap and one at her feet!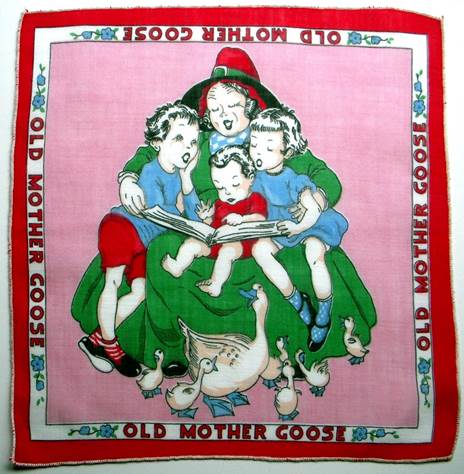 "Grandmas are moms with lots of frosting."

Unknown
History
Celebrations honoring spring and maternal goddesses date back to Greek and Roman times, but the more recent history of Mother's Day dates back to the 1600's in England when the fourth Sunday of Lent was acknowledged to honor not only the mother of Jesus, but mothers everywhere. The idea for an official celebration in the US was proposed by Julia Ward Howe in 1872. ( If her name sounds familiar, she wrote the words to the famous Civil War song "Battle Hymn of the Republic.") In the early 1900's American Anna Jarvis also lobbied those in power to declare an official holiday to honor Mothers. In 1914, President Woodrow Wilson signed a joint resolution designating the second Sunday in May as Mother's Day.
Hidden Love
Everyone likes to receive a present that contains a surprise or secret message, and these hankies are just the ticket. Much like our Valentine hankies in Secret Love, the following handkerchiefs, on first glance, appear to be simple images of flowers intertwined with ribbons. When folded however, the word Mother appears. A lady could drape this over her belt, as was the fashion of the day, or let it peek from her breast pocket, and no one would guess she was actually keeping her child close to her heart.
.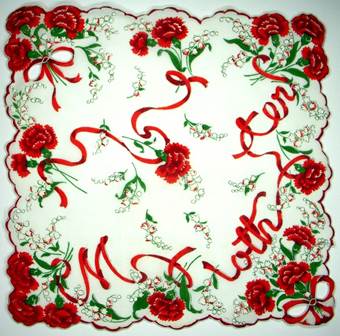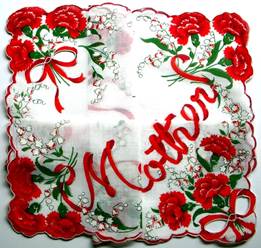 "God could not be everywhere, so he created mothers".

Leopold Kompert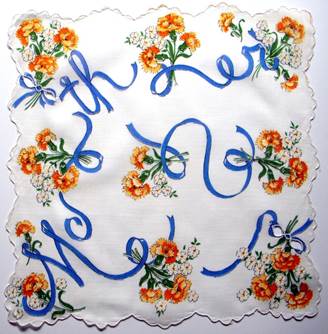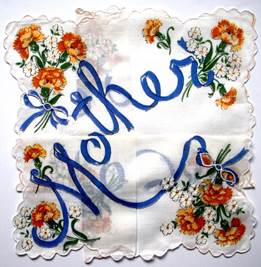 A variation on the ribbon theme, this hankie spells out Mother in flowers.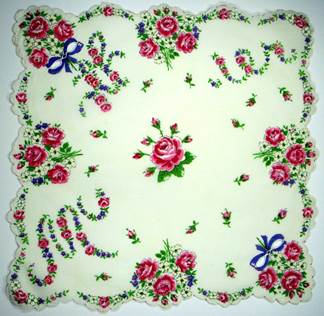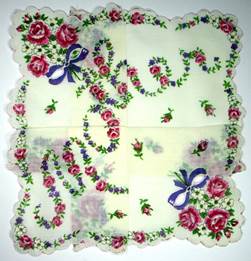 "A mother is she who can take the place of all others,

but whose place no one else can take."

Cardinal Gaspard Mermillod
One of the more successful renditions of a secret message handkerchief has the typography truly hidden amidst corner bouquets, appearing like trailing ribbons. The curlicue border assists with the camouflage, while the fanciful jumble of hearts in the center is terrifically modern and fun.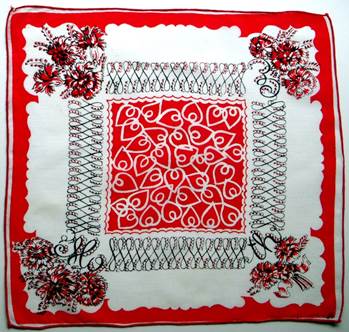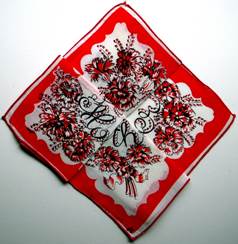 "There is no such thing as a non-working mother."

Hester Mundis
Other hankies aren't quite so shy. Instead, their colorful message pops right out to say Mom, you're special.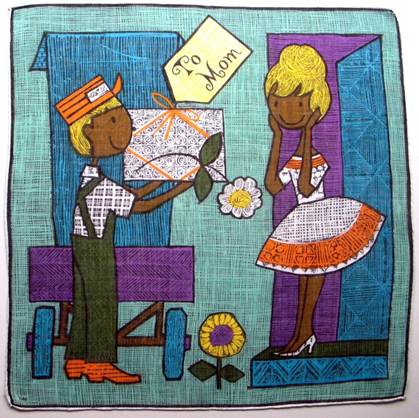 "Having a child is to decide forever to have your heart

go walking around outside your body."

Elizabeth Stone
This trio of keepsake hankies all carry roses to mom's doorstep. The hankie on the far left is hand painted. The center pink bordered hankie bestows over six dozen American Beauties to mom, while the roses on the far right are so fragile as to appear almost translucent.
"The heart of a mother is a deep abyss at the bottom of which you will always find forgiveness."

Honoré de Balzac
Many handkerchiefs are professionally embroidered, in this instance in ombre threads.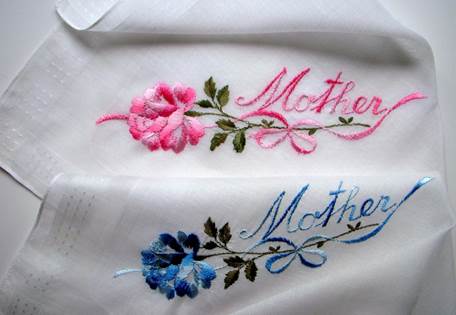 .
The hankies I particularly treasure however, are the ones embroidered by hand, no matter how crude or simplistic the craftsmanship. Just like the homemade ornaments you hang on the tree, we know each piece was made with love.
"One of the oldest human needs is having someone to wonder where you are

when you don't come home at night."

Margaret Mead
A handkerchief needn't spell out "Mother" to be appreciated on her special day. These bouquets of spring tulips and lilies, each showcasing a spectacular flower sing "Mom, you stand out from all the rest." Who wouldn't love to receive either one? Aren't they spectacular?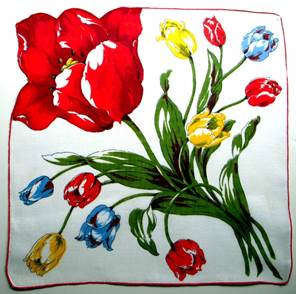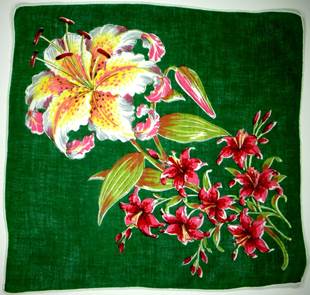 Husbands would often gift their wives something for Mother's Day. Sometimes, the hankie might indicate what the spouse wished he could bestow, in grateful appreciation for a job well done.
Perhaps a palm full of jewels… This sophisticated gray, pink, lime and ice blue handkerchief captures a pirate's treasure chest in its folds. It's absolute perfection.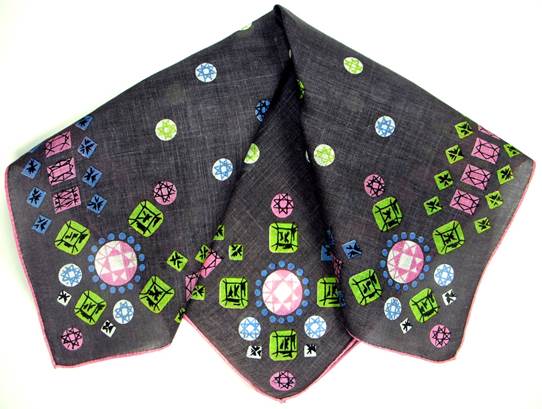 .
Perhaps the hankie illustrates a special trip taken, or trip to come in the future. One lucky lady I know whose husband proposed to her in a hansom cab in Central Park, received a handkerchief depicting a carriage ride in the evening, with all the city lights twinkling in the background. Her husband told her given all the women in the word to choose from, he would choose her again, because she was the best mother in the world.
.
When one dad asked his son what he wanted to give his mom for Mother's Day, he replied without hesitation – Ice Cream! Well why not?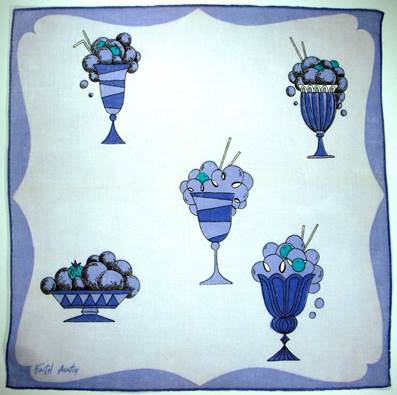 Hopefully this Mother's Day you'll receive your fondest wish – be it a warm hug or a cold sundae – and you'll be able to enjoy this day with those you love and cherish and who cherish you in return.
Just for Fun
I'm probably going to catch holy heck for this, but I couldn't resist including this sheet music from 1914, and 1912. The blue photo reminds me of Maude Frickert, a character played by the great comedian Jonathan Winters, whom we lost just last month. Both mothers are quite formidable. A girl who had either one of them for a mother in law would know her place in a hurry. Yessiree. And howdy.
"No matter how old a mother is she watches her middle-aged children for signs of improvement."

Florida Scott-Maxwell
"My mother's menu consisted of two choices: Take it or leave it".

Buddy Hackett
All kidding aside, let's close with a truly lovey melody:
A Song For Mama
Written and produced by Kenneth Brian "Babayface" Edmonds, ten time Grammy Award winning R&B musician singer-songwriter and producer. The song was made famous by the group Boyz II Men.
You taught me everything
And everything you've given me
I'll always keep it inside
You're the driving force in my life
There isn't anything or anyone that I could be
And it just wouldn't feel right
If I didn't have you by my side
You were there for me to love and care for me
When skies were grey
Whenever I was down you were always there
To comfort me
And no one else can be what you have been to me
You'll always be
You will always be the girl in my life for all times

Chorus:
Mama, Mama you know I love you
(Oh you know I love you Mama)
Mama you're the queen of my heart
Your love is like tears from the stars
Mama I just want you to know
Loving you is like food to my soul

You're always there for me
Have always been around for me

even when I was bad
You showed me right from my wrong
(Yes you did)
And you took up for me
When everyone was downin' me
You always did understand
You gave me strength to go on
There was so many times looking back

when I was so afraid
And then you come to me and say
I can face anything
And no one else can do what you have done for me
You'll always be, you will always be the girl in my life

Chorus:
Mama, Mama you know I love you
(Oh you know I love you Mama)
Mama you're the queen of my heart
Your love is like tears from the stars
Mama I just want you to know
Loving you is like food to my soul

Never gonna go a day without you

Fills me up just thinking about you

I'll never go a day without my mama

Mama you know I love you….
There is no doubt I will forever be a hankie girl due to the influence of my darling mom, who was never without a fresh hankie in her purse, and who gifted her daughters with hankies when we were small. Sadly, those hankies are long gone, scattered to the winds amidst our frequent moves. Still, once the years overlaid the mother/daughter relationship with a sweet frosting of best friends, we loved to shop for hankies together and gift them to friends, particularly new brides. Note that artist Elizabeth Barlow also kept and carried her mother's handkerchiefs (see Artiste Extraordinaire). If you have a handkerchief memory from your mother, grandmother, father, grandfather, aunt, teacher, friend, etc. We'd love to hear it. Please do share. (I can still remember, when we'd lose a tooth, mom would place it in the center of her hankie and give it a few good twists to secure the tooth, then carefully place it under our pillow for the tooth fairy.)