When I found this handkerchief with its soft gray border showcasing Van Gogh's painting of a gypsy caravan, I knew exactly what I had to do – gift it to my artist friend Elizabeth Barlow.
.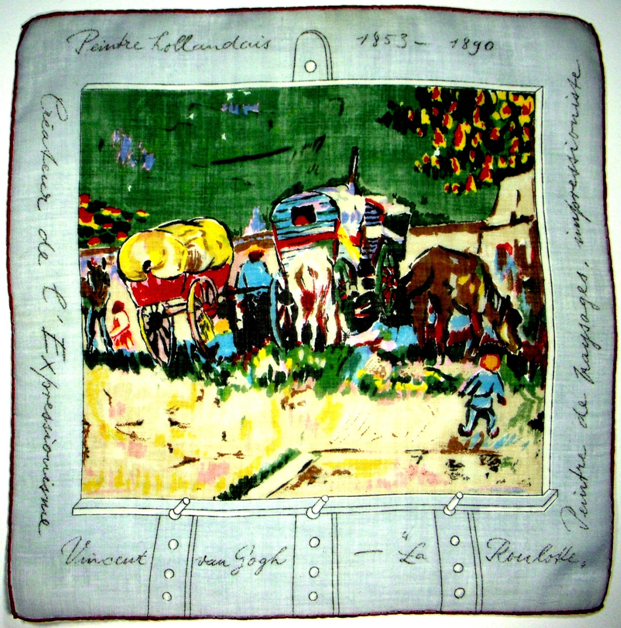 .
Van Gogh invites the viewer to join this vibrant and inviting scene of sun washed travelers with their gaily painted carts. So, too, Elizabeth's paintings draw you in; they tempt you to pause and enjoy. Her art tells a story, beckoning you to discover the unspoken tale contained in the image. Let's take a look.
This painting is titled Happy Birthday, and you know from the sheen of the satin the present within will be magical. The size and shape of the box are unimportant. She focused on the bow, the combination to the safe that's keeping everything locked up tight, and yes, we want to untie it right now!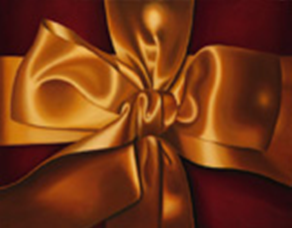 .
Elizabeth is an artist of both extraordinary talent and consummate skill, and she's a master at conveying sensuality. I'm not surprised her medium is oil, as it captures all the depth and richness of the Old Masters. It's a struggle to stop yourself from swirling your tongue in this icing, or devouring these succulent cherries. Perfection!
.
Recently, she has focused her energies and gimlet eye on portraiture, but with a special twist. In her words: "I create paintings of people using their belongings, rather than their faces, to explore the human experience. In my most recent series, I am painting shoes to represent the person who wears them. Shoes are both intimate objects and cultural artifacts and offer rich opportunities for storytelling."
Her

Portrait of A Social Columnist

was selected as one of 13 finalists out of 2500 entries in

Southwest Art Magazine's

Artistic Excellence Competition, and was featured, along with an interview of Elizabeth in the December 2011 issue.
A Handkerchief Lover
While attending one of her gallery openings last year, I spied a small blue handkerchief in her hand. When I asked, she explained it had belonged to her mother, and she always carried one in her purse. I knew it! Someone who paints sensual images in rich oils could never be a kleenex girl. It's linen and lace all the way. I asked if she would share some of her treasures for this blog, and she graciously agreed.
.
| | | |
| --- | --- | --- |
| A satin and lace handkerchief pouch, and hand painted moiré silk travel pouch. | Drawn work on blue linen, and souvenir hankie from Mark Twain's boyhood home. | Silk crepe fashion handkerchiefs. The gold butterfly is hand painted. |
| | | |
Family Portrait
This painting tells a family story; the parents ride English, while the children ride Western, as their boots reflect. A photo cannot remotely begin to convey the luminosity of the actual work. You can almost smell the leather and saddle soap rising from the surface of the canvas. Seriously. The boots look impeccably well looked after.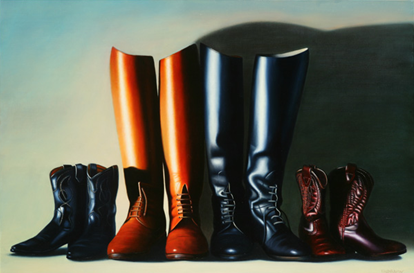 The minute I saw it, one name immediately zinged to mind – Ralph Lauren. "Oh Elizabeth" I said "wouldn't it be wonderful if you could paint Ralph and Ricky's cowboy boots? Perhaps even alongside a pair of their evening slippers?" We shared a smile at the thought. I asked if she knew him or anyone in his entourage. She did not, nor do I. Such a shame, as I'm convinced she's the perfect artist to create his family portrait. Both Elizabeth and Ralph devote their working hours to creating beautiful art for our visual and sensual enjoyment.
A Personal Request
In the spirit of six degrees of separation – if anyone reading this knows Mr. Lauren or one of his associates, I ask that you please pass along this blog. I would love for him to experience Elizabeth's work, as I believe they are kindred souls, artistically speaking. In addition, I have a little gift for him.

This is an antique German tin stencil that happens to contain his initials in a variety of styles. It was used as a template for monogramming linen handkerchiefs and table linens. I've photographed it on a light table to more easily showcase the intricate lettering. Wouldn't it be fun to see it framed and hung in the flagship store on Madison Ave.? Or perhaps the ranch in Telluride…
Once, when I was with a group of art lovers viewing Elizabeth's work, she spoke of the "great privilege" she had to study at the Art Student's League in New York in 2006. In her words "a hallowed place for artists" in a gorgeous Beaux Arts building. "Many illustrious artists had worked there – Georgia O'Keefe and Mark Rothko for example— and every day I would think to myself 'they climbed these stairs, they painted on these easels…a magical place." Her eyes were shining with unshed tears as she recounted the experience. So you can see why the Van Gogh hankie – complete with easel, has found the right home. 🙂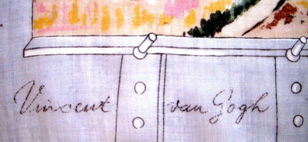 .
????????????????
Elizabeth Barlow's paintings are currently represented by District Gallery (Park City, Utah), Elliot Fouts Gallery (Sacramento, CA), and at Gallerie Citi (Burlingame, CA). Her work has won awards in national exhibitions at the Triton Museum (San Jose), Coos Bay Museum (Oregon), and the Stephen F. Austin University (Texas). Her work has also been featured in Southwest Art Magazine, American Art Collector and Professional Artist Magazine."