"I love winning, I can take the losing, but most of all I love to play."

Boris Becker
The 2015 U.S. Open had the media abuzz, with fans rooting for the incomparable Serena Williams to perhaps win five consecutive grand slams. To date, she had already won the 2014 U.S. Open, 2015 Australian Open, 2015 French Open, and Wimbledon, 2015. The oldest player to win a major, she's like the energizer bunny, and just keeps going and going. Win or lose, this #1 ranked player is a champion in every sense, so here's twirl of the racket and well deserved kudos to Spectacular Serena.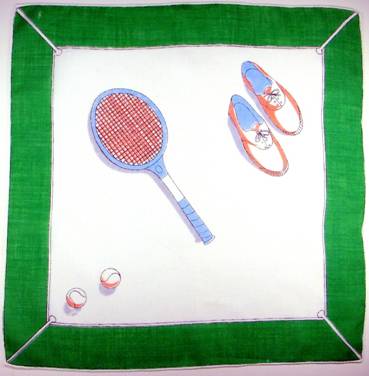 "I'm a perfectionist. I'm pretty much insatiable.

I feel there are so many things I can improve on."

Serena Williams
The punch, power, and pizzazz Williams displays center court is a far cry from the Victorian ladies who gingerly returned serves from soft green lawns, outfitted in floor length skirts and petticoats.  This cinnamon bordered hankie is as sizzling as Serena's backhand. The giant white ball hurtling toward us helps date the hankie. In 1972 yellow tennis balls replaced the standard white ball. I assumed it was because it would easier to see them coming out of the sky when you were staring into the blinding sun, yet research confirms the ball color was changed to make it more visible to television viewers. Who knew?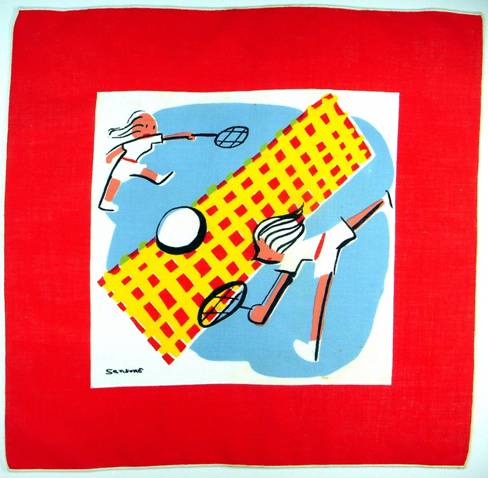 According to historians, the game was first played indoors, and originated in monasteries in Northern France in the 12th century as a form of handball. Known as jeu de paume (game of the palm) it gradually transformed over the ensuing decades to become the racket and ball game so popular today.
The repetition of images in this handsome hankie gives one the feeling of viewing multiple matches simultaneously, much like the camera coverage you'll find at Wimbeldon.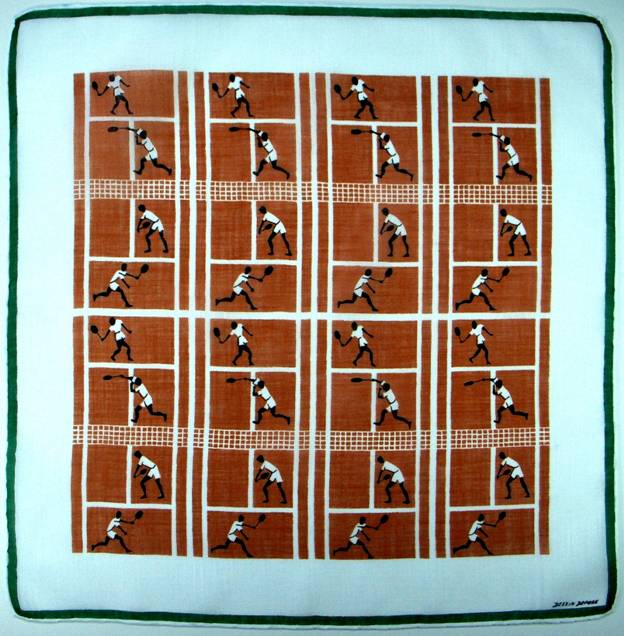 Trivia quiz: How many games were played in the longest match in professional tennis history? We'll give you the answer at the end of this blog.*
Day-of-the-week hankies were extremely popular with both children and adults, with images ranging from daily chores, to professional occupations, to leisure activities, to…you name it. Below, a weekend warrior gives it all she's got.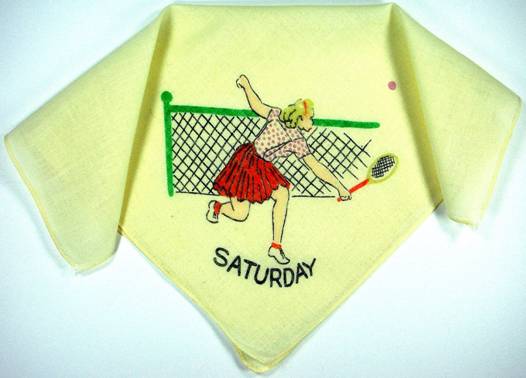 More Trivia:  How do used tennis balls from Wimbledon and elsewhere enable animal conservationists in Great Britain to help an endangered species? (Answer at end of blog)**
Is it my imagination, or is there a bit or moral tongue clucking in this children's hankie?  The demure young lady departing Sunday service pauses to pet an innocent lamb, while the church-skipping gal at the net is tarted up in mini skirt and provocative pose. What a hoot!
A lovely embroidered lady's handkerchief portrays all necessary accoutrement for the game. Obviously it's not to scale or that would be one scary butterfly!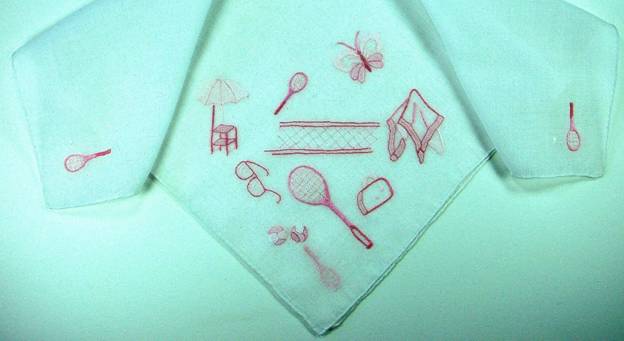 To me this crisp graphic silhouette is absolute perfection. We can deduce the era from the length of her skirt, but it's as hip, powerful and exciting as any graphic you'd see today.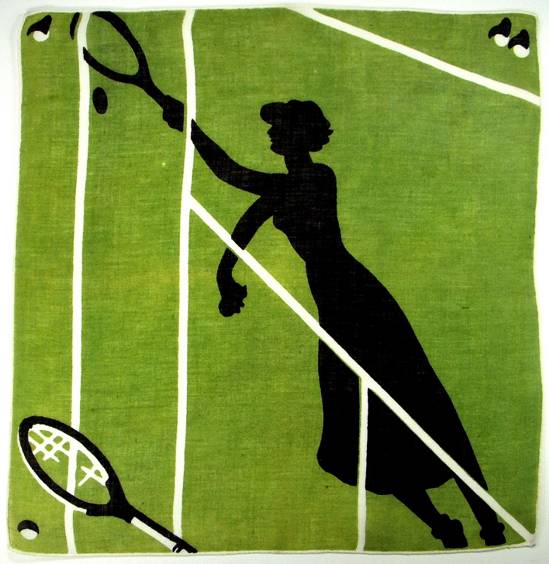 "Tennis has given me soul."

Martina Navratilova
Handsome groups of energetic players adorn the border of this polka dot charmer. You almost feel as though the dots represent a plethora of volleys from an vigorous game.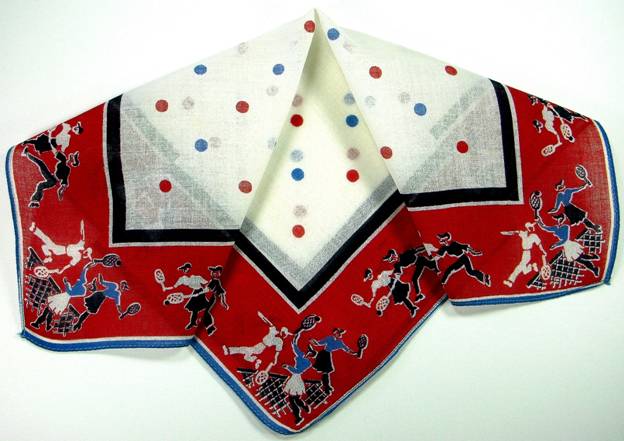 Blatantly obvious, yet unfailingly cute is this couple volleying "Love" between each other. The visual of course refers to the tennis scoring system in which Love = zero points.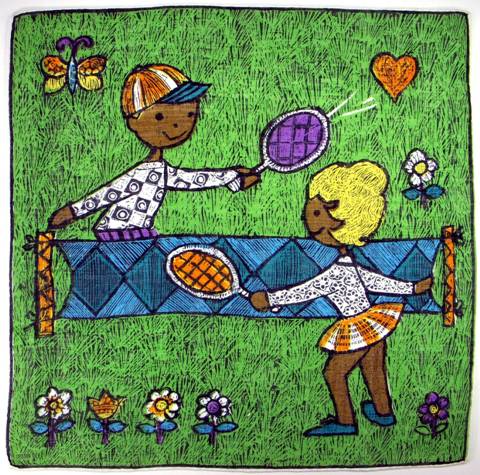 "You've got to get to the stage in life where going for it

is more important than winning or losing."

Arthur Ashe
Trivia (from 'Amazing Trivia Facts', Workman Publishing)
*The longest match in professional history ran eleven hours and 5 minutes!! In the 2010 Wimbledon epic between John Isner and Nicolas Mahut,  An astounding 183 games were played, with 138 of those games being played in the decisive fifth set, which Isner won 70-68 after 8 hours and 11 minutes. I'm tired just reading about it.
** Conservationists recycle tennis balls to provide homes for harvest mice, Britain's smallest mammal.  Under the program, the mice, which normally weave their nests on tall stalks, set up house in tennis balls that conservationists have attached to stakes.  Each ball has a small hole bored into it that allows mice to enter, but not their large predators.