"Thank goodness for the first snow.  It was a reminder—no matter how old you became or how much you'd seen, things could still be new  if you were willing to believe they still mattered."

Candace Bushnell, Lipstick Jungle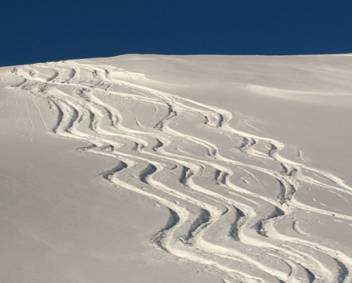 From Chamonix to Courcheval, Val d'Isère to Gstaad, the French/Swiss alps offer breathtaking curves to negotiate, both on and off the slopes!
We've already seen some lovely hankies inspired by brilliant blue skies and bold mountains in Ski Sun Valley.  Now we take a turn (pun intended) toward the lighter side of skiing – silliness on the slopes, and who better to lead the way than expert skier and master illustrator Jacques Charmoz.  Let's begin where most skiers do – on their backsides.  With determination and pluck you can master a majority of the moves shown below.  In fact, many a novice has achieved most of them on their first day. 🙂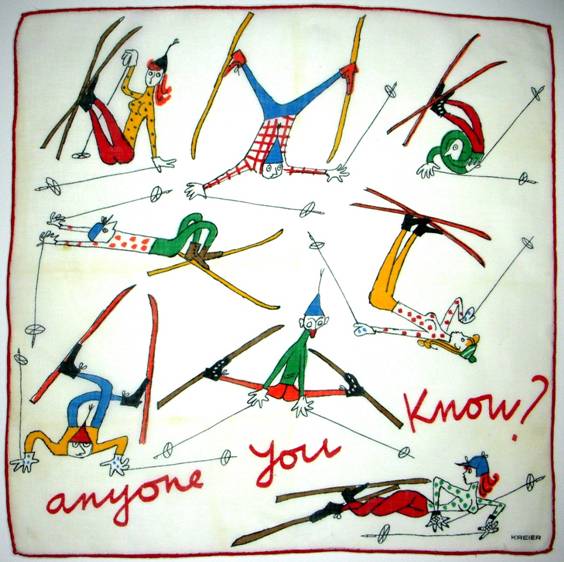 "Skiing: the art of catching cold and going broke while rapidly heading nowhere at great personal risk".

Author unknown
To enhance your viewing: A Stroll in Paris – Café Accordeon
httpa://www.youtube.com/watch?v=4ohjAANgIBc
Lessons are always a good idea, starting with the right instructor.  Hmmmmmm.  Looks like the altitude may be getting to him, or perhaps it's just those curves again!  (Love the relaxed knees – whether a result of strenuous skiing or ogling the ladies is anyone's guess…)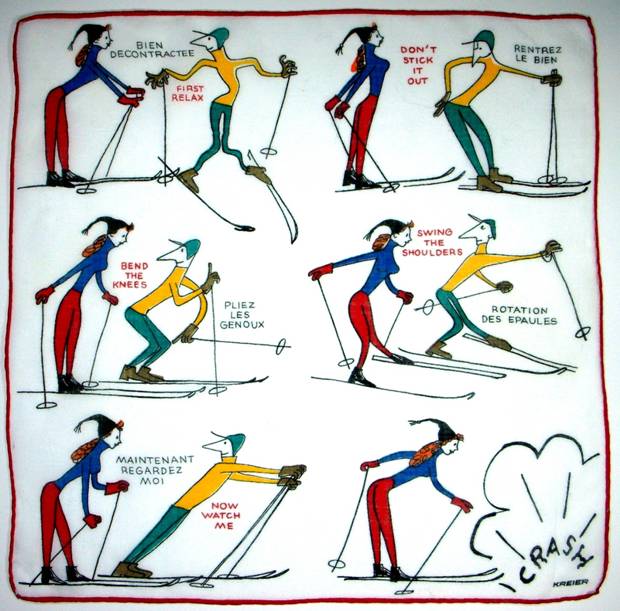 "If you marry a skier, marry tall – they walk with their knees bent ten months out of the year."

Author unknown
Some approach the mountain with a vastly different sport in mind – Big Game Hunting.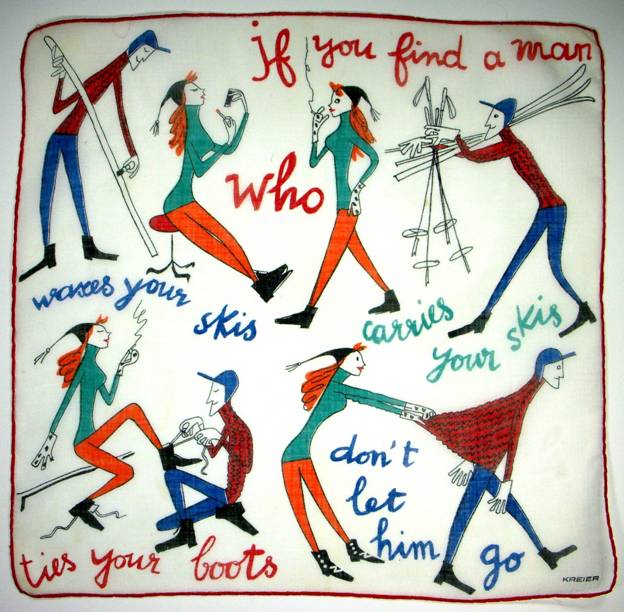 Little tip – having a southern drawl goes a long way toward luring men off the moguls.  I once witnessed a very cute gal announce she was "havin' trohbal with ma booht" as she coyly twisted her derriere 'just so' to inspect it.  No less than three galumphing guys who had been groaning about sore muscles moments before, immediately morphed into Galahads, kneeling at her feet – including the guy who was with me!  Larry, Moe, and Curly grinned like goons as they fiddled with her boot, then carried her skis to the lift.  Meanwhile, I had been trudging along toting my own skis, but took this opportunity to now hand them to my date, with a sweet 'thank you."  What the heck. Note our helpless damsel is smoking  up a storm, another sign of days gone by.
Make no mistake, Big Game Hunting is as strategic as actual skiing, as we witnessed in Snow Bunnies and Moguls and illustrated below. Busy, busy, gal – up at 11:00, with barely time to catch some rays before hitting the beauty parlor before a night on the town.  You can't help but smile, as the images are both adorable and spot on for a certain breed of 'sportsman.'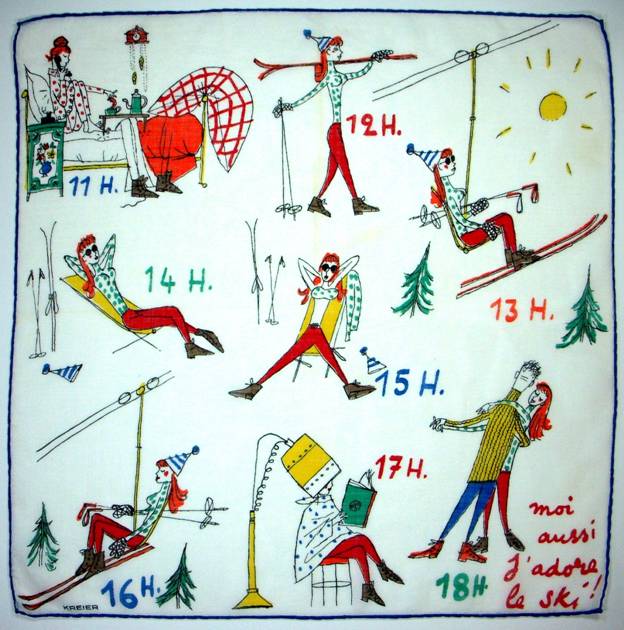 The huntress checks her equipment:*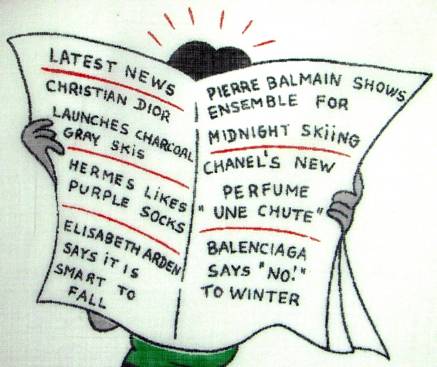 She overlooked one essential item. Can you discern what it is?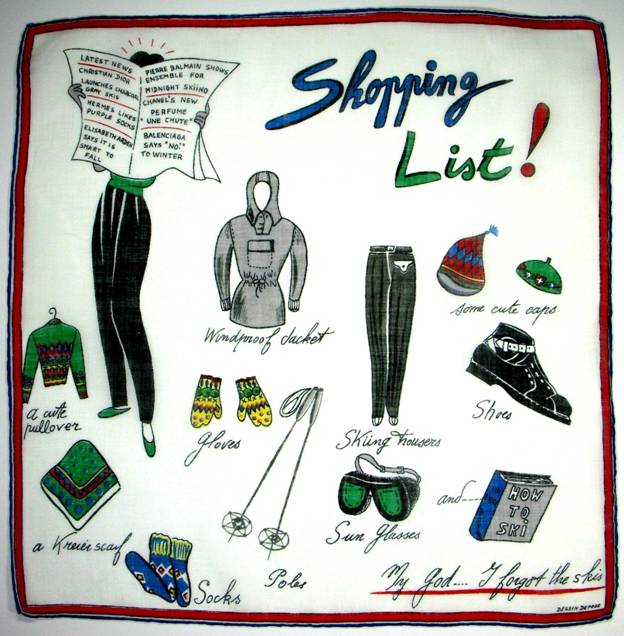 What a hoot.  Before we chastise showboating by the fairer sex, take a gander at the male equivalent of a weekend warrior.  With no need for beauty sleep, he's up an hour earlier, providing plenty of time for two afternoon naps and two meals before a soothing soak in the tub.  What's this? The evening finds our socialite skiers connecting on the dance floor. Bravo.  Fait Accompli.  The perfect pair to meet demain for a noonday (or later!) brunch.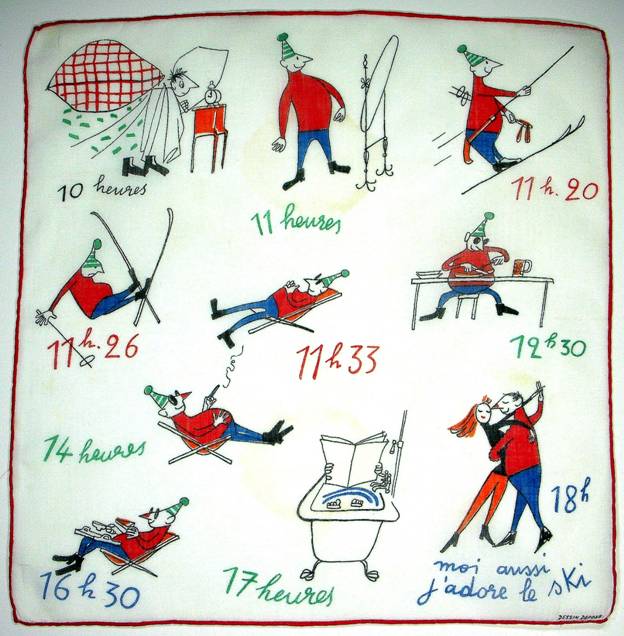 | | |
| --- | --- |
| Charmoz's characters are simply superb.  He captures every nuance.  Note the tucked in tummy in front of the mirror, compared to the relaxed barrel belly during his afternoon nap.   By late afternoon, our little chap's nose is as tomato red as his sweater (and pizza) and remains so long into the evening.  It's the tiniest detail, but adds humor and charm to the story.  It's almost like glimpsing inspector Clousseau on vacation. | |
As we learned with illustrator

Tom Lamb

 there is often more to a handkerchief artist than meets the eye.  Their captivating graphics are merely one outlet for their adventuresome, colorful personalities, and Charmoz is no exception.  Born in Paris in 1911, he was a graduate of the École des Beaux Arts.  Skier and mountaineer,  member of the French Ski Team, and Olympic competitor, he was invited, along with his teammate de Wulf, by the Chilean armed forces to create Andean ski troops (chasseurs Alpins) to defend Chile's borders.  In 1939, Charmoz moved on to Canada, trained as an aviator, and joined the Royal Canadian Air Force Ferry Command.  Logging over 6,500 hours, he delivered B24 Liberators from North America to the European front during WWII.He later became a pilot for Air France where he inaugurated the Paris-New York route in a DC4.
In addition, he was a celebrated artist and illustrator of political cartoons, advertising design, fashion garments, housewares and more.   During his free time, Jacques often returned to Chamonix.  There are even two peaks named Charmoz near Mont Blanc, the Grands Charmoz and Petits Charmoz.  He also spent winters in Klosters or St. Mortiz and eventually settled in a small village near Gstaad to paint.
His splendid illustration of Paris is as au courant as anything you'll find in the hippest publication today: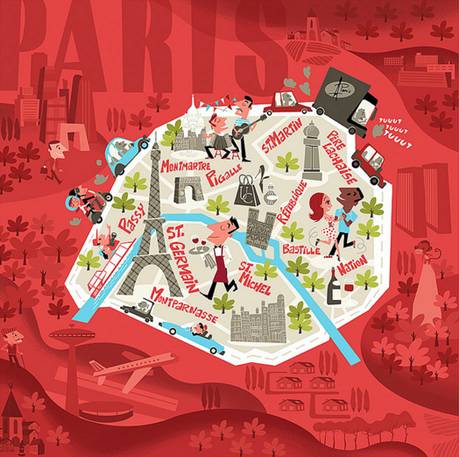 The World's Shortest Vacation as only Charmoz could convey it in this hilarious silk handkerchief.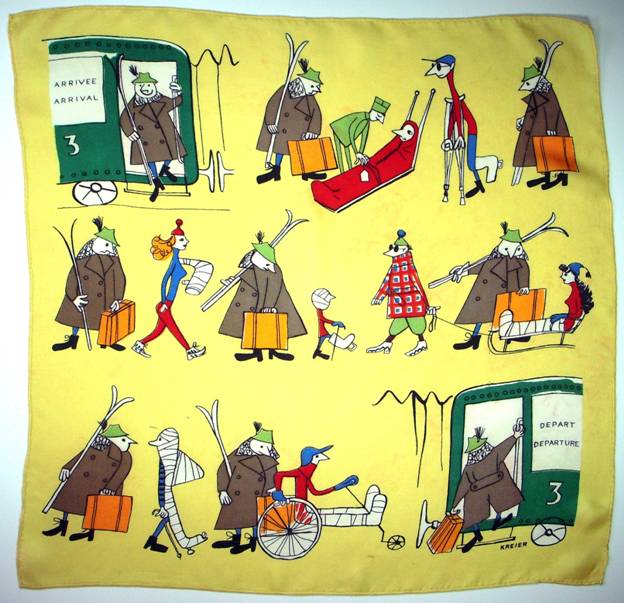 "There are really only three things to learn in skiing: how to put on your skis, how to slide downhill, and how to walk along the hospital corridor."

Lord Mancroft,  A Chinaman in the Bath, 1974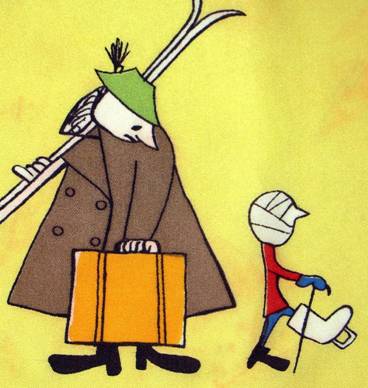 ????????????????????????????????????
FINIS
.
Thank you Mr. Charmoz**, for your creative, fun, magical images.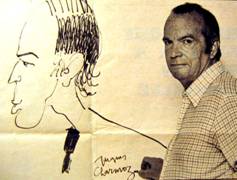 These ski blogs were inspired by my cousin Selby who has been skiing since childhood and it shows.  She's perfection on the slopes, graceful and smooth, making the sport look effortless.  Follow in her tracks, mimic her rhythm, and you're instantly a better skier.  I've started collecting ski handkerchiefs for her, so I hope she has as much fun seeing them as I did scouting for them.
*I believe this singular hankie to be the work of an artist other than Charmoz, but to date, have not been able to identify the artist.
**Source www.jacquescharmoz.com
.
Epilogue  – Six degrees of separation
| | |
| --- | --- |
| Selby age 8.  Note the lace up boots. | My cousin inherited her love of skiing from her father, John Saxon, who, at least to my way of thinking, had something in common with Jacques Charmoz.  John also served in WWII as a B-17 aircraft commander for the Army Air Corps, and later, was a B-25 instructor pilot.  In Korea he flew B-26 "Night Intruder" combat missions.  With masters degrees in electrical engineering and aeronautical engineering, he was a favorite instructor at the Air Force Academy.  It was during his time in Colorado, while raising a family of six, he frugally obtained skis from the supply shop on the base  – skis that had belonged to the 10th Mountain Division –  who fought in the Italian alps during WWII !!!  What are the odds?  Selby still has her dad's Mountain Division skis mounted on the wall. |