If you've read Parisian Romance you've already encountered at least one of these handkerchiefs.  They have such an interesting provenance, however, I decided to give them their own mini-blog.  Often when I present to audiences, I explain I feel as though I'm on a Search and Rescue Mission to save these small harbingers of history.  Needless to say, there are thousands of us Search and Rescue folks around the world, and I recently met two more, a couple from Tennessee from whom I purchased these hankies.   When I spied this bold and brilliant admonition "It's Never Too Late" (what a great reminder to carry in your pocket!) I was over the moon.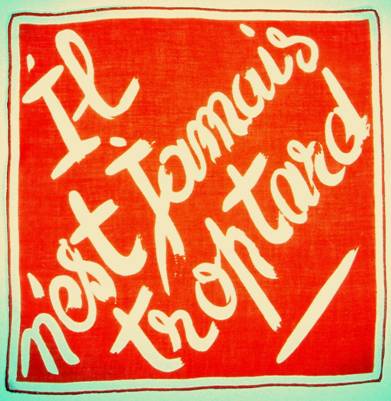 If you're at a point where you need to be reminded of this missive, be it for personal or professional reasons, you're also probably at a juncture where it needs to be fireworked in brilliant orange into your psyche -to never give up.  One wonders if the owner gifted it to herself when her spirit needed bolstering, or if she received it from a supportive friend. I believe the former, and you'll discover why when you read the story of the hankie's adventuresome owner.
I was introduced to this colorful cotton trio by the aforementioned Tennesseans who found them among beautiful linens at an estate sale. The owner had passed away in 2005, and these items were among her remaining possessions. They serendipitously stumbled upon them, and in turn, sold them to me.  I'm a sucker for the orphaned and overlooked.  I find the obscure often turn out to be the most interesting. To me, it's akin to watching a gaggle of boys all vie for the attention of the beauty queen, who turns out to have zero personality, while ignoring the wallflower at the school dance who could rebuild your car engine in a weekend, whip up a gourmet meal from scratch, or unscramble your hopeless accounting records.  Wise is the swain who checks out the overlooked lady, for therein may lie a hidden treasure.  But I digress….  Here, in the seller's own words, is the history that she, along with a quick web check, were able to unearth:
(Thank you to Glenda Browning of Red Boiling Springs, TN for the wonderful background history.)
"This small lot of items was acquired at an estate sale in Tennessee,  summer of 2014. Among the items were several table linens that had the name Virginia Simmons Nyabongo on hand sewn labels affixed to the linens. This put us on a search of just who Nyabongo was.
There had been a mention of a "princess' during the auction.  A search found that Virginia Lee Simmons Nyabongo had been born in Baltimore in 1913, and grew up in Washington, D.C., West Virginia and North Carolina, where she was raised by her grandmother.  She received a B.A. from Bennett College in 1934 and a Masters and Ph.D. from the University of Wisconsin in 1937 and 1944 respectively. She served as Dean of Students at Bennett, 1941-42, and served for several years as director of Student Personnel and Professor of Modern Foreign Languages, particularly French, at Tennessee A & I College in Nashville.  In 1942, she married Akiki Nyabongo from Uganda, East Africa."
| | |
| --- | --- |
| Republic of Uganda Flag | Coat of Arms |
| | |
"Apparently the wedding was an American wedding and quite elaborate.  We do not know if she had a separate wedding in Uganda where her husband was a prince.  He also was an academic and received his education at either Harvard or Yale.  Based on the belongings that were discovered, Nyabongo traveled extensively and had a great interest in art. [ [You can find some of her watercolors on line.]  It is unclear if she had children, but there was an unused baby book among the items. Two address books were among the lot with addresses of persons all over the world.  It is known that she owned homes in North Carolina, and Nashville Tennessee, not far from Fisk University, where she was a key player.  She was active in public speaking and traveled extensively to lecture on a variety of issues. In 1952, her book Les Palmiers was published. [also available online in paperback for $275.00!]  She was on the ballot for Governor of Tennessee during the 1970's.  It is not clear if she actually ran a campaign or if she was a write-in candidate.
"Don't be too timid and squeamish about your actions. All life is an experiment. The more experiments you make the better."

Ralph Waldo Emerson
She apparently also loved opera, as we found a pair of sheer blue opera gloves.  Her personal garments attest to the fact that she was tall and slender.  We would assume she did a great deal of entertaining based on the fact most of the lot was composed of table linens, and this was well after the best of her estate had been disbursed after her death in 2005.
Some of these items we have kept to treasure,  but these items didn't seem to have a place.  So they were placed together for someone to discover later, and to marvel that a young girl born in Maryland came to be a noted world speaker and Ugandan princess. Add to the mystery the fact that there were a few beautiful handkerchiefs among her belongings placed at auction and purchased by a collector of handkerchiefs. [that's me :)] And this particular collector seeks to learn the stories that accompany the handkerchiefs.  For some mysterious reason, a very rare mistake was made in the shipping of the purchase, which led to personal communication with the buyer who shared that not only is she a collector, but she shares the stories of her treasures at HandkerchiefHeroes™.com.  Nyabongo continues to touch lives long after her death. First with the couple in Tennessee who is considering what their legacy will be for their children and with The Accidental Collector at Handkerchief Heroes™ who will undoubtedly discover that her purchase is providential in that Nyabongo will touch more lives and continue to teach…perhaps not French, but life."
Now that I know a bit more about Virginia Nyabongo, I'm not surprised to find this terrific hankie depicting the French speaking territories around the world, particularly in her adopted Africa.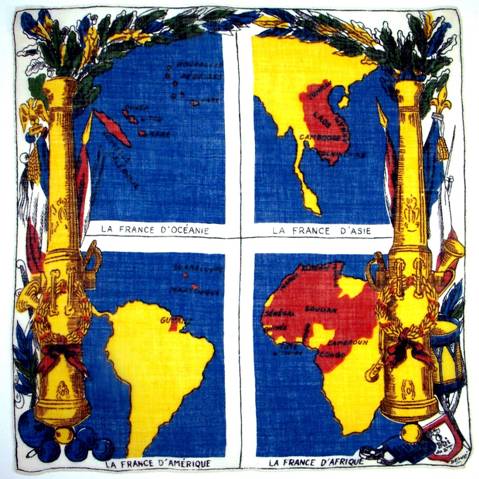 No doubt she spent many happy days touring the wonderful sights of Paris as well.  The artist below managed to showcase thirty significant historical monuments on one hankie.  We saw many of them in Paris Landmarks.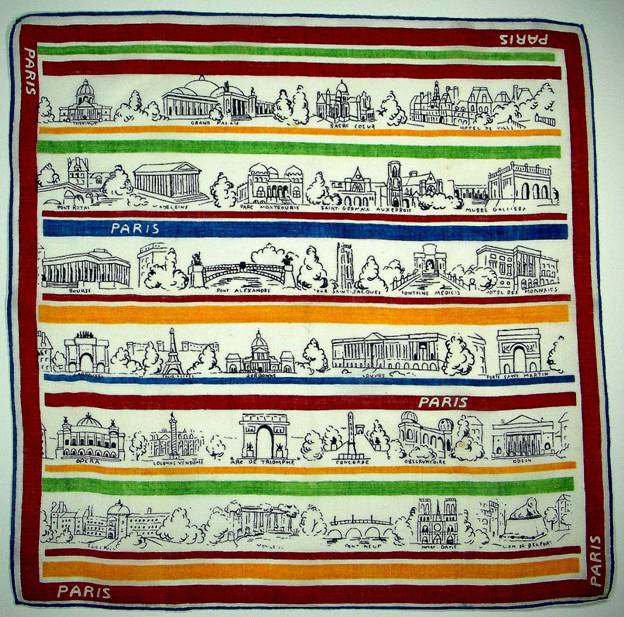 Considering her numerous homes as well as intercontinental travels, it's interesting to note what she chose to cherish and keep, rather than discard in some foreign land. These hankies obviously held significance for her.
They only whisper an introduction to the story of her life, a life we'll now never know, but which we can surmise was filled with education, travel, romance and adventure.
"Life is either a daring adventure or nothing at all."
Helen Keller, The Open Door
Epilogue
Other Search and Rescue mission which hold particular significance for me include handkerchiefs from WWI and WWII , but truth be told, people have shared heartwarming stories about bridal  handkerchiefs, Christmas handkerchiefs, children's  handkerchiefs, Mother's Day hankies and more.  There seems to be no end to the memories held within the folds of a handkerchief.  Often I have not included the stories, believing people were more interested in the images themselves, but thanks to Virginia Nyabongo, courtesy of Glenda Browning, I hope to include more stories in the future.