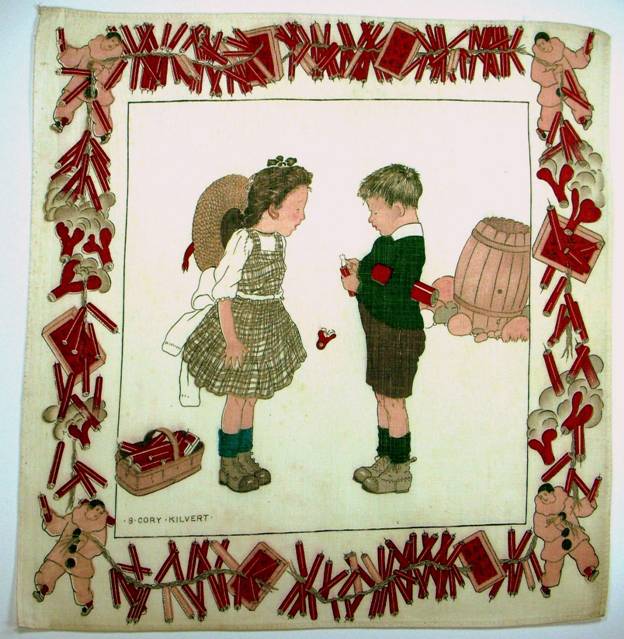 It's a star spangled holiday, ripe for celebration.  The mood is festive as we conjure images of picnic hampers, deviled eggs and strawberry shortcake; of marching bands, sack races and yes, fireworks!   This charming image on aged linen evokes all the innocence of childhood, excitement of the holiday, and anticipation of adventure. Ah fireworks! – vibrant but verboten, tempting but taboo.  This duo in simple play clothes and sturdy shoes, remain clean and pressed, per mother's orders, yet can't help but experiment with the tantalizing pyrotechnics.  We aren't too worried, however, as the lively border sports playful harlequins in harmless pink amongst strings of tiny firecrackers.
But wait! That giant stick under the young lad's arm is a doozie, as are the additional munitions in his tomato basket.  We're hoping for the best, but preparing for the worst in this opening act of what promises to be and explosive tale.
The artist, B. Cory Kilvert (1879-1946), had a rare gift for depicting children fully formed, as people in their own right. Never cutsie toddlers or dimpled darlings with brains full of sugarplums, his youth had a charm and character that reflected a depth of spirit and emotion.  These were individuals with lives, desires, and experiences of their own.  They aren't waiting in the wings to take their turn on the stage of life; they are living life to the fullest, here and now, at whatever age and phase of life they inhabit.   As we celebrate the Fourth of July and our past fight for freedom, we also celebrate the future, and our hopes for a grand tomorrow.  A future that is embodied in the hopes and dreams for future generations, who are indeed, today's children.
Because Kilvert so magnificently captured the images of youth, we devote this blog to his work. Once again, we visit his firework revelers, (whew! They survived the festivities.) only this time they're prim and proper in wool stockings and high top button shoes, attempting to master the mysteries of math.  Note the tentative tight lipped posture, as they struggle with the sums, wary of a reprimand, hoping for a reprieve.  Note how his bow tie matches his sailor hat, and her bonnet sports a charming wreath of flowers.  They may be children, but they deserve the lovelies of accessories. Again, Kilvert's youth merit as much attention to detail as any adult.  The border's wavy musical staff and silly lyrics recall every sing-song taunt we remember from our own childhood days.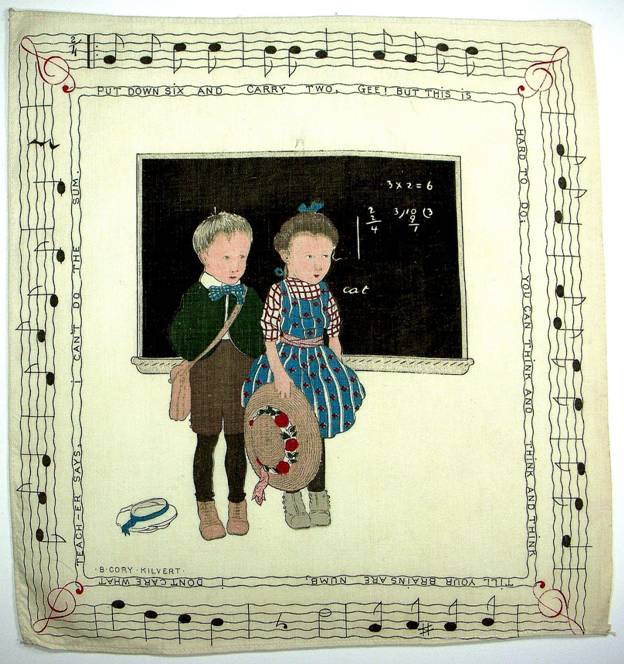 Kilvert's handkerchief frames are ripe with images that reinforce the central story.  In the snowy scene below, we immediately discern from their posture alone that the local snowball thugs are seriously reconsidering tormenting this confident couple headed homeward.  Surely the boldly striding chap isn't about to back down.  He' ready to give as good as he'll get to protect his lady fair.  What a splendid image, perfectly executed.  Meanwhile the border teems with all manner of winter frolicking and we want to join in the fun.  Note the old fashioned muff and leather book strap, along with a two legged snowman!
.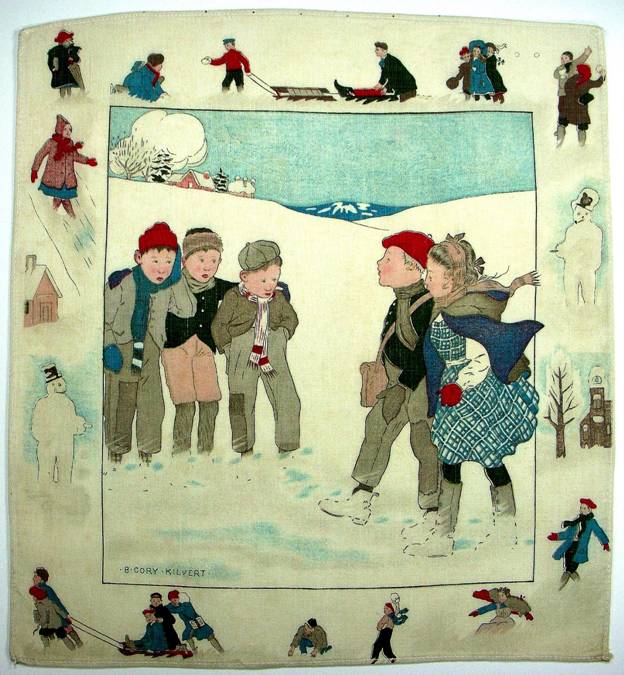 This next pair is heartbreaking, but quite probably an accurate depiction of upper crust children in Victorian times, who spent endless hours in the nursery with a nanny.  No doubt they carried their own silk handkerchiefs printed with nursery rhymes to occupy their time.  No matter how lively and charming the borders, the children's posture is as stiff and stifled as their lifestyle. Needless to say, the lessons they were taught rendered them even more static and staid.  Kilvert was a master at conveying the inner emotions of a child.
When mother's dining out at eight




I often ask if I may wait




To watch her dress.




Marie, the maid, sometimes says "No!"




For little girls do bother so




I ask mamma if I must go




And she says "yes."

When daddy was a little boy




All little boys were good




And did just what their nurses




And their parents said they should




And sometimes when I'm naughty


He take me on his knee
And tells when he was little


How good he used to be.
.
Since it was adults, not children, who purchased these handkerchiefs, one can't help but applaud the artist's attempt to surreptitiously impart a meaningful message to parents who mistakenly assumed children should be mini-clones of themselves. Subliminal missives such as "Were you really that perfect as a child? or "What's more important – dressing for dinner or hugging your daughter?" were ingeniously driven home via an everyday utilitarian object.  Bravo.  Intent or motives aside, I love Kilvert's illustrations.  They are charming without being saccharine or baby doll adorable.   One can almost sense the soul of the child, the future adult within, and how he or she was being formed by life events.  If a parent were to study his images at length, they might relate to their child differently.  Certainly, they might find themselves observing more closely.  May you enjoy this special holiday which honors freedom, courage and hope with the pride of an adult and the open hearted joy of a child.
About the Artist
Benjamin Sayre Cory Kilvert was born in 1879 in Hamilton, Ontario, CAN, son of Mayor Francis Kilvert.  Although proficient in sports and chosen to play on the All Canadian football team, Kilvert opted for a radically different career path, attending the Art Students League in New York City, studying under Robert Henri.
Henri was a member of "The Eight" who strove to paint life realistically, not romantically, and were derisively judged in their time as "The Ashcan School."  Some of Henri's other students included George Bellows, Rockwell Kent and Edward Hopper.  In 1899 Kilvert joined the art department of the New York Evening World, later leaving to accept a position with Harper & Brothers.  From 1902-1930 his illustrations appeared in countless publications including Harper's, Colliers, the New York Herald, the New York Journal, The World, Outing, Metropolitan, and Life magazine.  Kilvert also authored and illustrated the comic strips Buddy Spilliken's Diary and Dorothy and the Killies.  In the late 1920's he turned his attention to fine art, creating landscapes and seascapes in tempra, oils and watercolor, exhibiting in New York City, Washington, Montreal and Toronto.  He created large murals for a Canadian steamship company, and one of his seascapes hangs in the Farnsworth Museum in Rockland, Maine.
A Kilvert painting of galleons can be found in the lobby of the Hotel des Artistes on West 67th in New York City, home at one time to Noel Coward, Isadora Duncan, Alexander Woollcott and Norman Rockwell, among others.  Kilvert's studies of children in particular were enormously popular, and in 1911, clothier Oak Hall contracted to use his children's illustrations in ads for their boys' clothing.