Oh Chicago, where to begin?  Trying to describe the city is akin to eating an elephant in one bite – overwhelming and impossible.  Chicago has been called audacious, gritty, tenacious, and rugged, as well as heroic, epic, splendid, and irresistible. Poet Carl Sandburg captured her synergy best in his poem Chicago, when he claimed the 'City of Big Shoulders' is "a chant of defiance…defiance of New York, Boston, Philadelphia, London, Paris, Berlin and Rome. The poem sort of says "Maybe we ain't got culture, but we're eatin' regular."
Hmmmm.  I take umbrage to the 'culture' reference, as Chicago produced illustrious architects, artists, musicians, physicists, scientists, business tycoons, intellectuals and humanitarians.  But Sandburg's focus was social realism, and Chicago exemplified the strife and struggle of a nascent nation fighting for its place in the world.  No city strove harder, faster or more decisively than Chicago. Sandburg called her "a tall bold slugger set vivid against the little soft cities; fierce as a dog…pitted against the wilderness."
Indeed Chicago was geographically positioned as a gateway to the west, and soon created an infrastructure to support our emerging nation.  Railroads were the arteries that pumped lifeblood to the prairies, and Chicago was the heartbeat that enabled that energy to surge incessantly.  The city became a center for agriculture, meat packing, lumber, shipping, banking, insurance, commodities trading and more.  People like railroad entrepreneur George Pullman, settlement-house worker Jane Adams, architects Frank Lloyd Wright, Louis Sullivan, and Daniel Burnham, 'meat king' Philip Armour, merchant Marshall Field, mail-order pioneer Aaron Montgomery Ward, retailers Richard Sears and Alvah Roebuck,  inventor Cyrus McCormick and others, inhaled the city's energy and expanded it.
"Make no small plans; they have no magic to stir men's blood."

Daniel Burnham
I have handkerchiefs dating back to Chicago's Columbian Exposition of 1893, but this 'jewel by the lake' is such a dynamic, vibrant city, I had to begin with the hip, hot hankies that capture her zest in bold modern graphics. From the incomparable Art Institute to the breathtaking Lake Shore Drive, to the iconic clock at Marshall Field's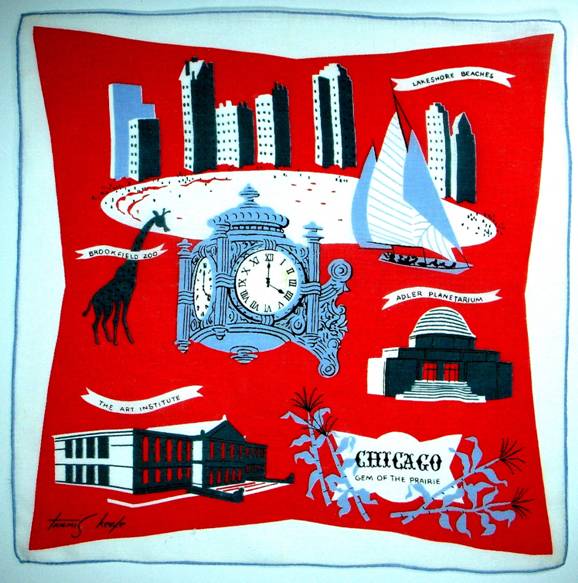 To the stockyards, rail yards, Water Tower, the Loop, the Merchandise Mart, and yes, Mrs. O'Leary's cow!  How did this bovine come to occupy center stage? Legend has it that in 1871, she kicked over a kerosene lantern, setting the barn ablaze.  Winds carried the fire eastward, and within two days, the entire city was engulfed in a blaze that took the lives of 300 people.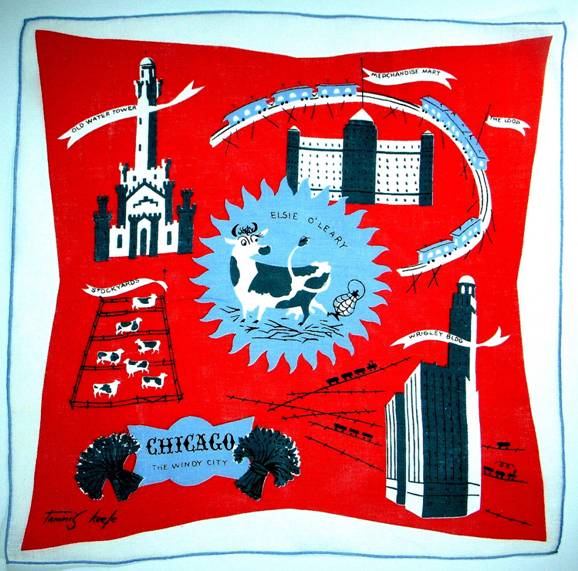 The Second City
Why is Chicago called The Second City? No, not because it's second to New York. (Perish the thought!)
It's because after the Great Fire, Chicago rose from the ashes to create a city more exhilarating than before. Donald Miller, in his book City of the Century, observes "…within a week after the fire more than five thousand temporary structures had been erected and two hundred permanent buildings were under construction."  (Ok, I'll try and cool it with the history and stick to hankies. If you haven't guessed by now, I was born in Chicago.)
"The measure of its nobility and its continuity is its depth of feeling and sincerity.

And if it has that quality, it stands."

Frank Lloyd Wright
You can't even say the word Chicago without hearing the melody in your head.  The song doesn't epitomize Chicago's great jazz clubs as much at it evokes the feeling you get roaming around the "windy city." I know it's challenging to read while listening to lyrics so I've provided an instrumental version written by Fred Fisher in 1922, and featured in the 1939 film The Story of Vernon and Irene Castle, starring Fred Astair and Ginger Rogers.
httpa://www.youtube.com/watch?v=2N9SPvtZ6pE
Nothing beats Sinatra swinging it, however, so if you prefer to scroll through the images while he serenades you, it's a-ok with me.
httpa://www.youtube.com/watch?v=NoKn7vkSMBc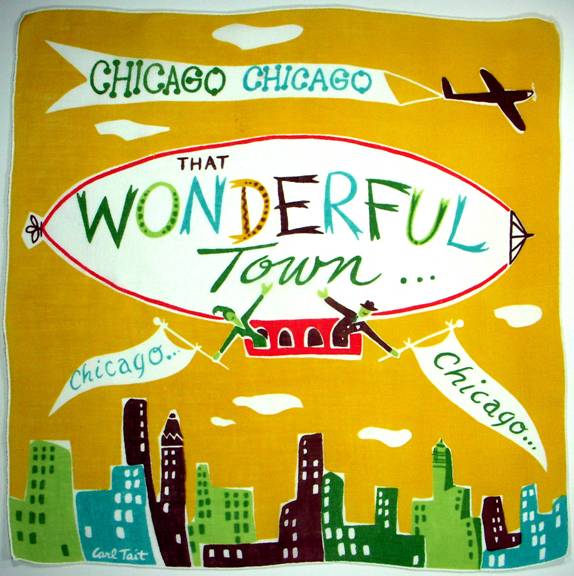 Artist Carl Tait didn't miss a trick.  The city's vibrancy is captured in clean, colorful graphics.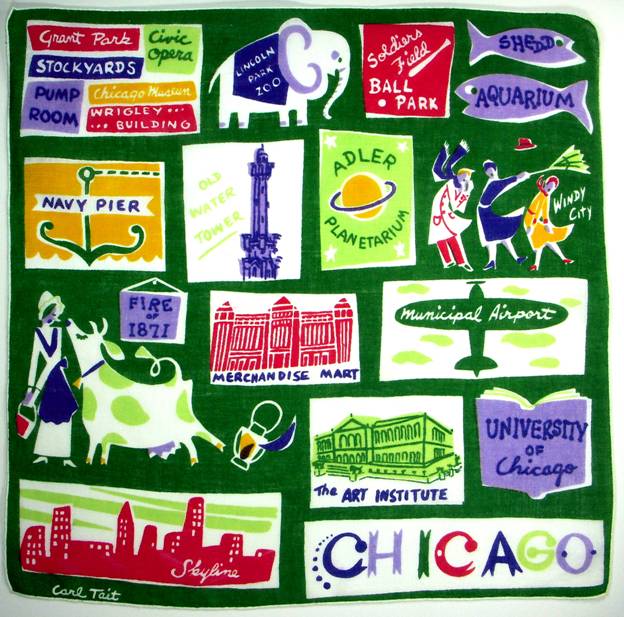 For decades Chicago has had a reputation of innovation in architecture and design, as this ultra cool hankie attests.
| | |
| --- | --- |
| |  Chicago was the first city in the US (1930) to have a planetarium.It was also the first (1933) to have a Museum of Science and Industry,still the largest science museum in the western hemisphere. |
The hustle and bustle of a snazzy, jazzy city is perfectly embodied in this olive and blue gray number.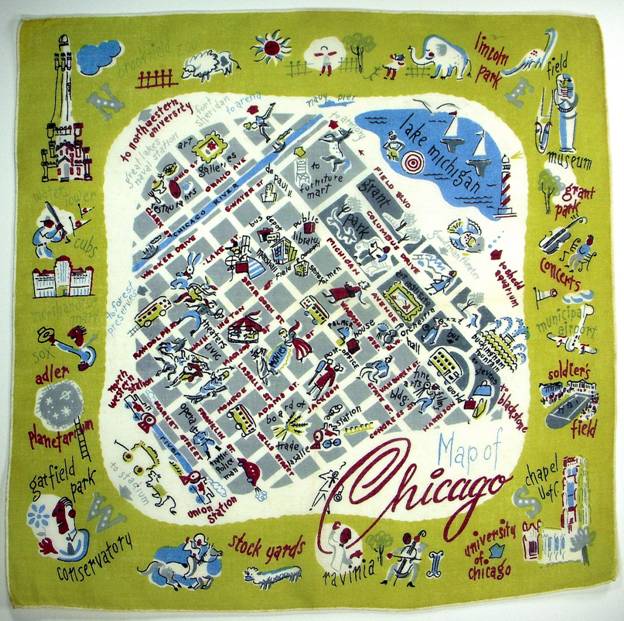 "It was a place one could readily dress up for an expensive dinner at one of the fashionable restaurants, or have a drink miles high in the lounge of the looming John Hancock Building  and five minutes later be out walking on the beach with pants cuffed and feet in the cool water at the lake's edge."

Daniel Amory, Minor Snobs
Another sophisticated snap of gray and fiery persimmon take us on a jaunt around the town.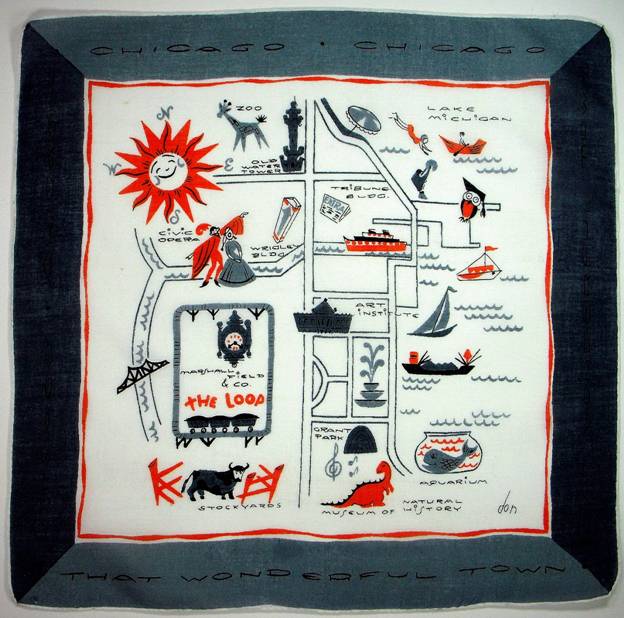 | | |
| --- | --- |
| Note the mention of 'The Loop' which is the central business district of Chicago. A walk in the loop will introduce you to sculptures by Pablo Picasso, Joan Miró, Henry Moore, Marc Chagall, Alexander Calder and Jean Dubuffet, along with the Art Institute, the Lyric Opera, Goodman Theatre, Joffrey Ballet and more. Whew! | |
There are too many attractions to ever fit on a single handkerchief, thus a lady might enjoy having this souvenir duet to take home.
Although you can't peruse all the attractions at this size, my intent is to show the range of hankies produced.  As we learned with our Paris handkerchiefs, major cities were a source for souvenir hankies. During the heyday of hankies – 1900 -1930s an onward, Chicago was the fifth largest city in the world – London, New York, Paris, Berlin, Chicago – and thus provided fertile ground for collectors.
Whether focused on a single landmark in snazzy chartreuse and cobalt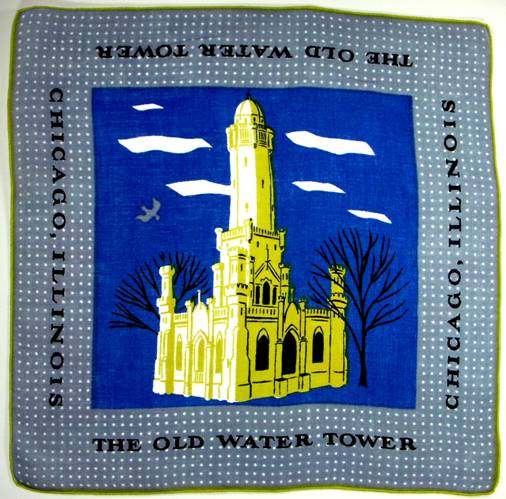 Or extolling city vistas like Michigan Ave. and Link Bridge
Or honing in on street maps with 'shout outs' of landmarks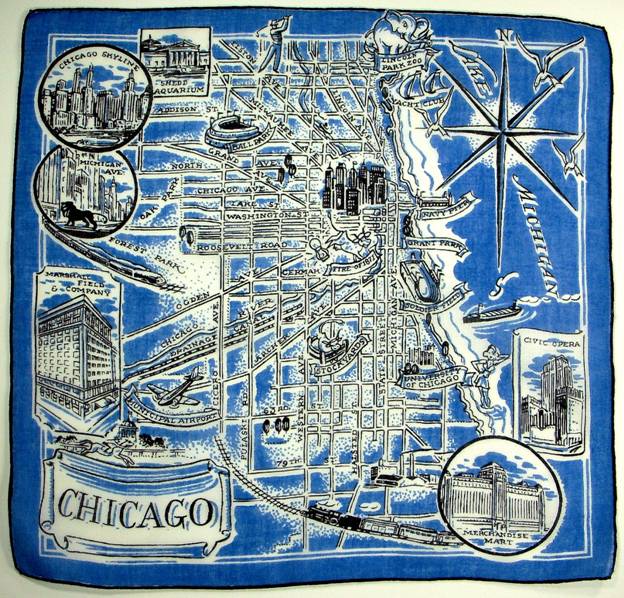 From the simple and classic, to images crammed with information overload
From the colorful lakeshore to a circular keepsake.
From old fashioned floral borders for granny
To vibrant 'landmark' hankies bordered with violets, the state flower of Illinois
From a contemporary Century of Progress to a classic pen & ink rendition of the landmark Wrigley building
There's so much to see and celebrate. These final hankies commemorate Chicago's 1952 centennial, and we wish this great city continued centuries of success.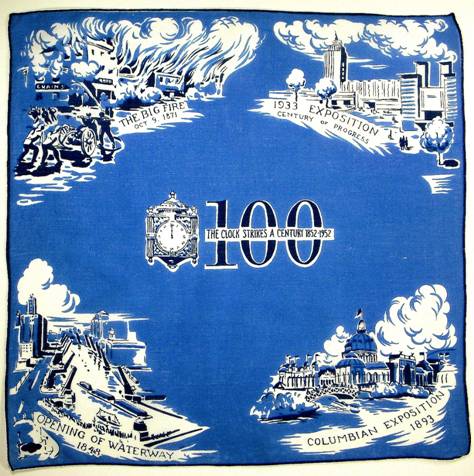 A splendid handkerchief in sophisticated hues of olive features Chicagoans promenading round a map of the city. The central quadrangle features famous buildings spanning the century. (Note Marshall Field's clock anchoring each corner.)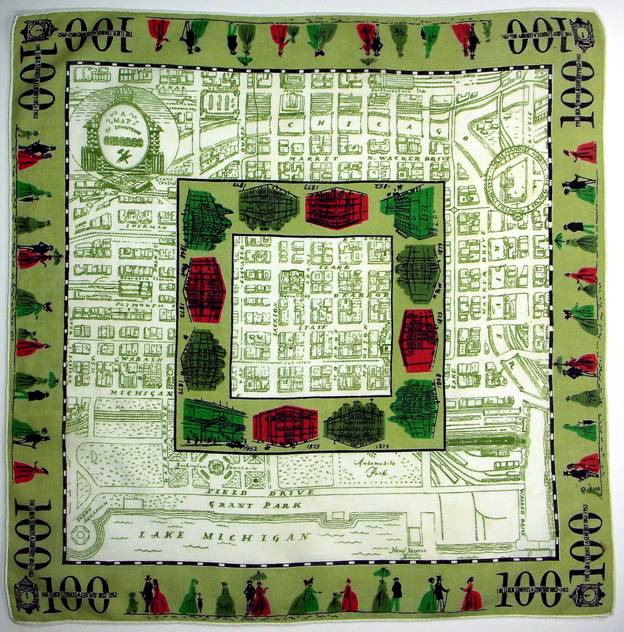 "Eventually I think Chicago will be the most beautiful great city left in the world."

Frank Lloyd Wright, architect
A composite tribute to celebrations and landmarks dating back to 1867.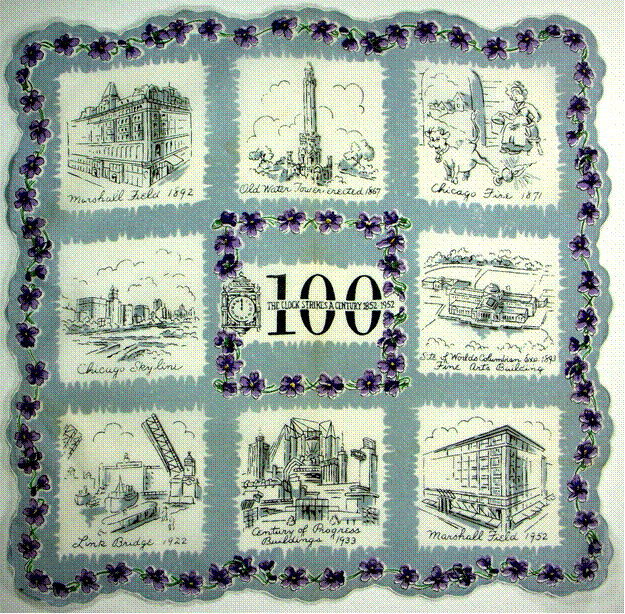 "Big cities have big hearts."

Mary Elise Monsell, The Mysterious Cases of Mr. Pin
We can't send you off without Sinatra's version of My Kind of Town. Composed by Jimmy Van Heusen, with lyrics by Sammy Cahn. Featured in the 1964 musical Robin and the 7 Hoods,  it was nominated for an Academy Award for Best Original song.

httpa://www.youtube.com/watch?v=2N9SPvtZ6pE
Bonus
Why is the Marshall Field's clock featured in almost every hankie? Click

here

to find out.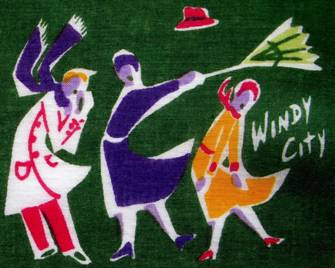 For the Natives/Locals
As with any town, from New York to New Orleans, Poughkeepsie to Punxsutawney, home towns evoke sights, sounds, and 'you had to be there' memories only a local can understand. Most readers will have moved on to another blog at this point, but for the natives, here's a tip of the hat to those who were either born here or plied their trade lakeside.  Endless winters burrowed indoors helped to incubate genius in comedy, art, writing, science, and more.
Comedy/Film/Theater/Entertainment
| | | | |
| --- | --- | --- | --- |
| Walt Disney | Shonda Rhimes | Harrison Ford | John Malkovich |
| Robin Williams | Lorraine Hansberry | Dennis Franz | William H. Macy |
| Bill Murray | John Cusack | Frances McDormand | Gary Sinise |
| Jack Benny | Joan Cusack | Daryl Hannah | Vince Vaughn |
| Bob Newhart | Larry Gelbart | David Schwimmer | Gloria Swanson |
| Edgar Bergen | Robert Zemekis | John Belushi | Ralph Bellamy |
| Stephen Colbert | John Hughes | Jim Belushi | Marilu Henner |
| Studs Terkel | Harold Ramis | Kathy Griffith | Terrance Howard |
| Shelly Berman | Ira Glass | Florenz Ziegfeld | Steve Allen |
| Bernie Mac | Roger Ebert | Bob Fosse | Mike Douglas |
Authors/Poets
| | | | |
| --- | --- | --- | --- |
| Carl Sandburg | Ernest Hemmingway | Edgar Rice Burroughs | Ray Bradbury |
| Irving Wallace | Scott Turow | Raymond Chandler | Ben Hecht |
| Michael Crichton | Dave Eggers | Saul Bellow | Gwendolyn Brooks |
Much like Studs Terkel, many Chicagoans were multi-talented. Sidney Sheldon, Oscar and Tony Winner, created The Patty Duke Show, I Dream of Jeanie and Hart to Hart, and later went on to write thrillers – Masters of the Game, The Other Side of Midnight, Range of Angels – and became the seventh best selling fiction writer of all time.  Steve Allen, original host of The Tonight Show, also penned over 14,000 songs, (you read that correctly) wrote 50 books, and has two stars on the Hollywood walk of fame. So much for hibernating in winter…
Music
Jennifer Hudson, Nat King Cole, Benny Goodman, Gene Krupa, Herbie Hancock, Chaka Khan, Bud Freeman, and so many more, like Earl "Fatha" Hines and Ahmad Jamal, Philly men who traveled west to join the Chicago Jazz scene.
Nobel Laureates
We're well aware of honors earned by Milton Friedman in Economics, and Enrico Fermi and James Franck in Physics.  Too numerous to list here, dozens of Laureates hail from the University of Chicago, including an astounding 29 Laureates in Physics, 16 in Chemistry, 28 in Economics, 12 in Medicine, and 3 in Literature.
Business
Marshall Field, Charles Deering, Cyrus McCormick, McDonald's founder Ray Kroc, Robert Halperin, and of course Richard Sears and Alvah Roebuck…  we've mentioned most already, along with architects Frank Lloyd Wright, Louis Sullivan, Daniel Burnham, and Mies van der Rohe.  There are several books that tout the city's triumphs, but you might begin with City of the Century, The Epic of Chicago and the Making of America by Donald L. Miller.
Sports
Michael Jordan, Shoeless Joe Jackson, Sammy Sosa, Gale Sayers, Walter Payton, Scottie Pippin, George Mikan, Dick Butkus, Frank Chance, Bobbie Hull, Stan Mikita, Ernie Banks, Sid Luckman, Greg Maddux, Ozzie Guillen, Red Grange, Doug Atkins, Mike Ditka, Frank Thomas, Ryne Sandberg, and more….
Ahem….
Yes, we know, Al Capone, John Dillinger, and Baby Face Nelson also left their mark on Chicago, which is why the city countered with Clarence Darrow and Eliot Ness. 🙂