"A good man measures his life not in the number of his years, but in the quality of his friends."

Todd Stocker
As we learned in our first birthday blog, a popular custom in years past (and for some of us, still today 🙂 ) has been to tuck a hankie in a card to say Congratulations and Many Happy Returns.
A handkerchief card from Millie to her sister Flo in 1935
Other fun gifts to receive were "secret message" handkerchiefs, much like we saw in our Secret Love Valentine handkies. The message is revealed when the handkerchief is folded.
Many handkerchiefs were designed to unfold like greeting cards, allowing more than one sentiment to be expressed as the cards unfolded. The next two are tiny children's handkerchiefs. What little boy or girl wouldn't love to carry one in their pocket?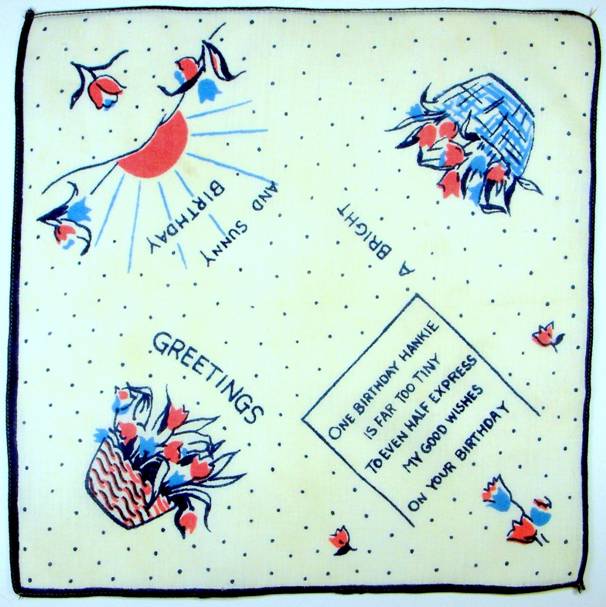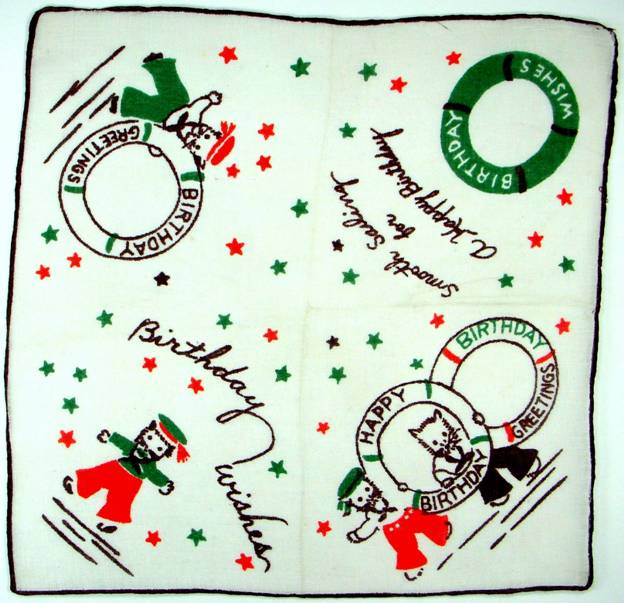 It can be folded a variety of ways.
"The great thing about getting older is that you don't lose all the other ages you've been."

Madeline L'Engle
Front and Back of a darling card
Interior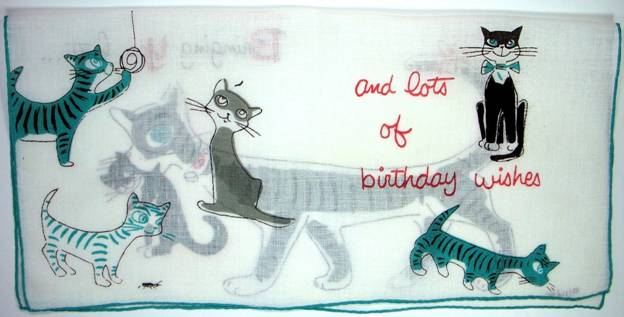 "There is a certain part of all of us that lives outside of time. Perhaps we become aware of our age only at exceptional moments and most of the time we are ageless."

Milan Kundera
| | |
| --- | --- |
| Front | Back |
| | |
Interior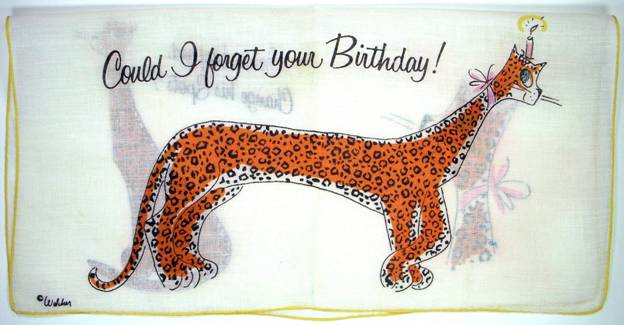 "There is a fountain of youth: it is your mind, your talents, the creativity you bring to your life and the lives of people you love. When you learn to tap this source, you will truly have defeated age."

Sophia Loren
| | |
| --- | --- |
| Front | Back |
| | |
Interior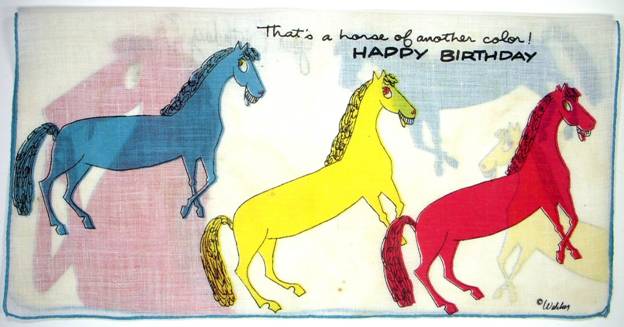 The artist had a grand time with this one
| | |
| --- | --- |
| Front | Reverse |
| | |
Interior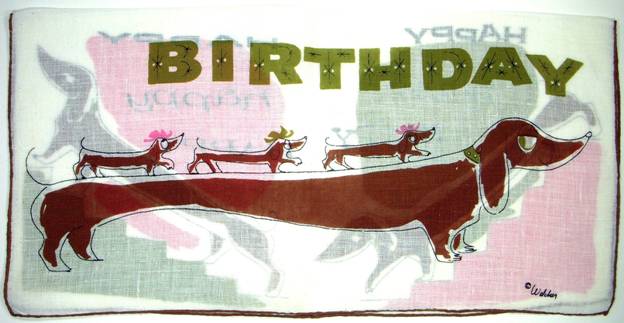 "You get older and you realize there are no answers, just stories."

Garrison Keillor, Pontoon: A Novel of Lake Wobegon
Front and Back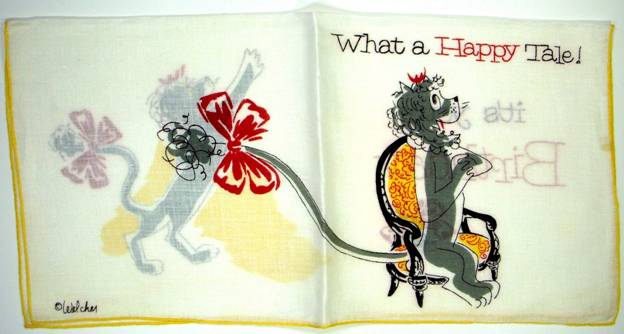 Interior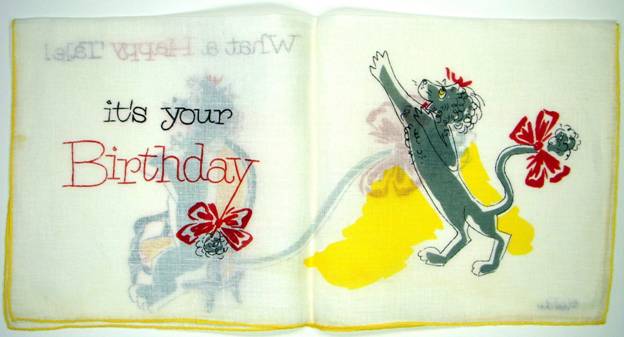 "Wrinkles should merely indicate where the smiles have been."

Mark Twain
| | |
| --- | --- |
| Front | Back |
| | |
Interior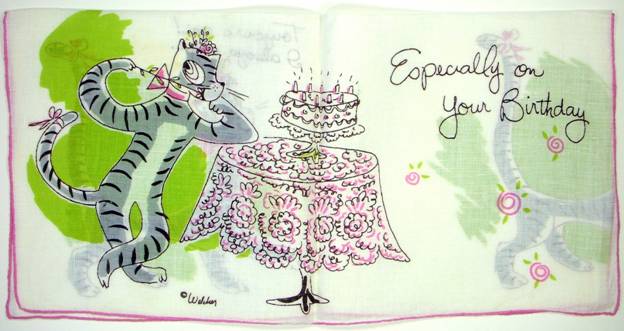 "The year you were born marks only your entry into the world.

Other years where you prove your worth, they are the ones worth celebrating."

Jarod Kintz
| | |
| --- | --- |
| Front | Back |
| | |
Interior

"Old age isn't so bad when you consider the alternatives."

Maurice Chevalier
Re-Birthday
A friend sent me the following. I thought it was a great message for our birthday blog:
And then it is winter…
Time has a way of moving quickly and catching you unaware of the passing years. It seems just yesterday that I was young, just married, and embarking on life with my mate. Yet in a way, it seems like eons ago, and I wonder where all the years went. I know I lived them all. I have glimpses of how it was back then and of all my hopes and dreams.
But here it is…the winter of my life, and it catches me by surprise…How did I get here so fast? Where did the years go, and where did my youth go? I remember well seeing older people and thinking that was so far down the road I couldn't fathom what it was like.
When I look at my friends, I see an older person now. Not the people I remember who were young and vibrant. As I enter this new season of my life, I'm unprepared for the loss of energy and ability to do things I wish I had done but never did. Yes, I have regrets – for things I shouldn't have done, and for things I wish I had done.
So, if you're not in your winter yet…I assure you it will be here faster than you think. Whatever you hope to accomplish in your life, start now! Do what you can today, for you have no guarantees that you will see all the season of your life. Live for today and say all the things that you want your loved ones to remember. Life is a gift. Do something Fun today.
---
Perhaps there really are no coincidences, as just this week I began reading The Five Regrets of the Dying by Australian caregiver Bronnie Ware. What clients told her repeatedly:
I wish I'd had the courage to live a life true to myself, not the life others expected of me
I wish I hadn't worked so hard
I wish I'd had the courage to express my feelings
I wish I had stayed in touch with my friends
I wish I had let myself be happier
It's never too late to give yourself the life you truly desire. So if today represents a rebirth for you in some way, then regardless of your actual birthday, we wish you today, right now, a Happy Re-birthday.
Dr, Seuss was 54 when he wrote "The Cat in the Hat"
Chesley Sullenberger was 57 when he successfully landed US Air Flight 1549 in the Hudson River in 2009. All 155 passengers aboard the aircraft survived
Colonel Harland Sanders was 61 when he started the KFC Franchise
R.R Tolkien was 62 when Lord of the Rings was published
Ronald Reagan was 69 when he became President of the United States
Jack Lalane towed 70 rowboats on a mile long swim in Long Beach, CA on his 70th birthday
Nelson Mandela was 76 when he became President of South Africa
"I was so much older then; I'm younger than that now.

Bob Dylan, My Back Pages