If the dark cloud of COVID-19 has a silver lining, surely the gestures of kindness and generosity, from nation to nation, neighbor to neighbor, reflect the best in mankind. 
So many are sacrificing so much, we cannot thank them enough. To assist in that endeavor, we present the Thankerchief™ to honor for our front-line heroes – doctors, nurses, first-responders, firefighters, law enforcement, military, and more, along with our personal heroes – parents, grandparents, teachers, pastors, and all who deserve our unending thanks. 
In addition to saying Thank You in 56 languages, it holds messages of hope, encouragement, heroism & strength – from Nelson Mandela to David Bowie to provide emotional support when days are long. 
An Angel in Your Pocket
Like having an angel in your pocket whispering encouragement It's the perfect gift for the heroes in your life.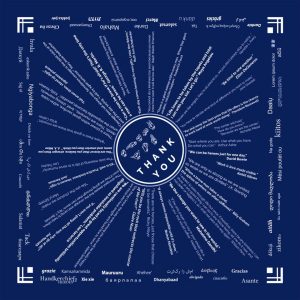 Do you know someone you wish to thank? Why not gift them a Thankerchief?  You can find them in the Thankerchief Shop* on the home page at: https://handkerchiefheroes.com/the-thankerchief-shop/
When someone remarked to my pastor that during this pandemic we're all in the same boat, he wisely observed "Actually, we're all in the same storm, but some of us are in very different boats." So if you're fortunate enough to be weathering the gale in a yacht or cruiser, please throw a lifeline to someone rowing a dinghy, paddling a canoe or  clinging to a life raft. Sometimes all it takes is a kind word to raise someone above the flood line.
Thankerchief History
Thank You…Thank You…Thank You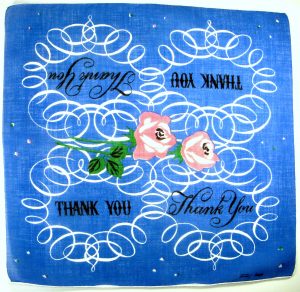 "Feeling gratitude and not expressing it is like wrapping a present and not giving it."

William Arthur Ward
The Steadfast Sentinel
Throughout history, the handkerchief has been a companion at life's crucial moments – whether catching a bride's tears of joy, or tucked over a soldier's heart as he marches into battle. They carry stories of hope & heartache in their folds – and in every situation, provide soft comfort.
A Charming Gift
In days past, when gentlemen opened doors, and tipped their hats, gifting a lovely hankie was en vogue. In addition to a handwritten thank you note for a lovely evening, a hostess might receive a corsage or colorful linen hankie. An added bonus – every time the recipient tucked the "thankie" in her pocket or purse, she was once again reminded of the giver.
"The man who forgets to be thankful has fallen asleep in life."

Robert Louis Stevenson
Some Thankerchiefs were even designed to be unfolded and read like a card. This sweet feline flourishes her feather quill to say Merci.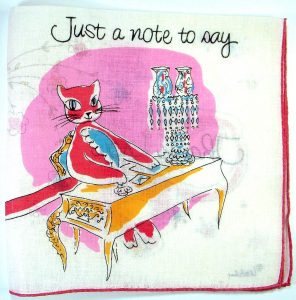 Interior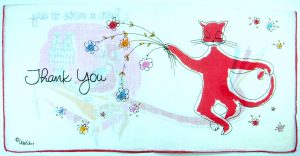 Exterior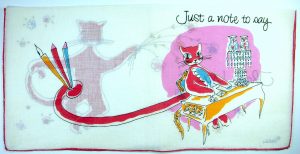 A clever melding of words and image illustrates the recipient's gratitude.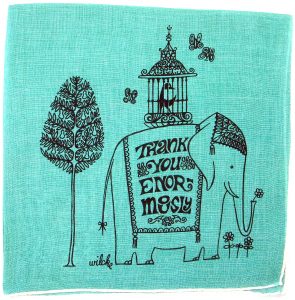 "Thankfulness is the quickest path to joy."

Jefferson Bethke
Parents who are home schooling can help their children write thank you notes to the postman, delivery man, grocery clerk, favorite teacher, pastor, coach, or? 
They might mail a note to a grandparent, or school friend. Let your child know how this simple gesture can brighten someone's entire day.
"Appreciation can make a day – even change a life. Your willingness to put it into words is all that is necessary."

Margaret Cousins
"When you practice gratefulness, there is a sense of respect toward others."

Dali Lama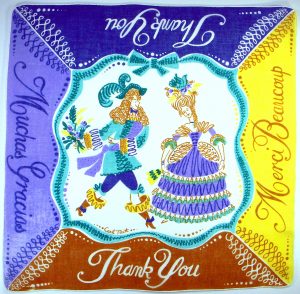 The current joining of forces, of education & experience, talent & training, not to mention gumption, hard work, and good old common sense, now combine, co-mingle and cross pollinate to create new ideas and solutions, making us all richer in the process. (not to mention kinder, more patient, open minded and generous.)
"Don't let the sun go down without saying thank you to someone, and without admitting to yourself that absolutely no one gets this far alone."

Stephen King

"No matter how good or bad you think life is, wake up each day and be thankful for life. Someone somewhere else is fighting to survive."

Anonymous
"There is always, always, always something to be thankful for."

Anonymous
Thankerchief for Heroes
Do you know someone – doctor, nurse, practitioner, first responder, firefighter, law enforcement, military, delivery & courier service, sanitation & utility workers, grocery & warehouse personnel and more…you wish to thank? Why not give them a Thankerchief?
https://www.etsy.com/listing/819216861/the-thankerchief?ref=shop_home_active_1
*A portion of all proceeds will support holiday gift boxes sent to our troops.