The reasons for collecting are as varied as the collectors themselves. Some folks are accidental collectors – they inherited Aunt Ruthie's depression glass or Uncle Bill's antique pen collection.  For others, a hobby becomes a passion.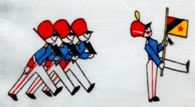 I know an executive with a museum quality collection of toy soldiers. "My collecting" he explained, "was accidental. I was sick as a child, and had to entertain myself while spending months in bed."

He used to keep his soldiers in shoeboxes under his bed. They now occupy an entire wall of custom built glass shelves in his office.  He has hundreds of soldiers from around the world, from revolutionary red coats to French legionnaires.For me, collecting hankies was a gradual thing.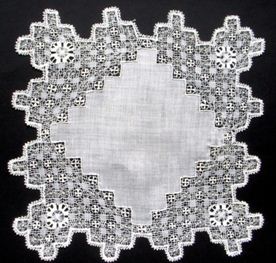 I'm particularly fond of handkerchiefs with "hand work" – embroidery, appliqué, drawn work,  etc. as I know the patience and discipline it requires.  It was only natural then, that my collecting began with wedding handkerchiefs, which serve as splendid canvases for intricate hand work.
Once I began collecting, my sights  expanded to include bold prints, wild florals and more. I tried to limit myself to specific topics or artists, but then something off-beat would catch my eye – a recipe for  La Cuisine Français or instructions on how to play Canasta, etc.
You'll find the subject matter in my blopgs quite random.  It consists of what I found fun'  interesting, what caught my eye, or frankly, what I could afford.  Serious collectors can pay $3,000+ for certain children's handkerchiefs from the 1800's, and the artwork on them is astounding.  (You won't see those here.) Some specialize in children's handkerchiefs, others in political memorabilia, still others treasure the clean line geometrics of the 1930's & 40's. More than utilitarian, handkerchiefs were often decorative, and make of silk satin, crepe and lace.
Often, when possible, I'll collect "multiples."  For example, many collect hankies from all 50 states.  Instead, I have focused on California and Florida which were popular travel destinations, as well as certain cities, like New York and San Francisco.  Rather than have 50 hankies that look similar, I prefer to have six that each have their own unique twist. For this reason, you'll often find multiple images of the same subject, whether it be cherries, roosters, Cinderella, or even the big bad wolf!
It never ceases to amaze me how well these handkerchiefs have held up.  But then again, someone loved and cared for them.  They held memories – of special people or landmark events.  They served as tiny messengers of love, hope, and happiness, as well as provided comfort, companionship and even comedy. As you'll learn, handkerchiefs were used:
To send a romantic valentine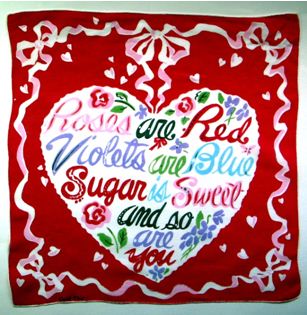 To play the swanky hostess with a silk crepe and Lace accessory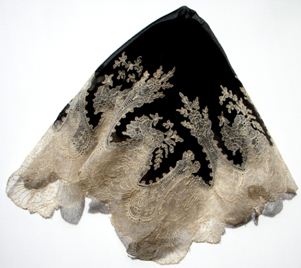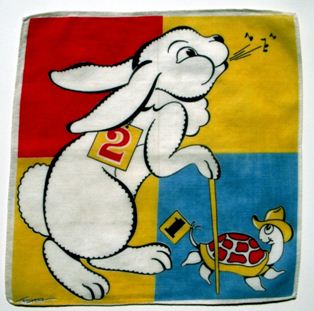 to teach  lessons to children
To remind us of our history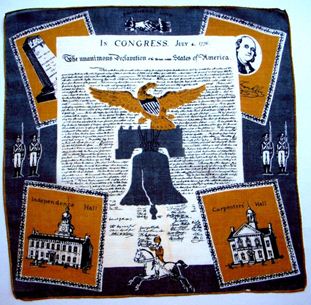 Or be tucked close to the heart in a soldier's uniform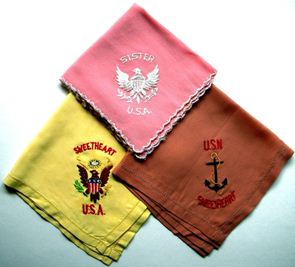 To provide escape maps & tide tables to POWs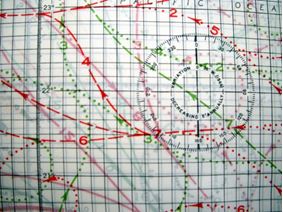 To carry fond memories of a special trip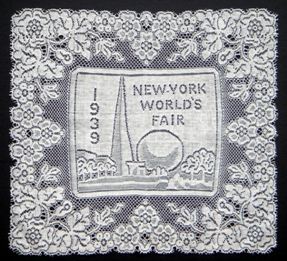 To provide a mini-canvas for great art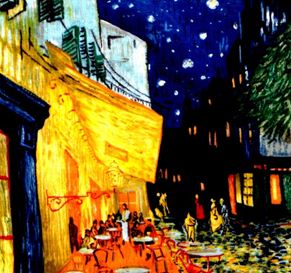 To instruct a new bride on how to care for her husband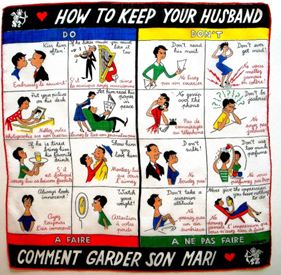 To carry the luck o' the Irish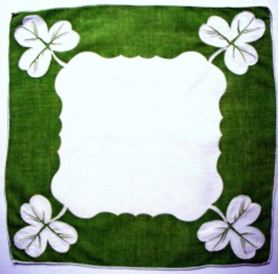 To send birthday greetings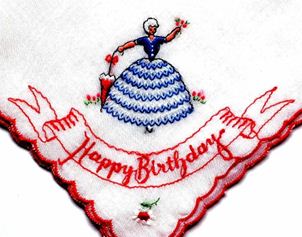 and Christmas carols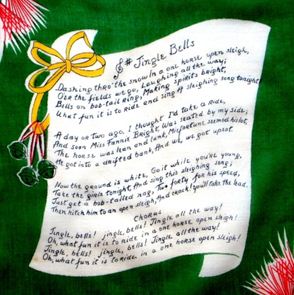 To record a trip to a quaint European village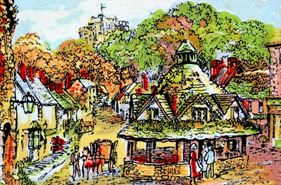 Or say Bon Voyage to a friend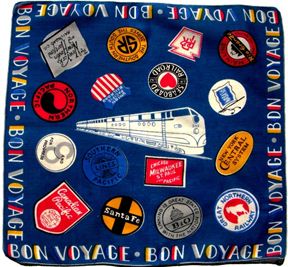 To chide a malcontent with a silly "Crying Towel"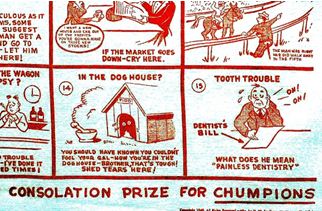 Or to just have fun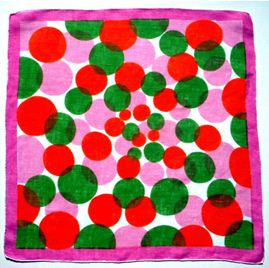 Whether you admire the crisp graphics of 1950's, delight in the dry humor of a crying towel, or simply wish you could carry a Van Gogh in your pocket, please wander through these archives and enjoy the journey.
Handkerchiefs symbolize romance, tokens of affection, journeys taken, landmark occasions, and special memories. Unlike electronic communication, they don't need to be re-charged. They can be worn next to your heart, tucked under a pillow for sweet dreams, carry a lover's perfume, and if treasured, can last a lifetime.