"Wherever you are, it's your friends who make your world."

William James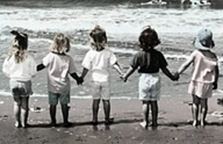 I love this hankie featuring Farina, Mary, Joe and Mickey (Freckles), all characters from the original Our Gang Comedies. Perhaps it should have been included in the Hollywood blogs, as heaven knows, it's a classic, dating all the way back to a time before movies were "talkies." It seemed to me, however, to fit another category or two even better – Wabi Sabi and Friendship, so I'm giving it 'face time' separate and apart from the hoopla of Hollywood for you to savor and enjoy.
It's not what we have in our life, but who we have in our life that counts.

J. M Laurence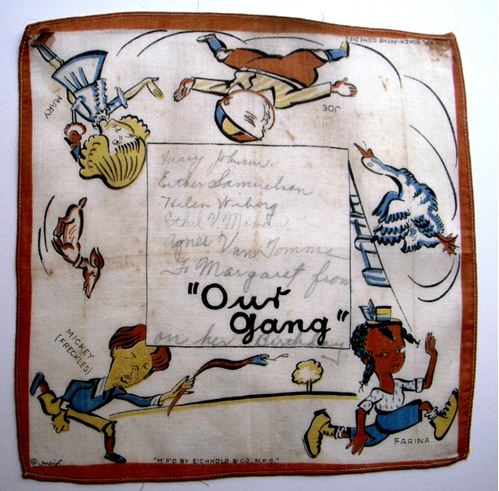 Some might pass by this small tattered and worn square of cotton, considering it spoiled or used because of the handwriting contained therein. True, the writing may decrease the value for a true collector, but not for me.  Five friends presented this to Margaret on her birthday.  Note that the signatures of Mary, Esther, Helen, Ethel, and Agnes are adult handwriting.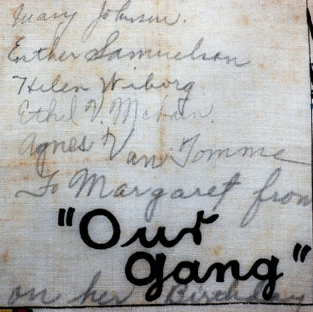 Friendship is born at the moment when someone says "what, you too? I thought I was the only one."

C.S. Lewis
Whether these women had been friends since childhood or forged the bonds of friendship as adults, we'll never know, but owing to the choice of handkerchief, I suspect the former.  What we do know is that they're definitely a close knit group, and probably have a great sense of humor in order to sign and present this beloved child's hanky to their dear friend.
My best friend is one who brings out the best in me."

Henry Ford
Our Gang, also known as The Little Rascals was a series of comedy films the featured a group of neighborhood children.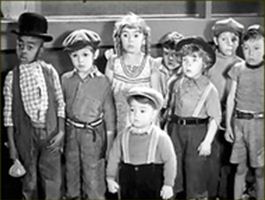 Groundbreaking for its day (1922) and for decades thereafter, the show's creator, Hal Roach, featured boys and girls, black and white, large and small, plump and skinny, together as equals. Film historian Leonard Maltin asserts this "broke new ground" in cinema. The characters look, talk and act like regular children, getting into all sorts of childish mischief, as opposed to sounding like small adults spouting stilted dialogue.

There were 220 films in all, and the first 88, produced at Pathé Studios, were actually silent.  Only when Roach changed distribution to MGM in 1927 was the series converted to sound.  (so we know this handkerchief is at least 87 years old.) The appropriately titled Small Talk was the first talking Our Gang film, released in 1929. The films have changed hands many times over the years and remarkably, are so beloved and popular, they still remain in syndication.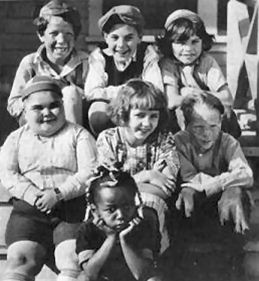 Our Gang child stars in 1925Noting that five special friends signed Margaret's hankie, I remembered a saying I once heard attributed to Lee Iacocca, "My father always used to say that when you die, if you've got five real friends, you've had a great life."
A true friend
is someone who sees you at your worst, but never forgets your best
is someone who thinks you're a little bit more wonderful than you really are
is someone you can talk with for hours, or be with you in complete silence
is as happy for your success as you are
trusts you enough to say what he really means when talking to you
doesn't try to know more, act smarter, or be your constant teacher
"Are we going to be friends forever?" asked Piglet.

"Even longer," Pooh answered.
My wish for you is that you find your "gang", be it one other person, or five, or the whole darn neighborhood…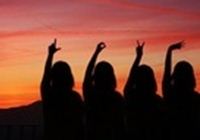 "The true friend is the one who is coming in the door while everyone else is going out."

Phil McGraw