"There is really nothing quite so sweet as tiny little baby feet."

Author unknown
This adorable teddy and his sidekick bunny towing love balloons gently rock "Welcome Home" to the new arrival.  This child's handkerchief was perhaps gifted to an older sibling in an effort to include them in celebrating the new addition to the family.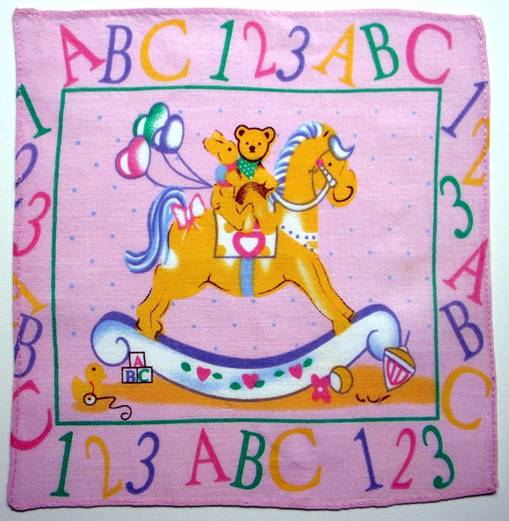 Old fashioned and traditional, right down to the ABC blocks and a spinning top, it's a far cry from the following sleek Welcome Home, which is as up-to-the-minute hip as any graphic of today.
To enhance your viewing, please enjoy Brahm's Lullaby
httpa://www.youtube.com/watch?v=t894eGoymio
.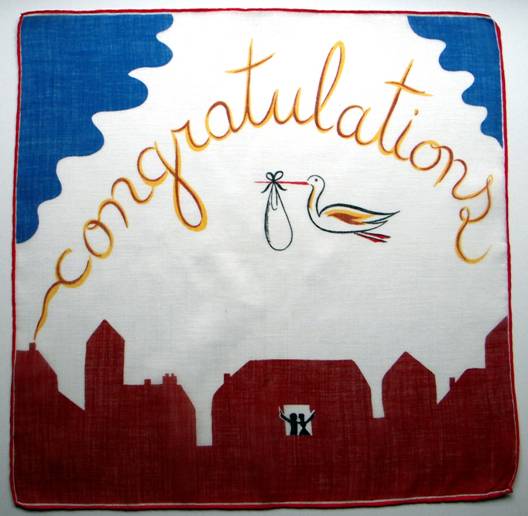 Although minimalistic in imagery, this hankie has it all – sleek city skyline, exuberant, expectant parents and a polished, playful stork ready to drop his bouncing bundle.  Clean and crisp, the squiggly clouds and structured rooftops could have been crafted from a child's construction paper.   The bold primary colors balanced by friendly cursive handwriting make this image fun and unexpected.  I wish I had more hankies like this one for any and all occasions.
"You know what the great thing about babies is?  They are like little bundles of hope.
Like the future in a basket."

Lish McBride, Hold Me Closer, Necromancer
OK, let's get down to business. Whose turn is it to feed this little tyke who is wide awake and obviously in charge?  Either we're deep into the disco days of the 70's –  note the multi-patterned outfits of checks and stripes, or equally as plausible, they started this day on 2.5 hrs. of sleep and grabbed whatever was closest in the closet.  A darling tableau nonetheless, and everybody is smiling – hooray!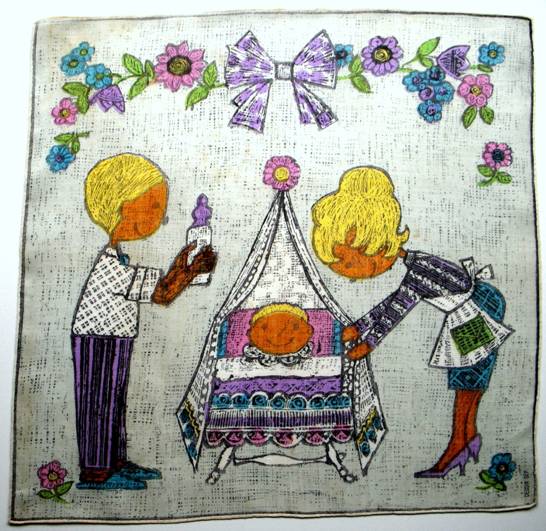 "I love these little people; and it is not a slight thing when they, who are so fresh from God, love us."

Charles Dickens
"It is the nature of babies to be in bliss.

Deepak Chopra
Speaking of sleepy, let's visit the land of Wynken, Blynken and Nod found on these adorable children's hankies which feature the trio in flannel footie pajamas complete with trap door on the posterior.  The bedtime poem Wynken, Blynken and Nod, written by Eugene Field, and first published in 1889 under the title Dutch Lullaby, tells the story of three children fishing among the stars, riding in a wooden shoe.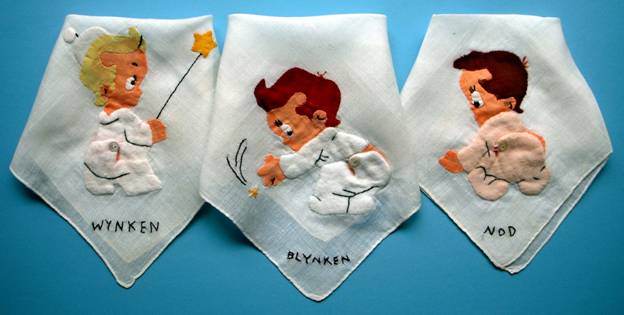 The poem ends:Wynken and Blynken are two little eyes,


And Nod is a little head,
And the wooden shoe that sailed the skies
Is a wee one's trundle-bed.
So shut your eyes while mother sings
Of wonderful sights that be,
And you shall see the beautiful things
As you rock in the misty sea,
Where the old shoe rocked the fishermen three:


Wynken, Blynken, and Nod.
Bare bottoms are again the theme in this congratulatory hankie that opens like a greeting card.
| | |
| --- | --- |
| Outside | Inside |
| |   |
"I am grateful to those who are keepers of the groove.  The babies and the grandmas who hang on to it and help us remember when we forget that any kind of dancing is better than no dancing at all."

Lynda Barry, One Hundred Demons
The whisper soft background on this hankie is a cross between delicate dove gray and silky celadon green, and subtle as a baby's sigh.  The perfect backdrop to showcase a sophisticated olive and pink palette, it proclaims there's a princess on the premises.  The border of whirling wheels recalls the vintage tongue twister  (say it fast three times) Rubber Baby Buggy Bumpers!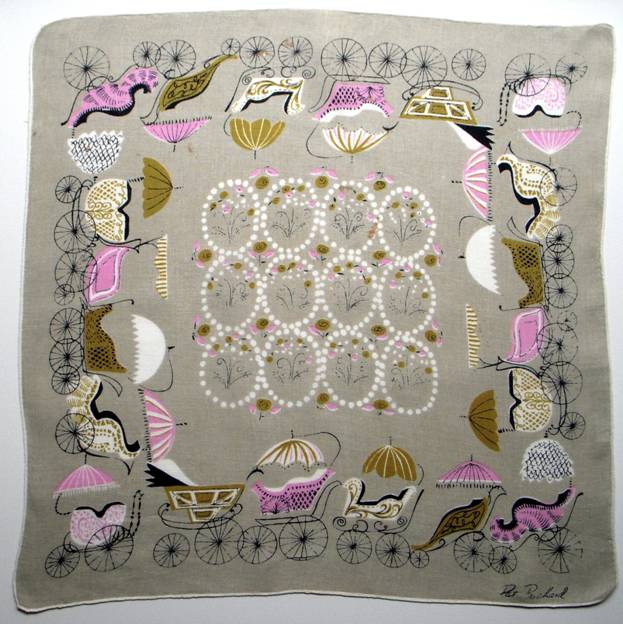 The toasty warm hue of puppy dog tan sets off the busy bustle of buggies in brilliant blue and orange.  Fun, fanciful, and feisty, there's little doubt the new master of the house will be transforming his pram into a fire truck or race car the minute he can toddle to the garage.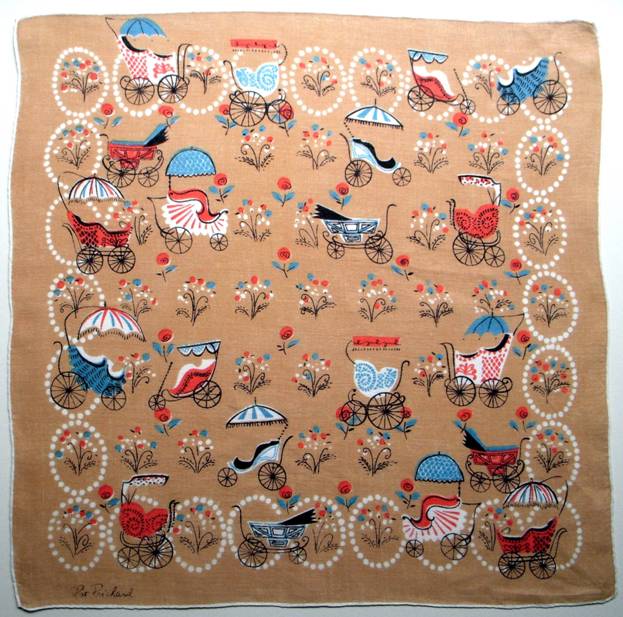 .
| | |
| --- | --- |
|   | Artist Pat Prichard proves that with a slight twist in layout (calm center vs. bustling toy box) and color, that completely different moods result. |
"Babies are such a nice way to start people."

Don Herold  
The Heirloom Bonnet/Wedding Handkerchief




No cutting of the handkerchief is required, thus the hankie remains intact, to be treasured and transformed into the child's bridal handkerchief one day.  If the baby is a boy, he can gift his bride with his former baby bonnet. (Guys, if you're chuckling right now, listen up. Fiancées tear up and melt when you give them your baby hankie.)

Stay tuned, as we hope to offer you bonnets for sale soon.

 
Something New
Whenever I gift a handkerchief bonnet, accompanied by a verse which explains the tradition, I find that parents appreciate the opportunity to build new rituals with their family.  "Having a baby" one young dad told me "instantly changed my views about learning from past generations."  Then he laughed and shook his head, "Now I'm the father this kid isn't going to listen to because he thinks he's so much smarter."  All the dads standing around smiled and nodded in agreement.
"A baby will make love stronger, days shorter, nights longer, bankrolls smaller, homes happier, clothes shabbier, the past forgotten and the future worth living for."

Author unknown
Something Old
Respect for tradition sometimes must be experienced firsthand before it can be understood, and even felt under the skin.  Case in point – recently, during a baptism held in our church, I admired the lovely christening gown worn by the baby, which appeared to be an heirloom.  I later learned this newborn was the forty-third (!!) infant to be christened in the gown, originally made in 1917 for Walter Zimmerman.  To participate in a tradition practiced for generations, (and visually represented by the gown) added a layer of solemnity and family honor to the ceremony, which I for one, found quite special.
"I'll love you forever.

I'll love you for always.

As long as I'm living

My baby you'll be."

Robert Munsch
.
Epilogue
2013 marks the 60th anniversary of the reign of Queen Elizabeth II, as shown by this embroidered commemorative handkerchief from that era. (Note the initials and crown in the lace border.) Coincidentally, Prince George of Cambridge, her first great-grandson, and fourth in line to the throne, was born during this anniversary year. This hankie might have made a memorable bonnet for the future king.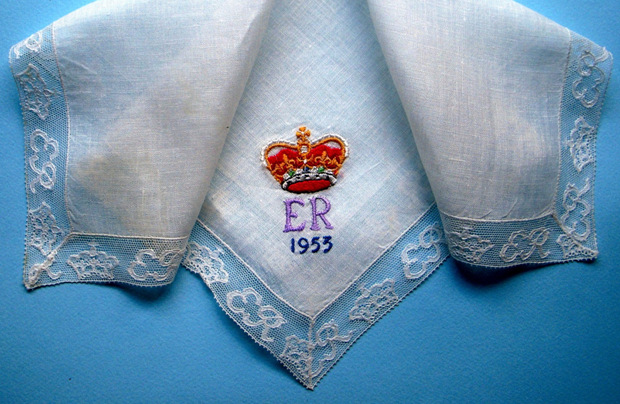 §§§§§§§§§§§§§§
.
The Bonnet Story

Here are variations of the bonnet verse for your use. Thank you to Anita Aars who gave me the hankie pattern and poem 20+ years ago.

Version 1

A tiny square of linen, and a dainty edge of lace,
Designed into a bonnet, to frame your baby's face.

Keep it safe for future use, clean and tucked away

For it will be a hanky for your daughter's Wedding Day.

Or if the baby is a boy, on the day he'll marry
This can be the "something old" his joyful bride will carry.

 

Version 2

This bonnet at first seems small in your hands,
A treasure of lace and ribbon bands.
But this gift is more than linen and charms
For the baby who rests in Mother's arms.
From boxes long sealed, she will search for the hat,
Snip off the ribbons, and soon after that
Bestow this hanky with a tearful smile
To her grown-up daughter, to walk down the aisle.
Or perhaps to her son, a young handsome groom,
She'll bestow his first keepsake, a family heirloom.
He gift it to the girl who has stolen his heart
To have and to hold, till death do they part.

Version 3

I am just a little hankie, charming as can be;
Yet with a stitch or two, they made a bonnet out of me.
Wear me on the day I'm born, and on my christening day,
Until the time I'm washed and pressed and neatly packed away.
There is a wedding custom, observed by all I'm told,

That every sentimental bride should carry something old

So what could be more fitting to catch her tears of joy,

Than an heirloom from her childhood, and even if a boy

Has owned this hankie from his birth, someday he too will wed.

This keepsake he can gift his bride, for tears she too will shed.

"Making the decision to have a child…is to decide forever to have

your heart go walking around outside your body."

Elizabeth Stone