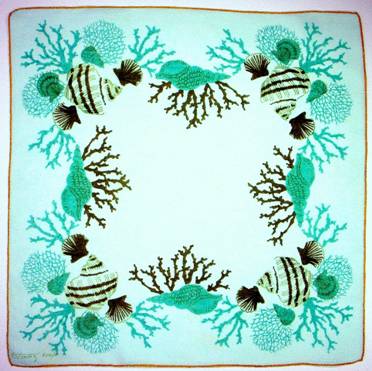 "She would be half a planet away, floating in a turquoise sea, dancing by moonlight to flamenco guitar."

Janet Fitch, White Oleander
August is the month to unwind, unburden, unencumber, relax, ramble, roam, and… slumber, snooze and siesta… We take to the beach to do absolutely nada.  To stroll the sandy shore and sift through the seashells.  Let the wind tousle your hair, the sun kiss your cheeks, and hear the seagulls cry "ahoy, enjoy."
Whether golden sand and sky blue, or sophisticated pink and gray, I love the simplicity of these shell borders surrounding a crisp polka dot center.  They sing summer! These generous hankies could serve as a laptop napkin for a tea party, a head wrap for a nap in the hammock, or flags for m'lady's pirate ship.
When you're ready to collapse in the hammock, may these ocean waves lull you into slumberland…
Another prefect pair of handkerchiefs capture the day's catch. A fanciful gallery of shells are strung like a mermaid's necklace, while tiny fish flutter through the open net.  Eschewing the ocean blue, this artist chose shades of weathered shingled shacks and shellacked boat decks – sophisticated, surprising and spectacular.
"I must be a mermaid Rango.  I have no fear of depths and a great fear of shallow living."

Anaïs Nin
Sailor's Valentines
When I think of seashells, I immediately think of Sailor's Valentines.  With months at sea and long hours to fill, sailors exercised their creativity with whatever was at hand, fashioning intricate valentines from tiny shells. They are truly works of art and you'll find many in museums. (It's nice to know that in this age of 'instant' everything, this painstaking art has been revived.)  But I digress…..
Our sea gray and mahogany theme moves from shells to swimmers, with added splashes of turquoise, lemon, and persimmon, as we spy a school of fish darting between sunlight and shadows, while a lone scout silently prowls the ocean floor.  Both are rendered in the hot wax technique of batik.  Fun and fabulous.
Simplicity and intricacy marry in this singular sensation, reminiscent of aboriginal art.  Red and gold reflect the energetic swoop of pelican dives, while the wily fish dives for cover. It's energetic and eye-catching in every detail. The green border was a perfect choice to cool down this hot pursuit.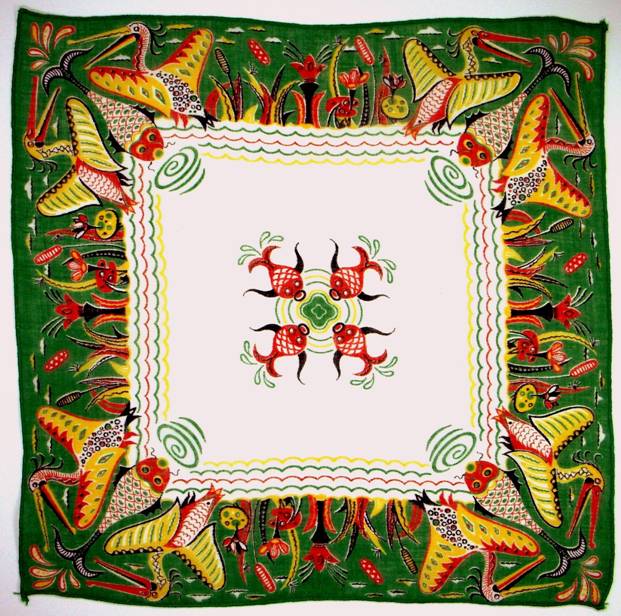 Tammis Keefe (aka Peg Thomas) is at it again, fusing hip graphics with classic motifs. This swirl of salty sea creatures adrift in the Aegean is rendered in classic mosaic tiles framed by a Greek key border worthy of any temple on the Acropolis.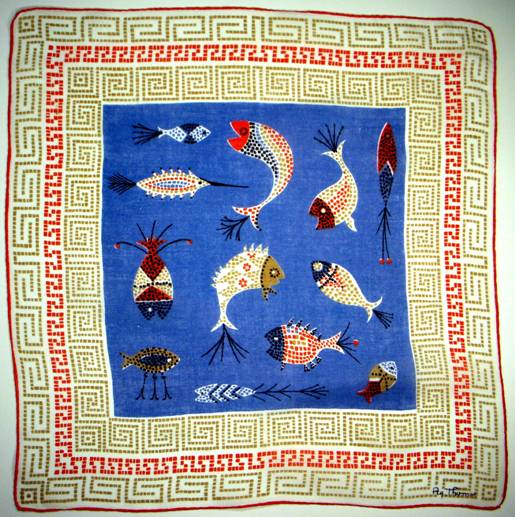 With just a swish of the fin we're transported to the far east where fanciful koi frolic in a fiery tangerine pond.  The bold graphic surround is the perfect foil for the feathery soft fishtails.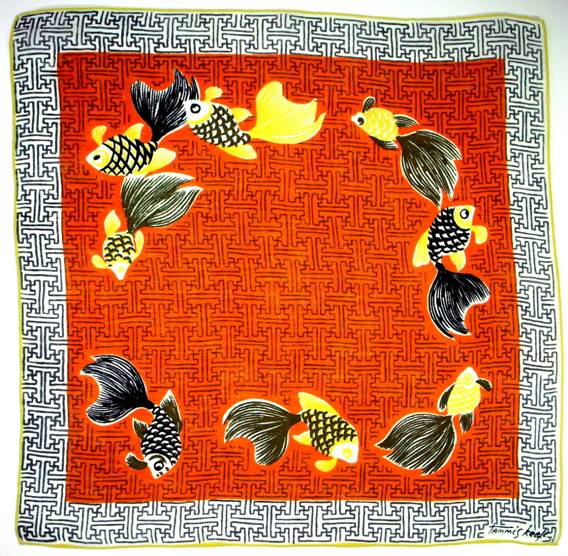 "There's nothing more beautiful than the way the ocean refuses to stop kissing the shoreline, no matter how many times it's sent away."

Sarah Kay
This hankie draws us back to reality with the reminder that creatures great and small share the same ecosystem, which means at some point, you may wind up as someone's lunch!  Tummies jumble with everything from fisherman's flies to summer moths to fellow fish.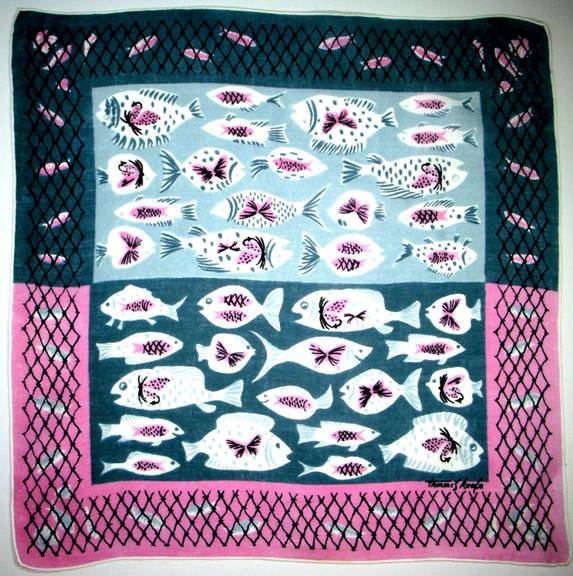 Whew! Perhaps it's best to stay ashore and build sandcastles.  These pink beauties are interspersed with all manner of curlicued creatures. Note the range of variation in their design. Spectacular.
For the serious ichthyologist, there's a hankie to help you know your Pterophyllum Scalar (lower left) from your Banchax Chaprei (upper right).  Sorry kids, I'm afraid I'm more the curlicue type, though I must admit, I adore the spectacular grouping on the linen beauty on the right.
Ah, but it's summer, and we're here to simply laze and loaf.  To saunter and sashay in the sand. This trio should get you smiling. They're as simple and satisfying as a summer siesta in the shade.
Lest we forget, this next colorful and silly hankie admonishes us to take care where we snooze, as there's always a shark somewhere who is still wide awake….nibble, nibble….sigh….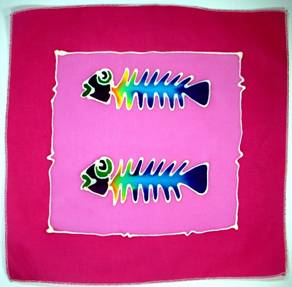 "There was a magic about the sea. People were drawn to it. People wanted to love by it, swim in it, play in it, look at it. It was a living thing." 

Cecelia Ahern, The Gift
Just for fun:
https://handkerchiefheroes.com/sailing/