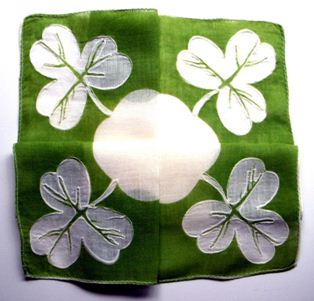 Waxing nostalgic for my Irish heritage, I decided to share a great story. This version is written by Roy H. Williams, and is excerpted from his book The Wizard of Ads
"It's 1848. Nine Irishmen have been captured, tried, and convicted of treason against Her Majesty, the Queen. They are sentenced to death.  The men are Charles Duffy, John Mitchell, Morris Lyene, Pat Donahue, Thomas McGee, Richard O'Gorman, Thomas Meagher, Michael Ireland and Terrence McManus.  As the judge is about to pronounce their sentence, he asks if there is anything they would like to say.  Meagher steps forward and speaks for the group.  "My Lord, this is our first offense.  If you will be easy with us this once, we promise, on our word as gentlemen to try to do better next time.  And next time – you can be certain we'll not be such fools as to get caught!"
The embarrassed and infuriated judge sentences them to be hanged by the neck until dead, then drawn and quartered.  When the world cries out in protest, Queen Victoria commutes their sentences to banishment for life into the wilderness of Australia.
In 1874, Queen Victoria is astounded to learn that the newly elected Prime Minister of Australia is the same Charles Duffy she banished there twenty-five years ago.  Upon the Queen's order, the other eight men are located, and here is what she learns:
John Mitchell has become a prominent American politician and his son is now the mayor of New York.
Morris Lyene has become the attorney general of Australia, and upon completion of his term, Michael Ireland succeeds him.
Thomas McGee is a member of parliament in Canada.
Pat Donahue and Terrence McManus are both brigadier generals in the United States Army.
Richard O'Gorman is governor general of Newfoundland.
Thomas Meagher, the spokesman who had infuriated the judge, is now the governor of Montana.
Is it merely coincidence that all nine of these men rose to positions of leadership and prominence?  Or is this simply what happens to people who have the courage of their convictions? I tend to believe the latter."  Williams then goes on to challenge his readers:  "Is there anything in your life that causes you to feel the passion of these men?   Do you, like them, have the courage of your convictions?  Is there anything important enough to cause you to speak to the judge as Thomas Meagher did?  I am not endorsing their conspiracy against the government; I am speaking of the value of passion.  If there is nothing you would be willing to die for, you have little for which to live."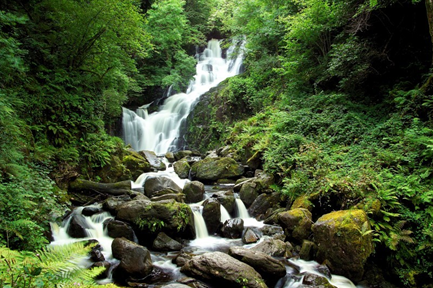 Lush green homeland of Ireland
I like to think at least one of these brave men knew an Irish lass who tucked a crisp linen handkerchief in his breast pocket, close to his heart,  to remind him of the love and country he fought to protect and defend.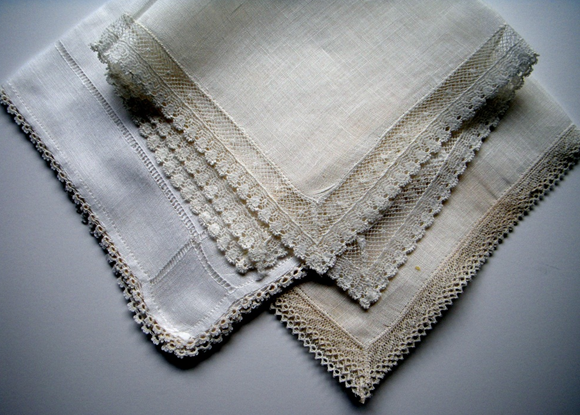 Irish linen handkerchiefs containing drawn work, tatting and lace.
What we know for certain is not one of the nine waved a handkerchief in surrender.  There's a fine line between a renegade and a leader, between being merely headstrong or truly brave.  It's no small task to rise from nothing to Attorney General, to Parliament, to Brigadier General, to Governor.  Time proved these men to be diamonds forged from the pressure of life's trials. (and perhaps a wee bit of luck o' the Irish 🙂 )
"It is easy enough to be pleasant
when life flows by like a song,
but the man worthwhile is the one who can smile
when everything goes dead wrong.
For the test of the heart is trouble,
and it always comes with years,
and the smile that is worth the praises of earth
is the smile that shines through the tears."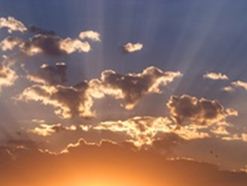 .
Clarence Darrow, one of the great trial lawyers of all time, had a word of advice for defense counsel in criminal cases:  "Try to get an Irishman on the jury.   An Irishman is emotional, kindly and sympathetic," admonished Darrow.  "You would be guilty of malpractice if you got rid of him."
My wish for you is that you meet at least one grand Irishman in your life, and if you're lucky, have him as a lifelong friend.   A friend loyal and true, like the Nine Brave Men, who will stand beside you in times of trial, weep with you in your in your sorrows, and rejoice with you in your victories.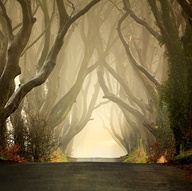 .
(This picture is from a country lane in Northern Ireland known locally as The Dark Hedges. The trees are 300 years old and form an arch like tunnel that run the length of the Bregagh road near Armoy in County Antrim.)