Whether you love to cook, or employ the Cuisinart and Kitchen Aid only during the holidays, now is the season for sauce sorcerers, celestial bakers, and cuisine virtuosos. Who among us hasn't relished rushing home through sleet, snow, rain or wind to savor a stovetop simmering with delectable delights? I recall one frigid evening I was caught in a Denver snowstorm with a flat tire! I had assembled spaghetti sauce the night before, and left it to simmer in a crock pot while I was at work. I arrived home – freezing, exhausted, and very late to find neighbors from across the hall outside my door with wine, spaghetti, and a loaf of warm garlic bread! They had been inhaling the aromas for hours and were, in their words, "starving." No meal has ever been devoured with more fervent gusto. 🙂  Memories and meals go hand in hand, and of course begin with the basics – good ingredients. The handkerchiefs featured here also start with the basics – from fruits and veggies to kitchen accoutrements.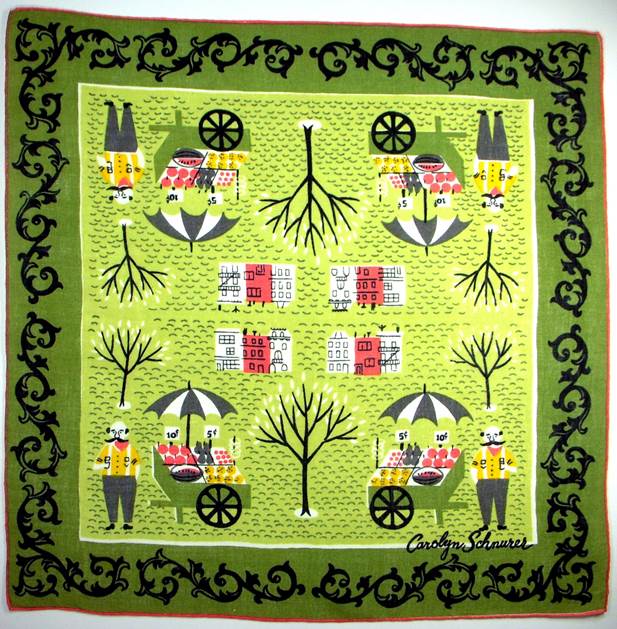 "Watch a French housewife as she makes her way slowly along the loaded stalls…
What you are seeing is a true artist at work, patiently assembling all the materials of her craft, just as the painter squeezes oil colors onto his palette ready to create a masterpiece."

Keith Floyd
A tumble of pears, peaches, cherries, raspberries and oranges are anchored at the corners by the hard working bee, without whose pollination none of this would exist. Alongside, vegetables and fruits are highlighted by bold swaths of color. To me, they look like hip Mad Men advertising art work.
"Sex is good, but not as good as fresh sweet corn."

Garrison Keillor
The light and airy citrus stands of summer are replaced with fall vines laden with grapes and gourds.
It's the season for apple ginger galettes and caramel walnut tarts.
"I know the look of an apple that is roasting and sizzling on the hearth on a winter's evening, and I know the comfort that comes of eating it hot, along with some sugar and a drench of cream… I know how the nuts taken in conjunction with winter apples, cider, and doughnuts, make old people's tales and old jokes sound fresh and crisp and enchanting."

Mark Twain
To enhance your viewing: "Food, Glorious Food" written and scored by Lionel Bart for his 1960 Broadway hit Oliver!
Doesn't this hankie make you want to head to the nearest Farmer's Market? You can almost taste the radishes and hear the beans snap.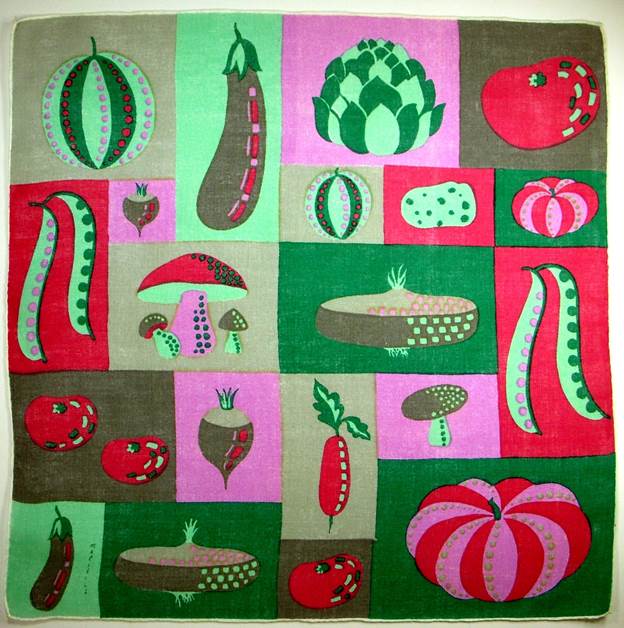 "Artichokes used to annoy me until I started thinking of their leaves as petticoats."

Oliver Wendell Holmes
Note the adorable mushrooms above – a popular image for handkerchiefs. Below, they appear in both regimented rows, and scattered helter-skelter, forming a forest of condos for silly snails.
Methinks perhaps Lewis Carroll and Alice in Wonderland sampled a few of these purple and chartreuse wonders…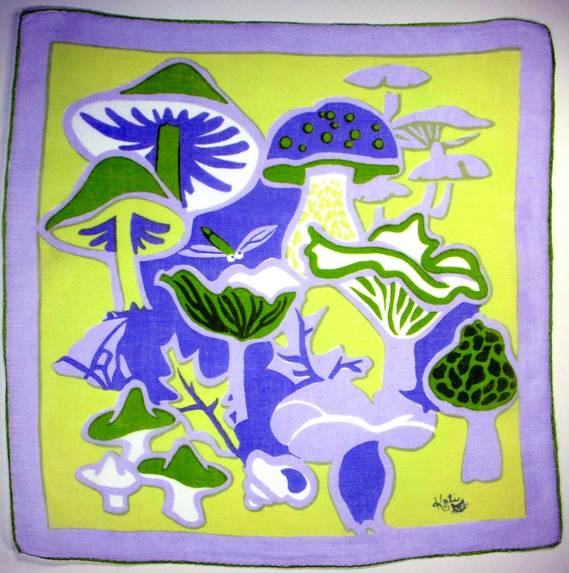 "Life is too short to stuff a mushroom."

Shirley Conran
From marjoram to rosemary, chervil to chives, the art is in the seasoning. The hankie on the right, written in German, provides tips on what veggie to pair with what spice. Note the Benjamin Franklin quote in French on the border which basically states "We do not live by what we eat, but by what we digest. This principle is true for the mind as well as the body." My guess is this lovely linen hankie came from Switzerland. Since this tiny country has four national languages – German, French, Italian and Rumantsch, you'll often find more than one language on their creations.
| | |
| --- | --- |
| | |
What helps a great cook create great cuisine? A great kitchen, with all the accoutrements for a proper "mis en place". Heaven knows you can find over-the-top kitchens in Architectural Digest, but these images  reflect a time when stoves were stoked with wood, and irons with hot coals. From Early American spice racks, trivets and chocolate muddlers on the left, to Scandanavian ladles, coffee pots and irons, it's all here to enjoy. (Irons were often heated on the stove, which is why they're included in kitchen pictures.)
Pat Prichard does an outstanding job of immersing our senses in the turn of the century kitchen, from the cast iron stove to shortbread cookie molds to coffee grinders.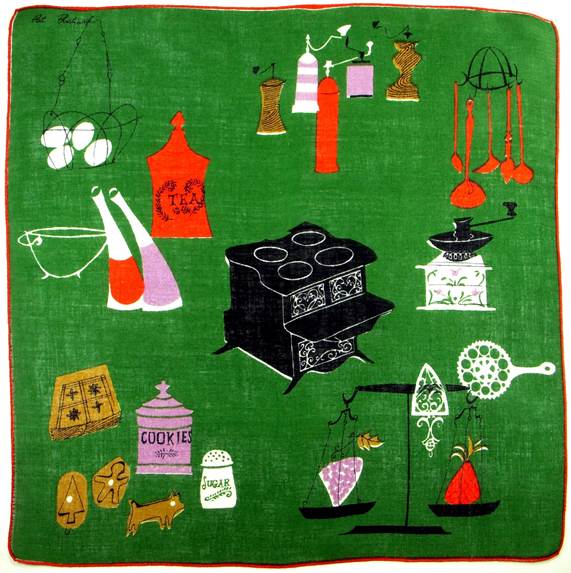 From a cracker barrel at the general store to hanging salamis and food scales – you can almost smell the sawdust on the floor.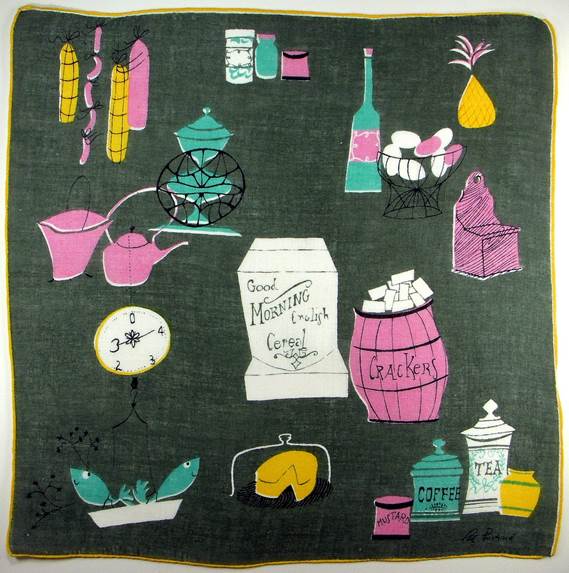 Fanciful ironwork abounds in trivets, spoon racks and scales. Her patterns are a feast for the eyes.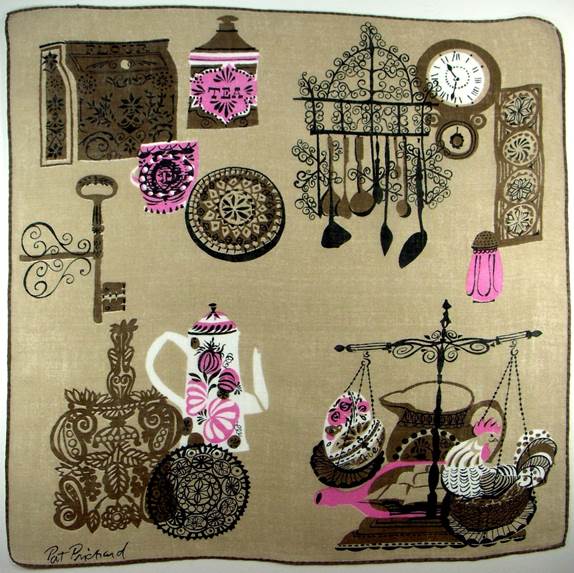 For those who recall our tankards and Toby mugs, we find here the perfect accompaniment in marvelous tavern signs, serving ladles and earthenware pitchers. Delightful!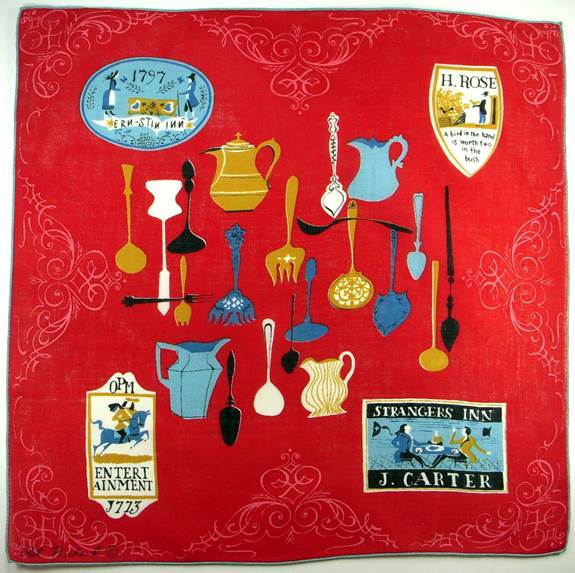 What concoctions might emerge from these kitchens? Pheasant under glass, Cornish hen, rabbit stew, and roast pig.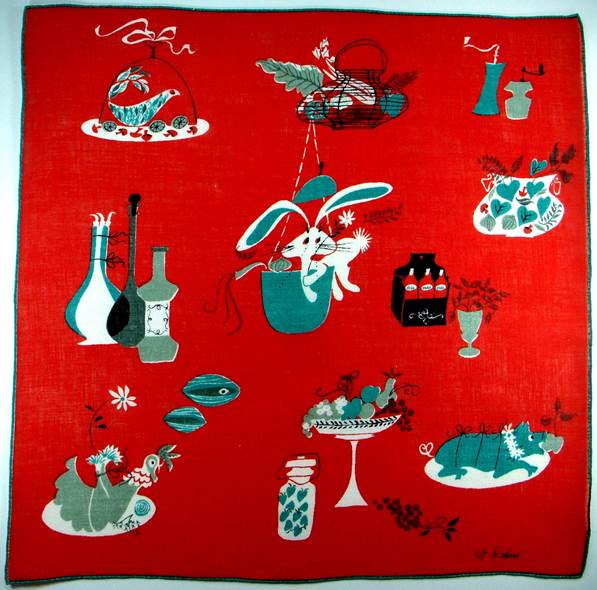 The companion oceanic menu features clams, crab, lobster and all manner of seafood. Terrific fun.
"He was a bold man that first ate an oyster."

Jonathan Swift
It's interesting to view the identical image transformed by sophisticated gray, fuchsia and chartreuse. What catches your eye? The hot pinkcrab, lobster and crustaceans around the salad oil? Their popping eyes? The orbs seem particularly wild on the lobster antennae. Also note the whisper of pink border which highlights the radishes and seafood. Maximum impact, minimal detail. Spectacular!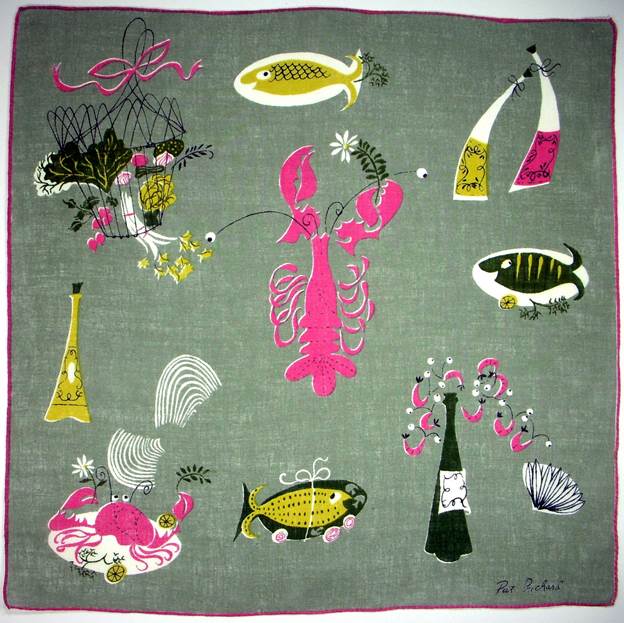 A salad lover's dream of herbs and infused oils pops alongside a very "Martha Stewart" abode which features every manner of goblet, wine glass, and fruit compote.
Aphorisms abound in the following culinary catch-all which captures lessons learned through the ages.  It's fun, fanciful and would warm the heart of any home chef.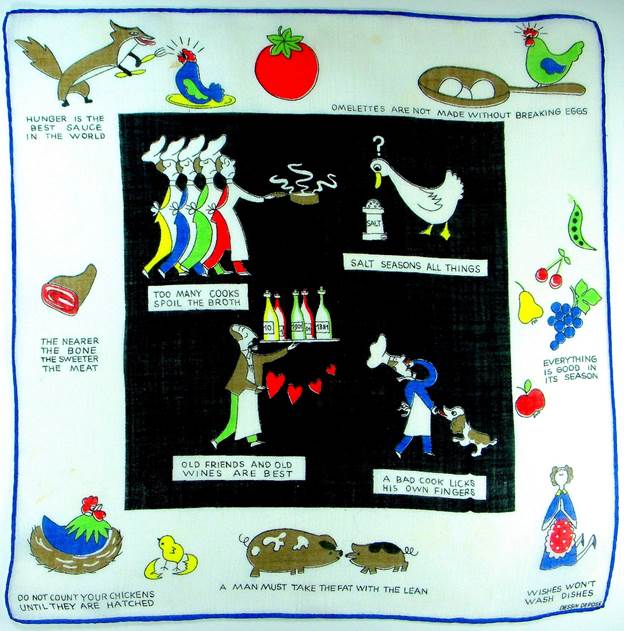 Fast Food vs. Slow Food
In 2012, on-line magazine Slate predicted the "impending extinction" of cookbooks. Uh, not so fast cyber geeks…. According to Entrepreneur, consumers are tired of "swimming through oceans of mediocre-to-bad online recipes before becoming frustrated with 'free' says Bill LeBond, editorial director, Chronicle Books." Apparently well-tested recipes, and professionally curated book are still appreciated.  According to Statista, chef Ina Garten's Make It Ahead has sold 512,872 copies. Yikes! When The Pioneer Woman Cooks: Food From My Frontier by Ree Drummond sells 148,243 copies, it's not a fluke, it's a trend.  Many of the handkerchief images featured here could easily grace the pages of Drummond's cozy, heartwarming cookbooks.
With low fat, gluten free, and home entertaining trends on the rise, not to mention the plethora of cooking shows too numerous to mention, it's not so surprising to learn (from IBISWorld) that cookbook sales topped 1.5 billion last year, and show no signs of slowing down.  So, like the best of chefs, tie your hankie around your neck bandana style, or fashion it into a headband to soothe your fevered brow as you braise, broil, stir and sauté your way into a state of bliss.
"Am I tough? Am I strong? Am I hard-core? Absolutely. Did I whimper with pathetic delight when I sank my teeth into my hot fried-chicken sandwich? You betcha."

James Patterson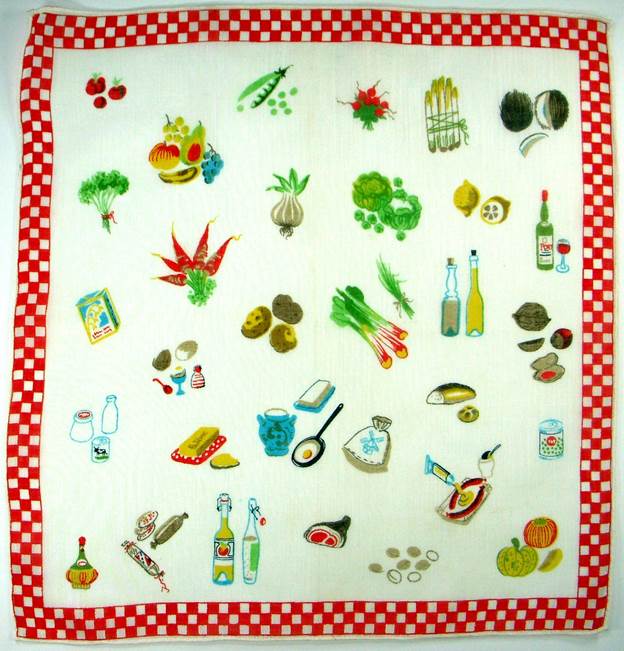 "The only real stumbling block is fear of failure. In cooking you've got to have a what-the-hell attitude."

Julia Child
 "Food, Glorious Food"
From the 1960 Broadway musical Oliver! By composer, lyricist and playwright Lionel Bart.
Food, glorious food, hot sausage and mustard,
While we're in the mood, cold jelly and custard.
Pease pudding and saveloys! What next is the question?
Rich gentleman have it boys – Indigestion.
Food, glorious food! we're anxious to try it.
Three banquets a day, our favorite diet.
Just picture a great big steak, fried, roasted or stewed.
Oh food, Wonderful food, Marvelous food, Glorious food!
Food, glorious food! What is there more handsome?
Gulped, swallowed or chewed, still worth a king's ransom.
What is it we dream about? What brings on a sigh?
Piled peaches and cream about six feet high!
Food, glorious food! Eat right through the menu.
Just loosen your belt two inches and then you
Work up a new appetite in this interlude…
The food, once again, food, Fabulous food, Glorious food.
Food, glorious food! Don't care what it looks like.
Burned, underdone, crude, don't care what the cook's like.
Just thinking of growing fat, our senses go reeling
One moment of knowing that full-up feeling!
Food, glorious food! What wouldn't we give for
That extra bit more, that's all that we live for.
What should we be fated to do nothing but brood
On food, Magical food, Wonderful food