Sometimes when you see a handkerchief, a certain individual immediately pops to mind.  When I saw this silk souvenir from Scotland, I immediately thought of Jim Osborn, for two reasons: one – Kirking of the Tartans, and two – well, you'd have to know Jim.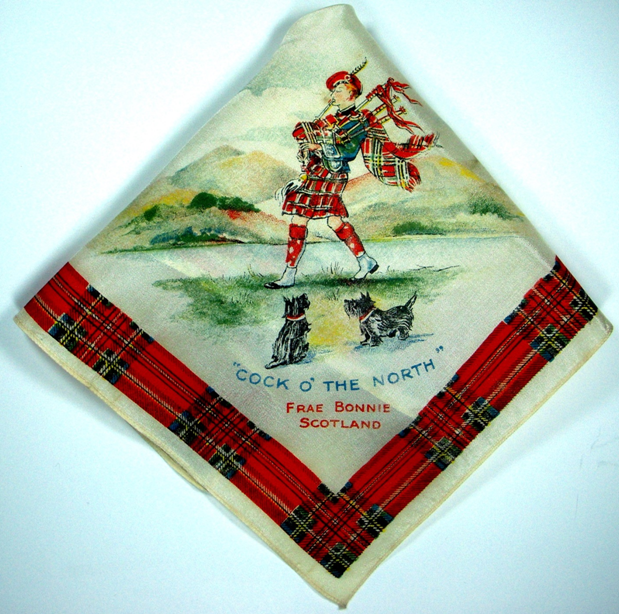 Jim Osborn is one-of-a-kind.  Delightful, adventurous and fun, he had an impressive career in media that spanned decades. He was VP and General Manager of KGO-TV (ABC) in San Francisco, subsequent to serving as VP and GM of WXYZ-TV (ABC) in Detroit.  He oversaw all facets of operations including sales, news, programming, promotion, engineering and finance. Both stations were #1 in their respective markets, no small accomplishment.  He was a mover, a shaker, and a man of influence.  I didn't know any of this however, when I casually received one of his business cards a few years ago which read:
        James R. Osborn
| | | |
| --- | --- | --- |
| Raconteur | Swashes Buckled | in addition: |
| Bon Vivant | Wars Fought | TV Networks Analyzed |
| Gourmand | Masses Inflamed | Cable Networks Identified |
| Connoisseur | Kings Dethroned | Ratings Hyped |
| Hedonist | Shipping Disrupted | Mini-Docs Sourced |
| Privateer | Devils Advocated | Talent Critiqued |
| Savant | Camps Raided | Fine Wines Consumed |
| Iconoclast | Safaris Led | Marriages at Sea Performed |
| Inept Magician | Shrews Tamed | Devious Enterprises Concocted |
| | Tornadoes Predicted | Pseudo-Intelligence Portrayed |
It's all very tongue in cheek, I assure you. Jim is quite self-effacing and kind; he just likes to have fun. You can see however, that the Scottish handkerchief caption would fit perfectly on his card.
Truth be told, Cock of the North refers to the Duke of Gordon who founded the 92nd Gordon Highlanders. (Things named after Cock of the North include a single malt scotch, a Highlander bagpipe march, a locomotive, and a horse show jumping competition!)
When I decided to blog about this handkerchief, I requested another card from Jim.  I shouldn't have been surprised to discover he'd upgraded, and his current business card reads: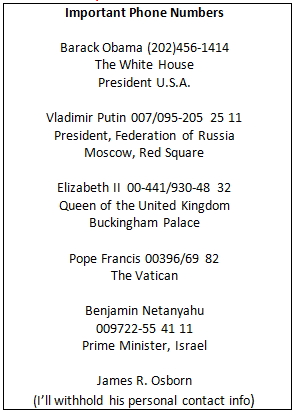 See what I mean? Silly and fun.  In addition, a kilt-attired Jim is an avid participant in Kirking o' the Tartan.  This past Sunday he served as liturgist and arranged for bagpipers to lead the congregation from the park to Sausalito Presbyterian Church.  (note his new hankie in his jacket pocket 🙂 )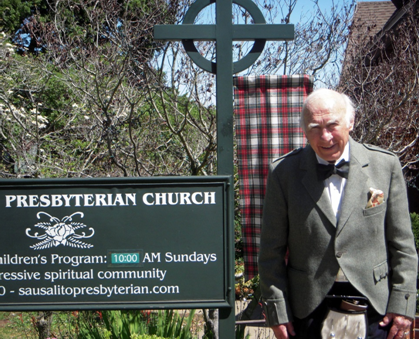 Kirking o' the Tartans
Histories vary widely on this tradition, and I'm certainly no expert. I can only relate what I've found.
Kirking = derived from kirk, the Scottish Gaelic word for church, or in this instance, "blessing."
Tartans = traditional plaid emblems of Scottish clans, as represented in woven woolen cloth.
Popular Legend
To enhance your reading of the legend, we've included some lovely music from Rory Gallagher and Phil Coulter performing Will Ye Go Lassie Go. (Be patient; it starts very quietly.)
httpa://youtu.be/Wpsn39FB_BA
In 1745 Prince Charles Edward Stewart, "Bonnie Prince Charlie" returned from exile in France.  He enlisted the support of  the Highland Clans to help him dethrone George II of England, and restore the Scottish throne to the Royal House of Stewart. The king suppressed the Scottish offensive, but not their spirit.  In angry retaliation to the uprising, he forbade the Highlanders from wearing any type of Tartan or speaking in Gaelic.  In addition, he outlawed Scottish music, dancing, and playing bagpipes.
The wily Highlanders found ways to circumvent the restrictive laws, including hiding swatches of tartan under their clothing.  At church, they would participate in a secret blessing or kirkin' (consecration of the cloth) by the minister, at a certain point in the service.  During the following 36 years, when the ban was strictly enforced, the Scots would touch the hidden cloths when the minister gave the benediction, thus "rededicating themselves to God and their Scottish heritage." (Oh those canny Scots) Curiously, many a Scotsman is unaware of this tender, touching, tale of tribute, which leads one to believe the true origin of the tradition may have begun elsewhere.
Modern Legend
Reverend Peter Marshall, originally from Scotland, was pastor of the New York Avenue Presbyterian Church in Washington D.C. during WWII, where he held prayer services to raise funds for British war relief.  In April, 1941, he gave a sermon entitled Kirkin' o' the Tartans, and a legend was born.  (David Pickens, choir director under Rev. Marshall confirms the story.)
In 1954, services were moved to the National Cathedral (Episcopal) and are still held today.  Kirking ceremonies can be found in Presbyterian, Episcopalian, Methodist, Roman Catholic, Orthodox and churches of other denominations around the world.  Kirkings are held year round, but St. Andrew's Day – the patron saint of Scotland – (November 30) and Tartan Day (April 6) are popular dates.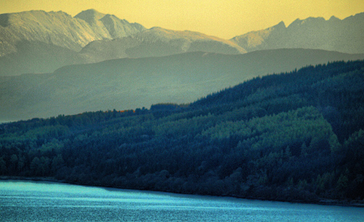 Scotland in the gloaming
Epilogue
Naturally, when the San Francisco 49ers were in the playoffs, there was Jim in his 49er's garb, after Sunday service, helping lead the congregation in a rousing rendition of Drop Kick Me Jesus Through the Goalposts of Life. (To give you some idea of the real Jim, having attended many Super Bowls in the past, this year he chose to sell his tickets and donate all the proceeds to charity).  Would that more of us had his attitude, his humor, and his wonderful zest for life.