Having recently featured heavenly stars as viewed by astrologers, we now turn our attention to stars as viewed by Hollywood. It's an apt analogy, since MGM used to boast their studio contained "More stars than there are in the heavens."
Three MGM stars – Clark Gable, Jeanette MacDonald and Spencer Tracy appeared together in the top grossing movie of 1936, San Francisco. In the movie, Blackie Norton (Gable), a Barbary Coast saloonkeeper hires impoverished but talented singer Mary Blake (MacDonald) to sing in his Paradise Club, and soon falls in love with her. Mary's skill is quickly recognized, and she's offered a job at the Tivoli Opera House. When she forsakes the saloon for the legitimate stage, Blackie is distraught. His childhood friend Father Tim (Tracy) tries to reconcile the couple, to no avail. Set against the backdrop of the 1906 earthquake, there's enough drama and romance for any movie buff. When I spotted this silk hankie (admittedly, quite worn) I couldn't help but wonder if it might not be a souvenir from the movie premiere (which would make it 80 yrs. old). It also make me wonder if a hankie featuring MacDonald and Gable exists somewhere.
| | |
| --- | --- |
| | |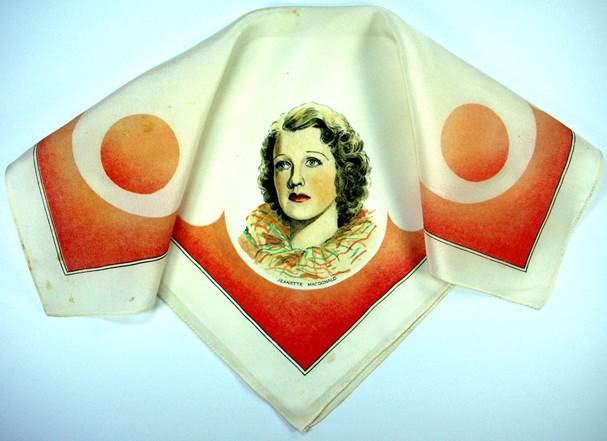 Jeanette MacDonald (1903-1966) American singer and actress appeared in Broadway shows by Jerome Kern (Night Boat) George Gershwin (Tip Toes), and sang scores by Rogers and Hart (Love Me Tonight).
With the introduction of films with sound (the "talkies"), MacDonald introduced opera to moviegoers, and her soaring vibrato captivated fans. She appeared in numerous musicals with Maurice Chevalier (The Love Parade – which received a best picture nomination, Love Me Tonight, The Merry Widow, and One Hour With You) and Nelson Eddy (Naughty Marietta, Rose-Marie, and Maytime) eventually working for Paramount, United Artists, Fox and MGM. Between films MacDonald did several concert tours in France, England and the U.S. where she sang in the Hollywood Bowl and Carnegie Hall, and she recorded more than 90 songs for RCA. She performed at His Majesty's Theatre in Montreal, the Chicago Opera Company, the Cincinnati Opera, The Philadelphia Civic Grand Opera Company and more. During WWII, she raised over $100,000 for the Army Emergency Relief through a series of benefit concerts nationwide, as well as providing dozens of free concerts for the troops through the U.S. O. Here's your trivia tweet – what song was most frequently requested? (Answer at the end.)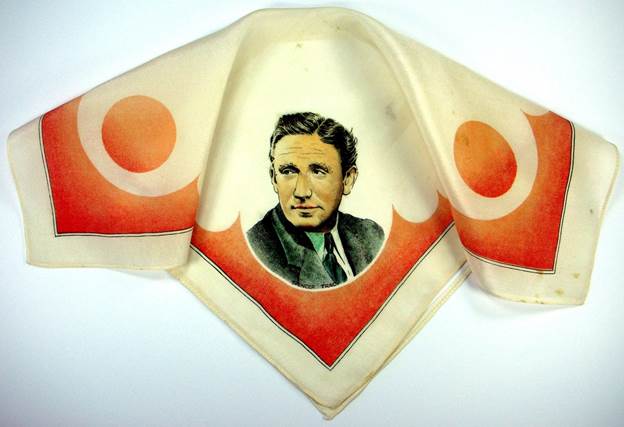 Spencer Tracy (1900-1967) starred in such iconic movies as Captains Courageous (1937) and Boys Town (1938) becoming the first actor to win back to back Academy Awards for his performances in these films. He was further nominated for his performances in San Francisco (1936), Father of the Bride (1950), Bad Day at Black Rock (1955), The Old Man and the Sea (1955), Inherit the Wind (1960), Judgment at Nuremberg (1961) The Power and the Glory (1933), and Guess Who's Coming to Dinner (1967). Perhaps his portrayal of a priest – Father Flanagan – in Boys Town and Father Tim in San Francisco was so convincing was because Irish Catholic Tracy served as an altar boy in his youth, although he was often truant, and wound up attending over a dozen elementary schools. While at Ripon College (where he initially intended to major in medicine) he settled on a career in acting, and later roomed with Pat O'Brien while attending the Academy of Dramatic Arts. His chemistry with actress Katharine Hepburn was palpable in Woman of the Year (1942), State of the Union (1948) Adam's Rib (1949) Desk Set (1957), and Pat and Mike (1952) among other films.  Known as an "actor's actor" Tracy was unflappable in performances that were powerful, yet seemed effortless.
| | |
| --- | --- |
|   |   |
| Tracy and Freddie Bartholomew in Captains Courageous (1937). | Tracy and Elizabeth Taylor in Father of the Bride (1950). |
This next quartet of leading men is printed on cotton, and their brilliant colors have held fast.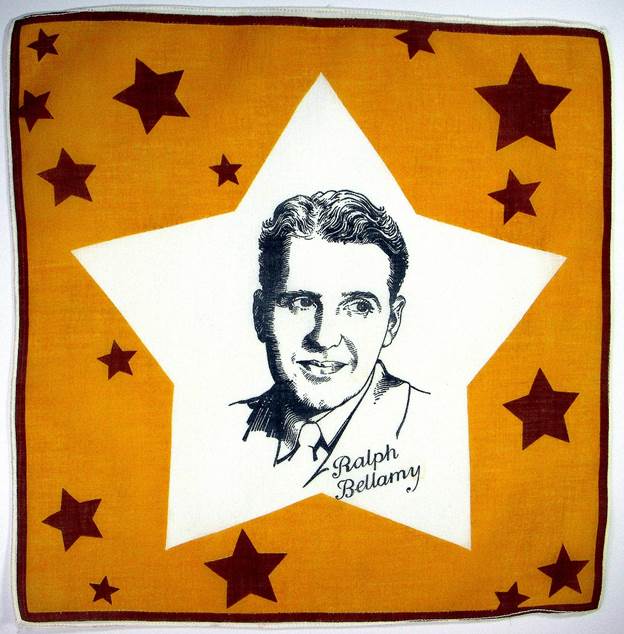 Actor Ralph Bellamy (1904-1991), who worked in radio, television, and repertory theatre, appeared in 100+ movies, often as the "guy who lost the girl" and often, he lost her to Cary Grant – in Hands across the Table (1935), The Awful Truth (1937), Carefree (1938) and His Girl Friday (1940).  He was masterful on stage as an antifascist professor in Tomorrow the World (1943), a Presidential hopeful in State of the Union (1945), a zealous police officer in Detective Story (1949) and FDR in Sunrise at Campobello (1958). Amazingly, he played FDR again in 1983 for the tv miniseries The Winds of War.
Not only did Bellamy earn both a Tony and Drama Critics best actor award, he broke new ground in television, playing a detective in the first live half hour television drama Man Against Crime. Deeply devoted in his profession, he was a founder and board member of the Screen Actors Guild, the President of Actors' Equity for 12 years, and worked with unions to create a contract that established the first actors' pension fund. He also formed a panel to protect members against unproven charges leveled by blacklisting McCarthy era fanatics.
When he declined a fifth term as president of Equity, he was awarded the lifetime title of president emeritus, and 122 actors signed a letter expressing their "deepest thanks" for his dignity, integrity, prestige and sense of responsibility." Perhaps the "good guy" roles he played over the years were closer to the real man than we knew. Those who signed the letter included Lillian Gish, Margaret Hamilton, Raymond Massey, Agnes Morehead and Pat O'Brien, among others. Bellamy also received an honorary Oscar in 1987 "for his unique artistry and his distinguished service to the profession of acting."
Today's audiences remember him from film Trading Places (1983) with Eddie Murphy, Dan Aykroyd and Don Ameche. He also played the good guy James Morse in Pretty Woman, and, with the help of Julia Roberts, transforms Richard Gere from predator to partner. Fans of the tv show Boston Legal may remember a 2007 episode which included footage from a 1957 episode of Studio One that featured Bellamy and William Shatner as a father/son attorney team. One of the hardest working, most beloved actors in both film and stage for 62 years, we will always treasure and miss him.
| | |
| --- | --- |
| | |
| Cary Grant, Rosalind Russell and Ralph Bellamy in His Girl Friday. Note the telephones! | Bellamy and Richard Gere in Pretty Woman. |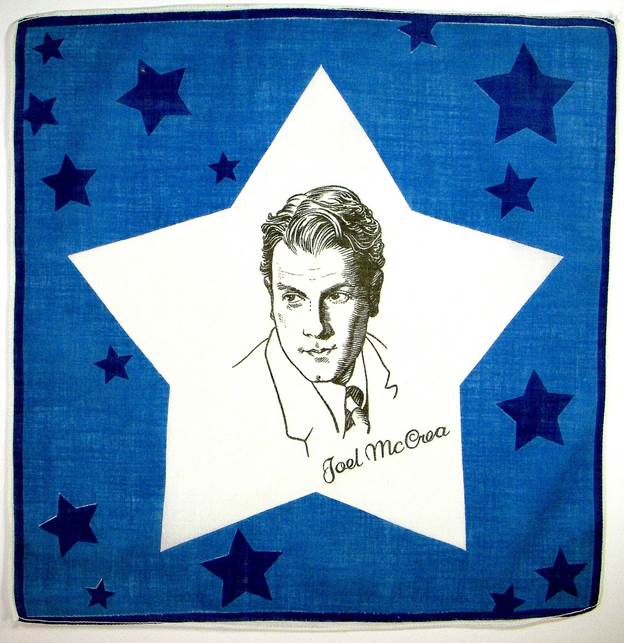 Another actor whose career spanned more than fifty years and who appeared in over 90 films was Joel McCrae (1905-1990). Born in Pasadena, and a graduate of Hollywood High, McCrae was already a stunt double while still in high school, holding the horses for stars William S. Hart and Tom Mix.
He starred in everything from the adventure romance Bird of Paradise (1932), which included scenes with Delores del Rio swimming nude (this was pre code) to Alfred Hitchcock's Foreign Correspondent (1940) to Preston Sturges' beloved Sullivan's Travels (1941).

Many remember him from the 1950's radio series Tales of the Texas Rangers.  In 1968 he received a career achievement award for the L.A. Film Critics Association. In 1969 he was inducted into the Western performers Hall of Fame and the National Cowboy & Western Heritage Museum in Oklahoma City.
| | |
| --- | --- |
|   |   |
| McCrae in Hitchcock's Foreign Correspondent | With Veronica Lake in Sullivan's Travels |
"A good movie can make you feel alive again."

Pauline Kael, For Keeps: 30 Years at the Movies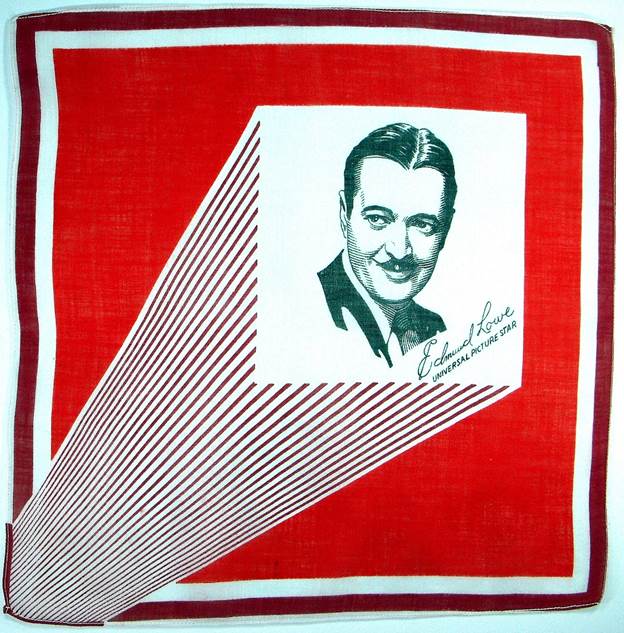 Edmund Lowe (1890-1971) was the son of a judge, and had initially planned to become a priest. He switched career path several times, from studying law, to teaching English and elocution, which eventually led him into acting. He started in vaudeville, later appearing on Broadway, and eventually motion pictures, where his matinee idol good looks and acting skills allowed him to be featured as a leading man in 100+ films.
He could play everything from the romantic lead in Dinner at Eight (1933) to tough guy Specs Green in Dillinger (1945). He was forever remembered for his role as Sgt. Harry Quirk in the WWI drama What Price Glory (1926), and its many sequels. Over the years he work d for 20th Century Fox, Paramount, MGM, and Universal studios, and in 1951 starred in his own half hour television series Front Page Detective. Lowe also appeared in the first episode of Maverick starring James Garner in 1957, and like Bellamy, has a star on the Hollywood walk of fame.
| | |
| --- | --- |
| | |
| This studio shot seems reminiscent of Chris Noth (Mr. Big in Sex and the City and Peter Florrick in The Good Wife) don't you think? | From white tie glamorous to downtrodden and destitute, Lowe could play any role. |
"Nothing is impossible. The word itself says 'I'm possible."

Audrey Hepburn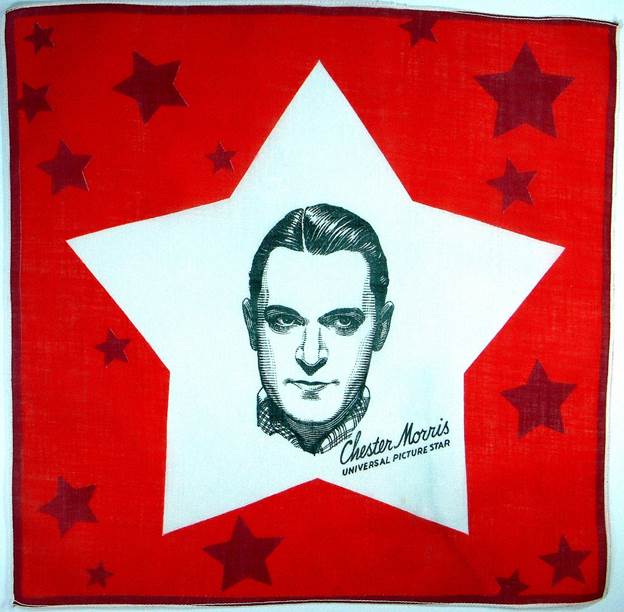 Chester Morris (1901-1970), American stage, film, tv and radio actor, and Oscar nominee, was perhaps best known for his role as Horatio "Boston Blackie" Black, who evolves from a thief and underworld criminal into an adventuresome detective.  Blackie's motto? "Enemy to those who make him an enemy. Friend to those who have no friend." Fourteen Boston Blackie films were made in the 1940s. Morris began his stage career at the age of fifteen, opposite Lionel Barrymore in The Copperhead. He toured with his family in a vaudeville act titled The Horrors of Home. His film roles ran the gamut from unfaithful husband in The Divorcee (1930) , opposite Norma Shearer, a role than won her an Academy Award, to a hardened criminal in The Big House (1930), to Wall Street financier turned pirate in Corsair (1931). Leading ladies included Jean Harlow, Carole Lombard, Joan Fontaine, Fay Wray, and Lucille Ball among others. During WWII, Morris entertained the U.S.O. troops with more than 380 magic shows, a passion of his since childhood. His later career included appearances on Playhouse 90, Dr. Kildare, Route 66, Rawhide, The Defenders, and more.
Jewel thief turned detective

Boston Blackie.

Chester Morris, Lucille Ball, Casey Johnson and Kent Taylor in Five Came Back (1939)
"Actors are agents of change. A film, a piece of theatre, a piece of music, or a book can make a difference. It can change the world."

Alan Rickman
Just for Fun
In this MGM 25th anniversary luncheon film clip from 1949 many stars came directly from their sets, so are still in costume. Note how many gentlemen sport the ubiquitous pocket square.
Trailer for the movie San Francisco
Ralph Bellamy, William Shatner, and Steve McQueen, 1957 Studio One – The Defender
Photo montage of Edmund Lowe
Photo montage of Chester Morris
Spencer Tracy in Inherit the Wind
Trivia Tweets
The song most frequently requested of Jeanette MacDonald to sing during WWII was "Ave Maria." According to Wikipedia, on one occasion, at the request of Lt. Ronald Reagan, she sang for the troops about to ship out to fight in the South Pacific. When she closed with "The Battle Hymn of the Republic", 20,000 voices spontaneously joined in.