"It's funny how the colors of the real world only seem really real when you watch them on a screen."

Anthony Burgess
The masters of light and shadow, shade and nuance, are most assuredly cinematographers. When immersed in film noir, or caught up in a masterpiece by Hitchcock, you may find yourself lightheaded when you realize you've stopped breathing.  Black and white creates a perfect backdrop for terror, as forms become indistinguishable in the shadows.  With the introduction of color, flesh takes on life, romance exudes heat,  and comedy shimmers like a shower of confetti.  Color, like music, adds layers to everything; it can lift our mood, coax a smile, or relax and soothe.  A master of the color palette in the world of textiles was Tammis Keefe.  Had she worked in the film industry, I'm sure set and costume designers would have kept her employed non-stop.  When she depicted Hollywood's famous landmarks, she did so with her usual punch and pizzazz.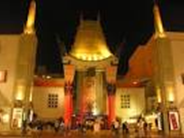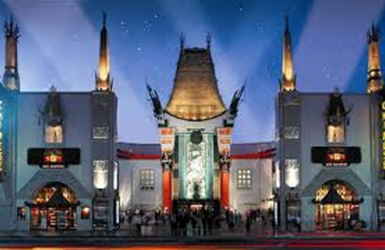 .
The famous landmark Grauman's Theatre is a showpiece lit dramatically for various premiers.  Who better to capture Grauman's drama in a brilliantly hued handkerchief than Keefe?  Her bold rendition of a grand opening complete with klieg lights and brilliant pops of scarlet, bring all the excitement of  opening night to life, plus you can carry a remembrance in your pocket forever.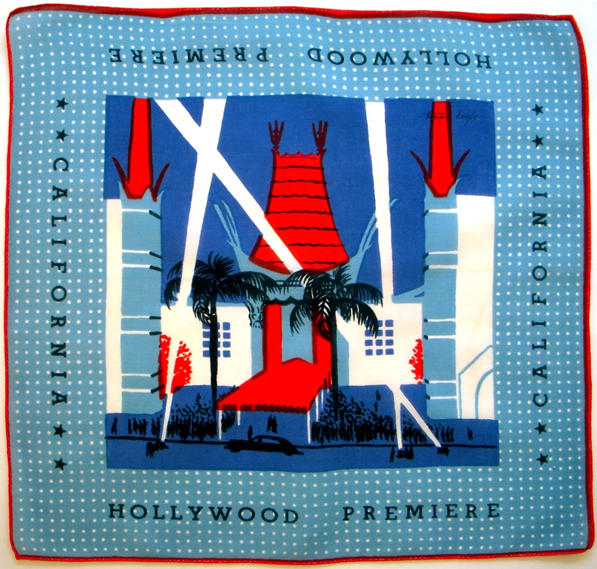 .
Note Keefe needn't name the famous landmark, just merely state Hollywood Premiere, and everyone knew it was Graumans.  Opened in 1927 with the premiere of Cecil B. DeMille's The King of Kings, Grauman's premiered such classics as Star Wars (1977) in addition to hosting the Academy Awards (1945-47).
This hankie was created when the awning stretched to the curb. The theatre has since been restored to its original appearance.  You may not be Clint Eastwood, Clark Gable or Tom Hanks, but with this hankie in your pocket, you can still share in the magic that is Hollywood.
In addition to famous signatures, handprints, and footprints in the forecourt, you can find imprints of the cigar of Groucho Marx, the magic wand of Harry Potter, the gorgeous gams of Betty Grable, the ferocious fist of John Wayne, the hoofprints of Roy Roger's horse Trigger, the profile of John Barrymore, and nose impressions of Jimmy Durante and Bob Hope.  Only in Hollywood!
"Every great film should seem new every time you see it."

Roger Ebert
This silk fashion hankie features an image of the Chinese Theater, with the leaves and tiny flowers on the corner pocket  hand painted.   The pockets don't close, so anything placed in them would fall out.  Anyone have a guess as to their purpose? I found one that contained a fluffy powder puff, so perhaps that's the answer.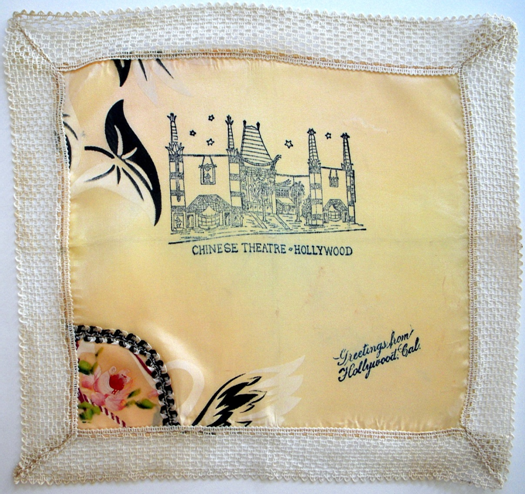 Another great landmark captured by Keefe was the Hollywood Bowl.  Executed in various color combinations, you can envision it on a starry night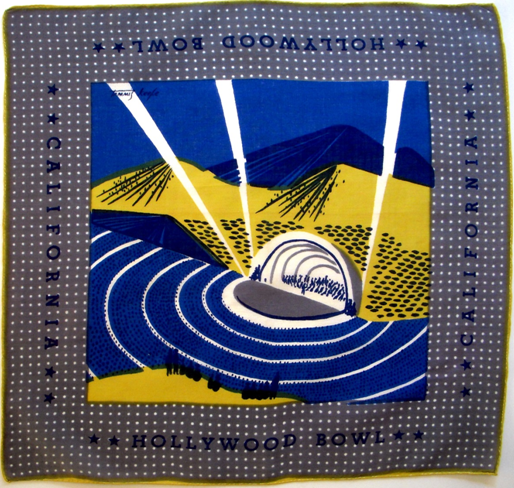 or a sunny afternoon in summer.  The letters in the golden version are worn threadbare, and it even sports a hole or two, but I love the contrast in colors, and thus the change in feeling the different hues evoke.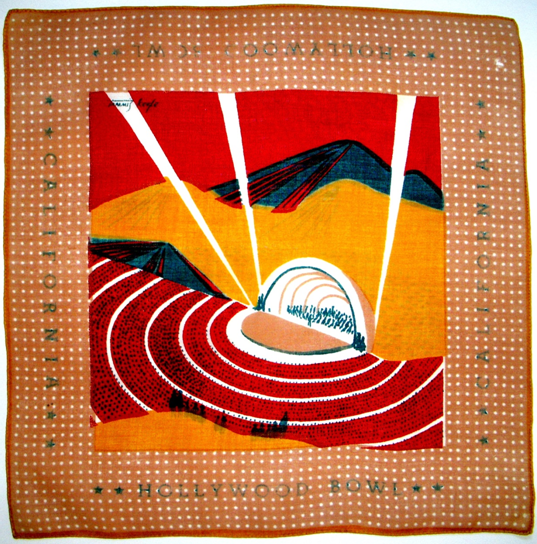 | | |
| --- | --- |
|   | You might think The Hollywood Bowl gets its name from the arched band shell.  Actually, it's named for the natural amphitheater shape of the hillside in which the theatre sits.  This aerial view provides some idea of its enormity.  Opened in 1922, it originally contained rustic wooden benches and an awning over the site.  Long the summer home of both the L.A. Philharmonic and the Hollywood Bowl Symphony Orchestra, it has hosted appearances of everyone from President Franklin Roosevelt to Fred Astair, Al Jolson to Elton John, Billie Holiday to The Beatles, Barbra Streisand to Isaac Stern, and scores of others in the world of entertainment.  Not surprisingly, since we are talking about Hollywood, it has been featured in twenty motion pictures! |
In addition to famous landmarks, hankies carried the images of famous stars.  We featured handkerchiefs of western stars Tom Mix and his horse Tony, as well as Hopalong Cassidy and his horse Topper in Hollywood Part I.  Let's dismount those trusty steeds and sneak inside to the sound stage to see who awaits.
| | |
| --- | --- |
|   | It's ventriloquist Edgar Bergen with his famous wooden dummy Charlie McCarthy. They're shown here in a scene from the 1943 movie Stage Door Canteen.  A veteran of vaudeville, Bergen was best known for his long running radio show (1937-56). Critics were amazed at the success of ventriloquist on radio, where you could see neither the dummy nor Bergen's skill. Talk about a consummate salesman!  His comic timing with the likes of Mae West and W.C. Field made him a legend, and garnered a permanent home for Charlie in the Smithsonian upon Bergen's  retirement. |
His 56 years of show business stretched from Vaudeville to working in the Muppet move in 1979. Fascinating Fact: some credit Bergen with "saving the world" on October 30, 1938, when Orson Welles famous War of the Worlds hoax aired on radio.  Some people actually committed suicide, believing Martians had landed in a spaceship and were taking over the world.  Luckily, the majority of radio listeners were tuned to Edgar Bergen and Charlie McCarthy, thus never heard Welles frightening and realistic radio broadcast.
Here's a child's handkerchief to commemorate the 1934 movie Day at the Races.  Naturally Charlie is in the center of things, cooking up mischief.  It's in great condition, and the colors are as vibrant as when it was new, 79 years ago.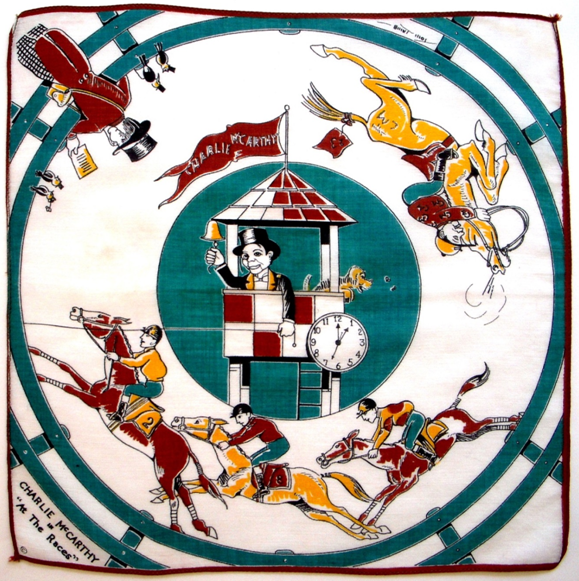 In 1935, Edgar and Charlie premiered in All American Drawback, again showcasing Bergen's great humor.  Note poor Charlie at the bottom of the heap.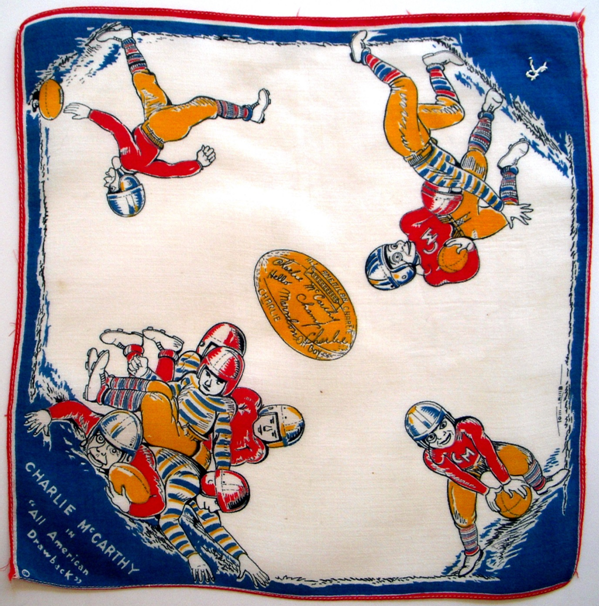 "Oh how Shakespeare would have loved cinema!"

Derek Jarman
Of course, when you think Hollywood, another famous Charlie immediately comes to mind – Charlie Chaplin.  Here, his famous role of The Little Tramp is burned into the lid of a souvenir handkerchief box.  The method is called pyrography, and was a popular method of decoration for handkerchief boxes at that time. Note the details – Chaplain's signature, the holes in his shoes, and even his bamboo cane.  The interior of the lid was burned with the same pattern, while the front of the lid often had details colored by hand.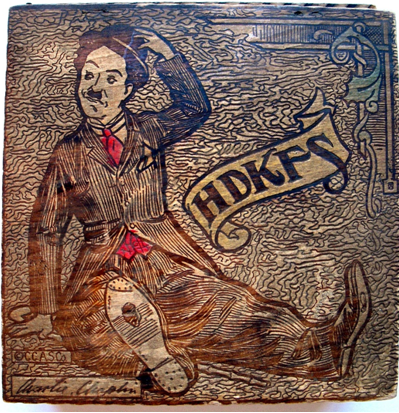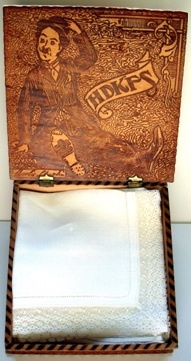 Chaplin said of the character he created "A tramp, a gentleman, a poet, a dreamer, a lonely fellow, always hopeful of romance and adventure."  Other famous sayings of Chaplin include "Failure is unimportant.  It takes courage to make a fool of yourself."  He claimed "Laughter is the tonic, the relief, the surcease for pain" and declared "All I need to make a comedy is a park, a policeman, and a pretty girl."
Walt Disney said that when developing the character of Mickey Mouse, he was inspired by Chaplin. In the book How to Be Like Walt: Capturing the Disney Magic Every Day of Your Life (2004, Pat Williams & Jim Denney) Disney is quoted as saying "We wanted something appealing, and we thought of a tiny bit of a mouse that would have something of the wistfulness of Chaplin – a little fellow trying to do the best he could."
This idea is echoed in the strains of Chaplin's famous speech in the 1940 movie The Great Dictator.  Written, produced and directed by Chaplin, he plays the role of a lowly barber who greatly resembles, and thus is mistakenly identified, as  the ruthless dictator Hynkel, who was a mustachioed parody of Adolph Hitler. When asked to rule, the barber replies "I don't want to rule or conquer anyone.  I should like to help everyone, if possible, Jew, gentile, black man, white.  We all want to help one another.  Human beings are like that.  We want to live by each other's happiness – not by each other's misery…In this world there is room for everyone."
Hollywood is the one place where we suspend disbelief, where superheroes fly and little boys have magic wands, so it's only fitting that film, a medium which reaches the masses, is considered one of the most powerful tools to influence minds and hearts.  A flutter of the handkerchief please to the producers, directors, actors, composers, screenwriters, designers of lighting, costumes, scenery, sound effects and more, who take us out of our everyday existence and make us believe, even if only for a moment, that dreams can come true, that we can have our happy ending.
"I have a theory that movies operate on the level of dreams, where you dream yourself."

Meryl Streep
If you're a fan of vintage Hollywood, you'll appreciate the video of  MGMs 25th Anniversary luncheon in 1949.  It begins with the great Lionel Barrymore, leaning over to speak to the equally famous Ethel Barrymore.  Note there's a handkerchief  in almost every man's pocket.  When the hankie is missing, as it is with Jimmy Durante and a boyishly young Frank Sinatra, it stops your eye.  I can't embed the video here, but you can find it on the web. Meanwhile,  here's a photo taken from that day.  Some folks are still in costume, as they came straight from the set, but look at all those little white hankies peeping from breast pockets…
MGM 25th Anniversary Photo – April 1949
FRONT ROW
Lionel Barrymore, June Allyson, Leon Ames, Fred Astair, Edward Arnold, Lassie, Mary Astor, Ethel Barrymore, Spring Byington, James Craig, Arlene Dahl
SECOND ROW
Gloria DeHaven, Tom Drake, Jimmy Durante, Vera-Ellen, Errol Flynn, Clark Gable, Ava Gardner, Judy Garland, Betty Garrett, Edmond Gwenn, Kathryn Grayson, Van Heflin
THIRD ROW
Katharine Hepburn, John Hodiak, Claude Jarman Jr., Van Johnson, Jennifer Jones, Louis Jourdan, Howard Keel, Gene Kelly, Christian Kent (Alf Kjellin), Angela Lansbury, Mario Lanza, Janet Leigh
FOURTH ROW
Peter Lawford, Jeanette MacDonald, Ann Miller, Ricardo Montalban, Julies Munshin, George Murphy, Reginald Owen, Walter Pidgeon, Jane Powell, Ginger Rogers, Frank Sinatra, Red Skelton
FIFTH ROW
Alexis Smith, Ann Sothern, J. Carrol Naish, Dean Stockwell, Lewis Stone, Clinton Sundberg, Robert Taylor, Audrey Totter, Spencer Tracy, Esther Williams, Kennan Wynn
"In Hollywood, the women are all peaches.  It makes one long for an apple occasionally."

W. Somerset Maugham