Hip Holiday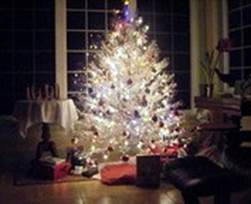 For most of us the holidays inspire images of sugarplums and gingerbread, homemade ornaments, sleigh rides, caroling, a crackling fire, and sipping cocoa while watching  the movie It's a Wonderful Life. We're all aware the holidays can run the gamut from dreadful to divine, dashed hopes to dreams fulfilled and everything in between.
| | |
| --- | --- |
|   | From before the turn of the century, right up through the 1950's one thing you could almost surely count on finding, beautifully boxed under the tree or tucked in the toe of your stocking, was a lovely handkerchief. Designs ran the gamut from luscious linen embroidered with angels, holly, wreaths, and more, to brightly colored cotton prints bursting with colorful poinsettias, Santa, reindeer and snowmen. |
For an all-too-brief time in the 1950's and 60's, Christmas was Hip. Cool. Happening. The era of the 60's was deemed "futuristic." After all, this was the decade when President Kennedy vowed to put a man on the moon. Homes, furniture, even household appliances adopted a streamlined, ultra-modern look. Shows like My Favorite Martian, The Jetsons, and of course Star Trek filled the airwaves. Is it any wonder the aluminum Christmas tree was a smash hit from the minute it was introduced? Sleek, shiny, and oh-so-revolutionary, it was exactly the tree Dr. Spock would have wanted.
Aluminum Trees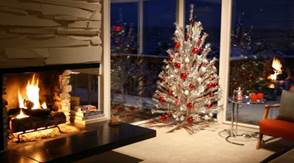 According to one source, it was Tom Gannon, sales manager for the Aluminum Specialty Company of Manitowoc, WI, who first discovered a metal Christmas tree on display in a Ben Franklin store in Chicago in 1958. Made by Modern Coatings, Inc. the tree was too expensive and weighty to ever succeed in the mass market. Gannon gave the tree to his engineer Richard Thomsen, and asked if he could produce a better, cheaper version, and have it ready for the Toy Fair in March 1959. Remarkably,Thomsen succeeded in record time, and the shimmering, lightweight wonders were an instant hit. Hundreds of thousands sold the first year. During the 1960's over one million trees were sold, with factories working three shifts a day, round the clock to answer the demand. They were novel, visionary, clean and cool. (Note the oh-so-modern aluminum and glass side table alongside the tree.)
Today, it's widely accepted that the 1965 TV special A Charlie Brown Christmas, chimed the initial death knell for the aluminum tree. The feature length cartoon features Lucy requesting a large aluminum tree for the Christmas pageant. Charlie opts instead for a tiny, forlorn evergreen, decrying the aluminum tree as representing all that is commercial about Christmas. The popular show still airs annually, and the beloved Charlie holds tremendous influence with the buying public. What people fail to recall, however, is Charlie Brown could have been the original poster boy for anti-depressants. It was he who uttered such lines as:
"I just don't understand Christmas, I guess. I like getting presents and sending Christmas cards and decorating trees and all that, but I'm still not happy. I always end up feeling depressed."
I doubt Charlie would have liked anything favored by Lucy. So there you have it. Over a million trees sold in the short span from 1959-65, with sales sharply declining after that. Today, they're making a comeback with aficionados who appreciate the sleek, modern feel of a "cool yule." I know a guy who loves his shiny sapling, and 90% of his ornaments are robots or spacemen. It's a real Star Trek wonder, and actually kind of fun.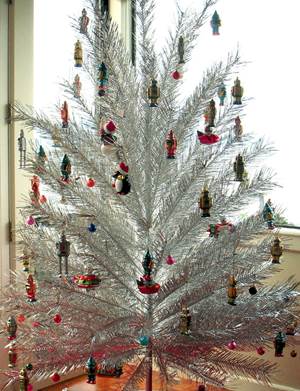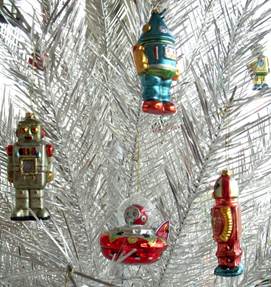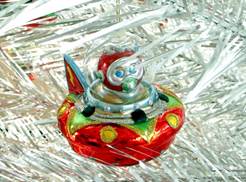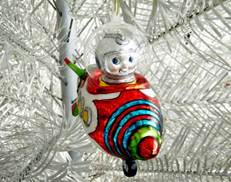 For you trivia buffs: Ever heard of ATOM? It stands for the Aluminum Tree & Ornament Museum, more accurately, The Aluminum Tree and Aesthetically Challenged Seasonal Ornament Museum & Research Center. Established by Stephen Jackson in 1997, the museum moves around year after year. Featured in Southern Living, Money magazine, the New York Times, NPR and the BBC, fans say ATOM is the perfect moniker for the Museum, since the trees were produced during the "atomic age" of the mid-20th century.
Not surprisingly, 1950's textile artist Tammis Keefe, famous for being in the forefront when it came to setting trends, produced a shimmering tribute to the aluminum tree in fanciful handkerchief designs. (Note the hot pink skirt and turquoise backdrop.)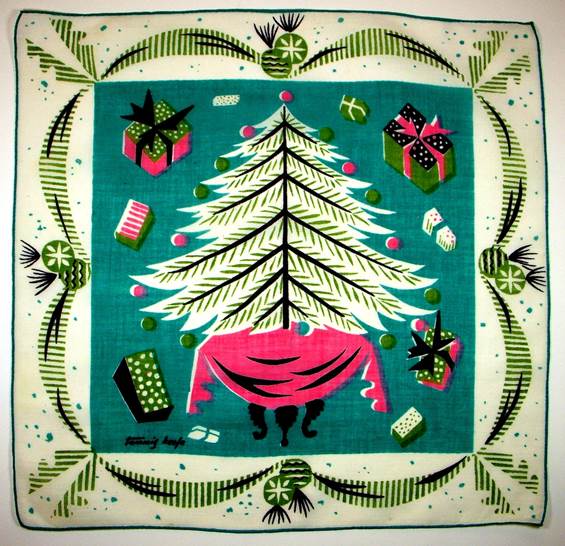 THINK PINK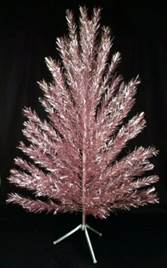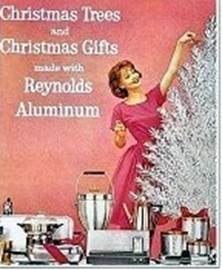 Also in A Charlie Brown Christmas, Lucy implores Charlie to get "a big, shiny aluminum tree…maybe painted pink."Indeed, there actually were pink aluminum trees. In fact, receiving any type of gift made from aluminum was considered cutting edge and trend setting. Happy homemakers (those gals who baked cookies in pearls and high heels) swapped their cast iron skillets for copper bottomed aluminum pans. Reynolds had a field day, and was a major advertiser on television.
 

When Martha Stewart plied her skills to the stalwart silver shrubs decades later, her particular pink creation was a smash hit. Aluminum helped showcase the hues, tints and exotic shapes of her ornament collection. There's nothing cold about this little peppermint wonder. It's charming, warm and inviting. (Note the deer in the snow at the base of the tree.) Maybe that's because everything Martha does she does with panache.

Here's a bit of holiday-themed trivia for you, my Canadian friend Graziella once took us to a restaurant in Quebec called Panache. She claims panache translates as "deer antlers."

I

t seems the Parisian ladies who wore voluminous hats adorned with yards of ribbon and flowers, to stroll along the Bois de Boulogne, were said to promenade with panache. It was a great compliment, akin to saying the lady was a showcase, a sight not to be missed.
Ever vigilant to the whims of fashion, designer Keefe provided the chic and savvy shopper with a pink alternative hankie as well. Note the shocking pink presents and caramel tree skirt.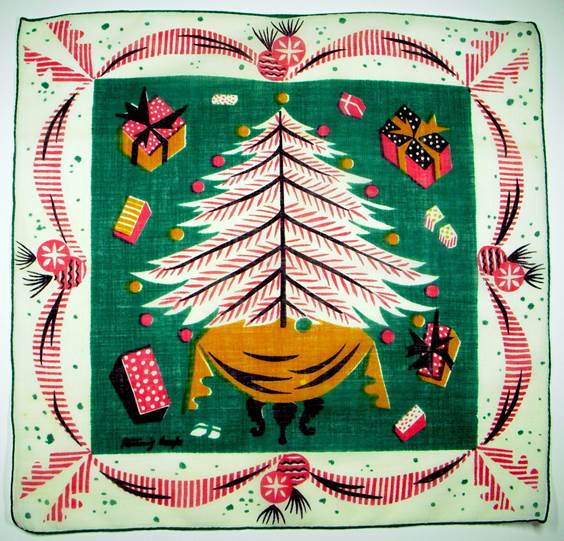 We're just beginning our journey into a cool yule, so grab the martini shaker (see cocktails) spin some Brubeck or Stan Getz and get ready to join us for some hankies that zip, zap and zing.
Whether you're a traditionalist who loves a soft hankie embroidered with a Sweet Santa, or a throwback to the 40's when hankies were printed with masses of poinsettias, or you're ready succumb to a tinsel tree of fabulous 50's – do enjoy your holiday, with all the magic and miracles it has to offer for you and those you hold dear.