One of my absolute all-time favorite flowers is the Lily of the Valley.  Resembling tiny bells or baby bonnets dangling from a slender stalk, the lilies arrive every spring to disperse their heavenly fragrance.  According to the book

The Language of Flowers

, Lily of the Valley symbolizes a Return to Happiness.  The author opines "It is the sweetest flower imaginable.  With its dainty white bells and unmistakable green scent, it is said to lure the Nightingale from his nest and lead him to his mate."  Personally, I found it romantic that Kate Middleton chose Lily of the Valley interspersed with Sweet William to adorn her bridal bouquet.  Particularly popular in France, these woodland flowers have been considered to bring good luck since the time of the Renaissance.
.
.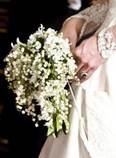 Kate Middleton's white on white bouquet was filled with symbolism, including:
Lily of the Valley – return to happiness, humility, trustworthiness
Sweet William – gallantry
Hyacinth – constancy of love
Ivy – fidelity, wedded love & friendship
Myrtle – emblem of marriage and love
Kate's Myrtle came from the original plant started from a sprig of Myrtle from a nosegay given to Queen Victoria by her mother in law.
A favorite with brides, Princess Grace's bouquet consisted solely of Lilies of the Valley. (see The Wedding Bouquet).  Frequently embroidered on bridal handkerchiefs, the lily can be found in traditional white, as well as a plethora of permutations.   There's something for every taste.  I enjoy collecting multiples of a single image, as I find it interesting to see how different artists interpret the same material.
As you allow your eye to wander, you may wish to enjoy Mendelssohn's Wedding March
httpa://www.youtube.com/watch?v=0Oo4z37OUEI
Borders of Lilies
Border hankies are the perfect accompaniment for a bride to carry with her bouquet to catch her tears of joy.  Infinitely more attractive than the ubiquitous wad of Kleenex, bridal handkerchiefs are as intricately embroidered as any gown, and are meant to be seen and admired.  Note the delicate stems of lilies adorning the scalloped border. Stunning and spectacular for a bride of any age.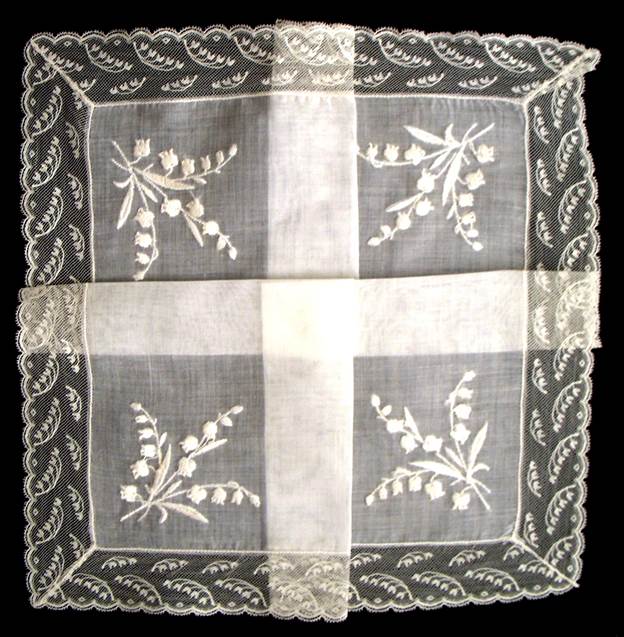 "Flowers are the Romeos and the Juliets of nature!"
Mehmet Murat ildan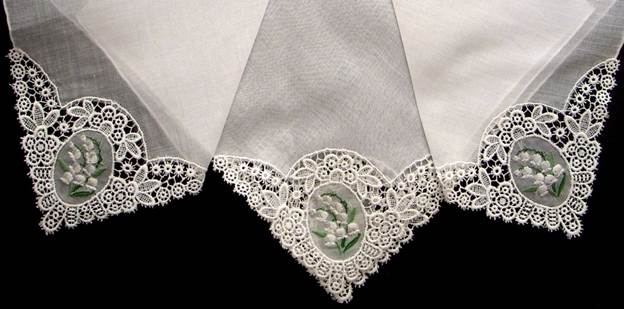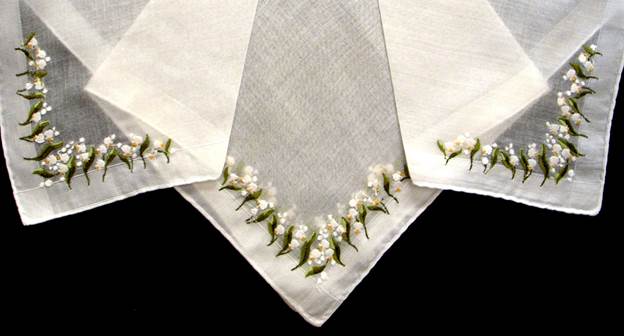 "I would far rather have two or three lilies of the valley gathered for me by a person I like, than the most expensive bouquet that could be bought!"
Elizabeth Gaskell, Wives and Daughters
A touch of blue
| | |
| --- | --- |
| Delicate eyelet combined with a scalloped border and blue and white lilies create a youthful, charming hankie. | Blue scalloped organdy embroidered with snow white lilies conveys a feeling of elegance and sophistication . |
|   |   |
Casual weddings – the lily fits any occasion
| | |
| --- | --- |
| Onboard a boat in Nantucket, the celebration carried a nautical theme. | On the beach in California, this ceremony also had a nautical theme. |
|   |   |
Single bouquets
| | |
| --- | --- |
| In ombre thread w/sprigs of fern | flowing leaves tied with blue symbolizing fidelity |
| | |
Repeat Images
| | |
| --- | --- |
| Formally anchoring all four corners | scattered randomly, as if nestled in a forest |
|   |   |
.
Exceptional Handwork
| | |
| --- | --- |
|  Intricate details in this initial "K" hankie. The floating petals and translucent leaves are delicate organdy. | |
.
Any one of Jane Austen's heroines would have happily carried this lovely nosegay to the country church on her wedding day.  The simple chain stitch is the sole brush stroke used by the artist on this antique linen canvas – to perfection.
| | |
| --- | --- |
| Victorian chain stitch depicts a country bouquet wrapped in cascading ribbon. |   |
.
Needlepoint lilies on a crisp linen background, with whispers of fern.  A true labor of love.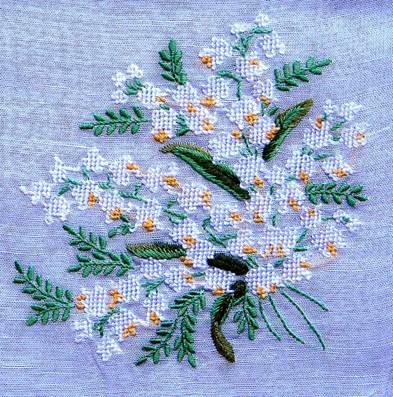 .
Lilies combined with other flowers
| | |
| --- | --- |
| With rosebuds | with violets |
| | |
With the lily of the valley symbolizing humility, return to happiness and trustworthiness, and violets symbolizing modesty and faithfulness, what better combination could a bride wish for her handkerchief?
The red poppy symbolizes pleasure and extravagance.  Perhaps this hankie tells the story of a transition from innocence to pleasure?  Or a happy blending of the two?  The contrast of a brilliant floral with the delicate little bells is quite appealing.  Since the poppy is the state flower of California,  what a perfect gift for a west coast girl.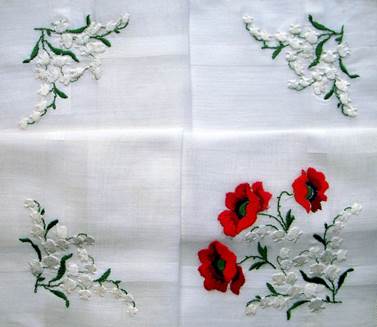 "In the garden every flower has its purpose and its hour."

Julia Cameron
Refined and understated
| | |
| --- | --- |
| a delicate cascade of snow white | silk embroidery on antique linen |
| | |
I love white on white
Shadow prints
During WWII, shadow prints offered an affordable alternative to handwork women had neither the time to create, nor the money to afford. The lucky bride who owned the handkerchief on the left was the recipient of an intricately tatted border. (If you've  never seen how tatting is done, google it.  It's extremely time consuming, no matter how skilled the craftsman.  I know; I actually took tatting lessons once, and I can assure you this border would have taken several weeks to create. Speaking for myself, it would have taken years.)
.
I'll close with this almost ghost like appliqué image complete with girlish bow. I will always and forever have a soft spot for appliqué. It whispers, never shouts, and just seems gentle to me.  This sweet hankie would be perfect for the shy bride.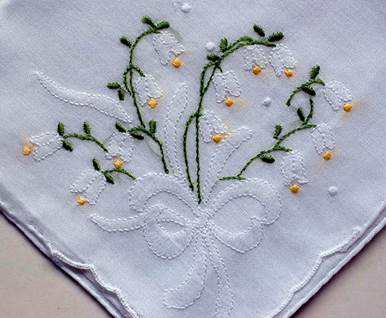 .
"She would also be creating her own bridal bouquet. She wanted to feel the fragility and softness of each petal. And to make the single flowers stronger than they'd been separately. Just as she was stronger now, together with people who loved and accepted her."

― Liz Grace Davis, Tangi's Teardrops: A Single Tear Will Change Everything…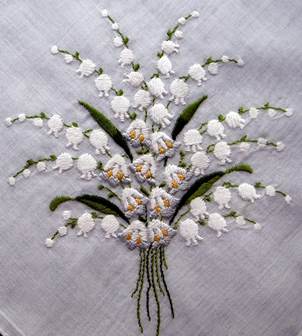 Just living is not enough. One must have sunshine, freedom, and a little flower.
Hans Christian Andersen

Just for Fun

John Fairchild, of Fairchild Publications – W and WWD, in his book The Fashionable Savages recounts a time in July 1964 when he was backstage at a Dior couture show, and notice Marc Bohan checking the model chart which was "pinned to the wall with a sprig of Lily of the Valley – the good luck flower of the House of Dior." Monsieur Dior had always sent one model out onto the runway with a sprig of Lily of the Valley in her buttonhole.